This weekend was a great yard sale weekend!
The neighborhood 1 street over from me was having their big community yard sale!  Gotta love one of those!
I turned up a couple of GREAT treasures!
Me and my little Lila Mae set out about 7:00 am.  She was on the lookout for "teacher stuff."
She hit the jackpot with a teacher who had cleaned out her classroom and was selling bulletin board kits, flash cards and books!  She wanted to get home and play as quick as she could! She did hang with me for a while longer!
She is not into vintage finds just yet, but it is fun to have a little companion 🙂
Here is one of my finds. . . for $5!  It is old.  The frame is made of wood.  I just love it!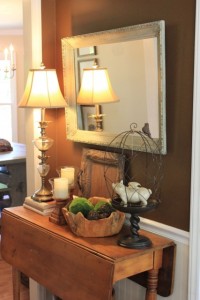 Here is what I started with.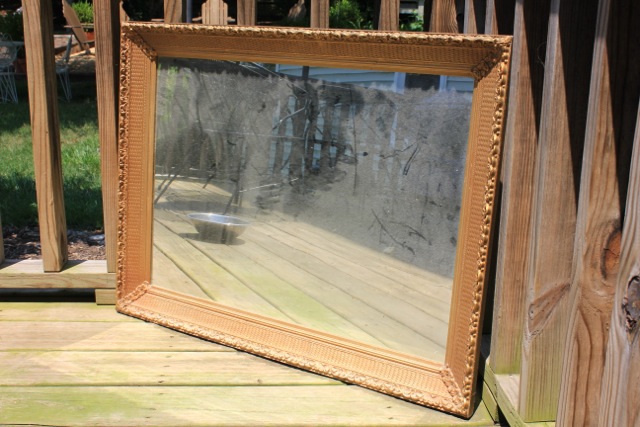 Great mirror.  The finish was not bad.  I just wanted something lighter.  I am trying to kill so much gold in my house.
I still like small doses, but I thought that paint would be great for this!
I started with a sample "oops" paint that I got at Home Depot for 50 cents.
(I have got to remember to check for those more often!)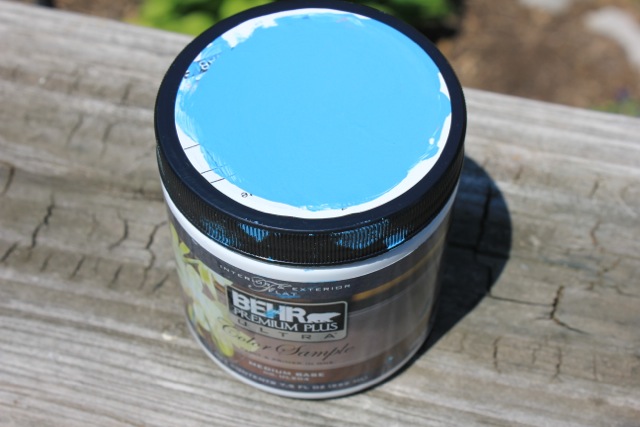 I did leave some of the gold showing through.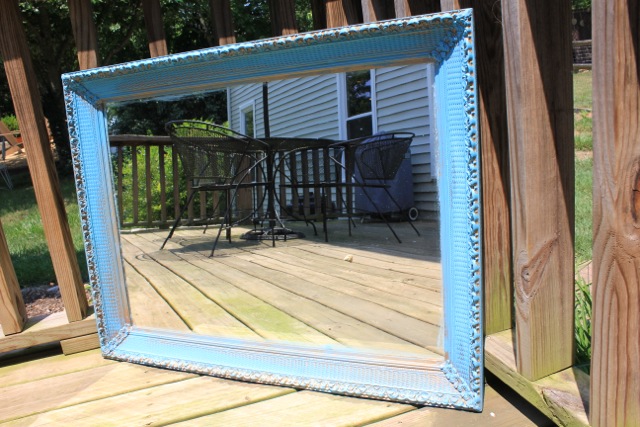 The next coat was Annie Sloan chalk paint.
I bought 2 new colors last week!  I was looking forward to having a project for them!
I chose Country Grey.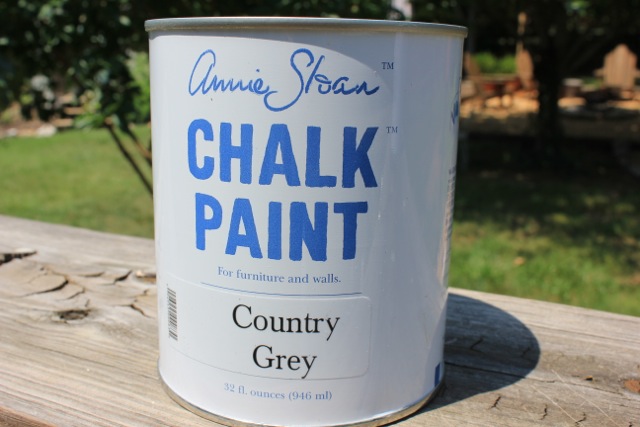 I did not cover up all of the gold or blue.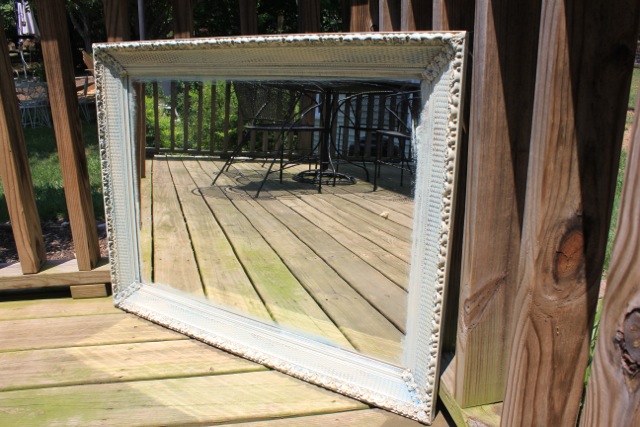 Next, I sanded is all very lightly with a fine sand paper.  I just wanted to reveal a little of the gold and blue that I had covered.
I finished it off with a little dark wax in a few places.
And, here is the final result.
I had no idea where I was going to hang this mirror when I got it.
I just knew that I could find it a good new home.
I just bought this antique drop leaf table at a yard sale a couple of weeks ago.  You can read about that here.
I did like the pictures that I had hanging above this table, but I had really bought them for my master bedroom.
Also, this is a really tight little pass-through from the kitchen to the dining room.  A mirror is a good choice for here!  It helps to keep it from feeling too cramped!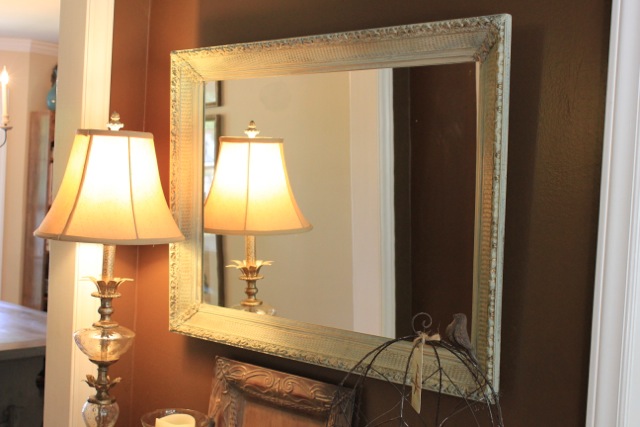 I love how you can see all of the detail in the corners.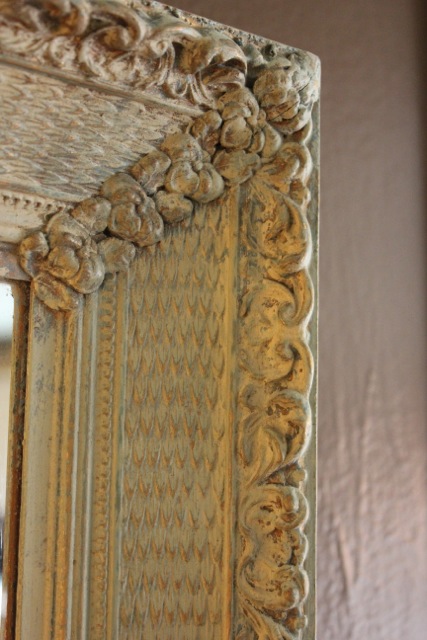 I love my flying pig!  (Random – I know?!)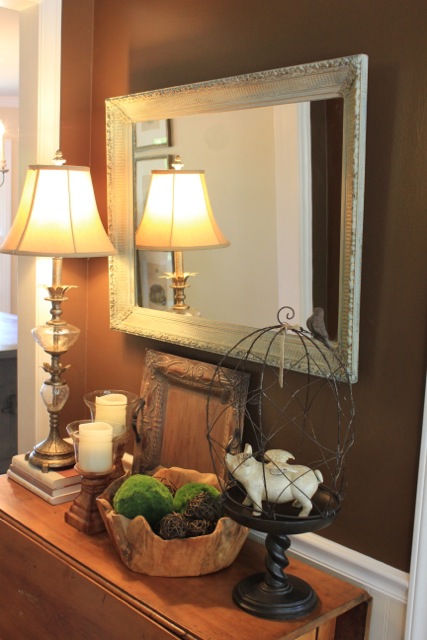 Now, I just need to get something to hang over the mirror.
I have a few ideas.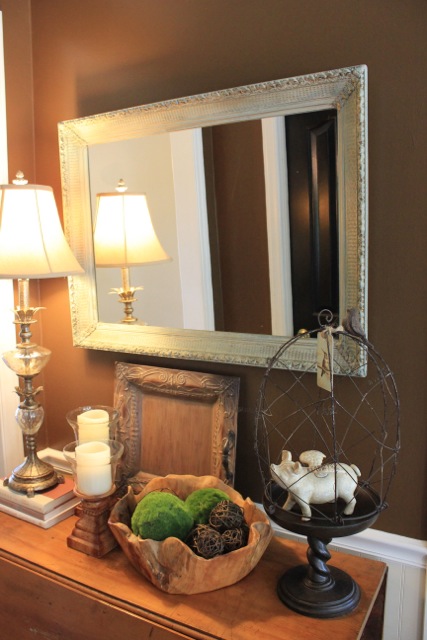 Hope you had good luck with the yard sales this weekend!
Life to the full to you today!