Yesterday marked the end of the first 2 weeks of blogging!  I have never been so efficient in my life!  Projects that have been sitting around forever are finally getting done.  And, you are an encouraging group of people.  So many have left such sweet comments and I love reading each one!
So, today I will show you another project that I began almost 1 year ago and never got around to finishing.  I think I should name her?  I am thinking Violet would be a nice name.  She seems very Southern. . . imagine her greeting you with a, "Welcome, ya'll!"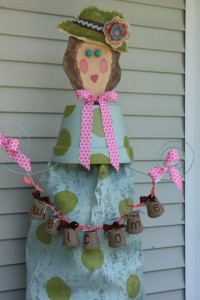 This idea began when I was at my parents house this past summer and my dad was getting rid of some old tomato cages.  I knew that they had potential to be turned into something?!  The idea came to me that the cage would make a great frame for a "garden girl."  I headed to Lowes to buy some screen to wrap the cage in.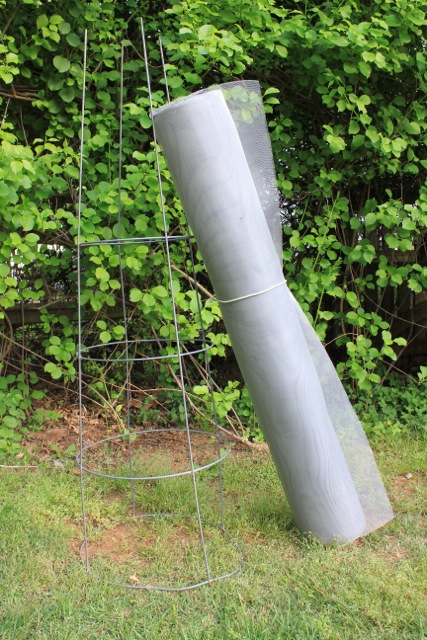 I wrapped the screen around the cage and secured it with some wire that I found in my dad's shop.  (I am not sure what kind of wire this is, but a light gauge wire should work.)  Then, I painted the whole thing white.  I knew that it was going to take several coats of paint since I was painting on screen.  I found that thicker paint with a sponge brush works better.  I let the paint get too drippy in areas, but I was able to correct that with the final coats of color.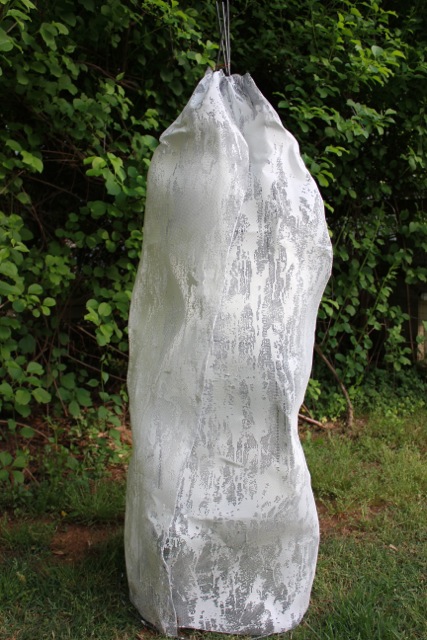 The beauty of being at my parent's house when I had this ideas is that I was able to have my dad cut out a "head" for her.  (My dad has an amazing wood working shop!  He builds all kinds of great things. Too bad that my parents live 4 1/2 hours from me or I might be in his shop every day!)  And, seeing as how he had 4 tomato cages that he was getting rid of, I went ahead and had him cut me 4 heads.  (What am I going to do with all of these tomato cage people?!)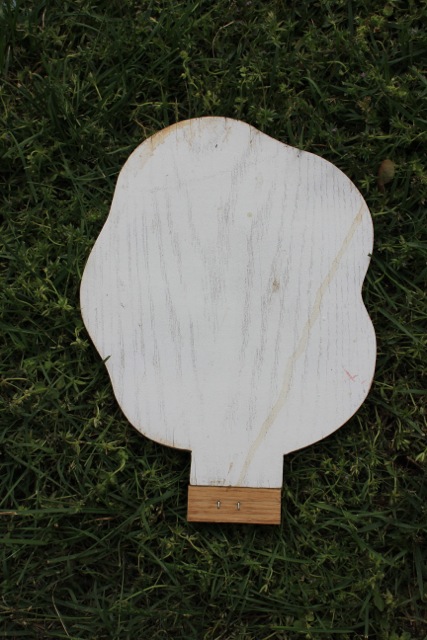 I was stymied by how to cover up the awful wires at the top.  My first thought was a burlap "collar."  But, then one morning, the idea struck. . . an upside down flower pot!  I found one in my garden shed and painted it with Kilz.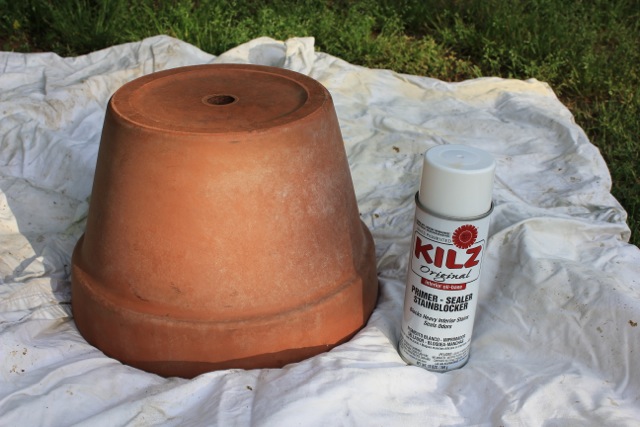 I put the flower pot on top of the tomato cage, making sure that all of the ends of the cage made it through the little hole in the flower pot.  It also made her so much more stable.  (Do you like how I am already referring to her as a person?)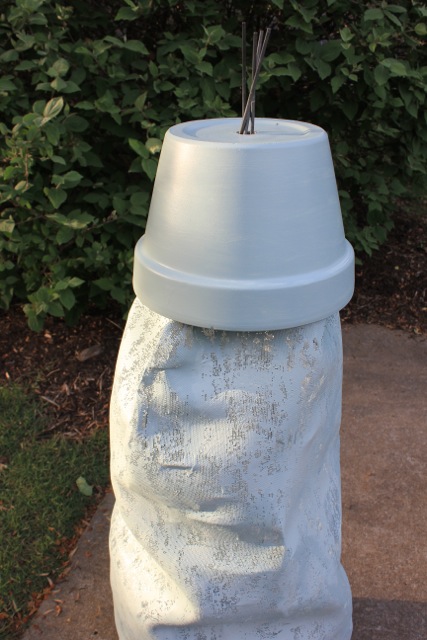 I never get rid of old paint.  You never know when it is going to come in handy for a little project.  I went to my garage and found a great green (I am not sure what I ever used it for) and a beautiful blue (an attempt at a front door color that did not turn out so well.)  I decided to go the polka dot route for her.  She just seemed like a polka dot kind of girl.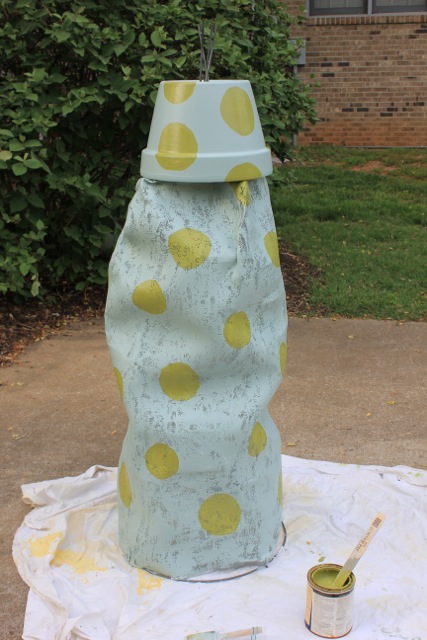 She needed arms.  I used a galvanized wire and shaped them with big spirals for her hands.  Here is where you learn from my mistakes.  I should have put her arms on BEFORE I put the flower pot on. No big deal, I took the flower pot back off and wired them on to the top of the tomato cage.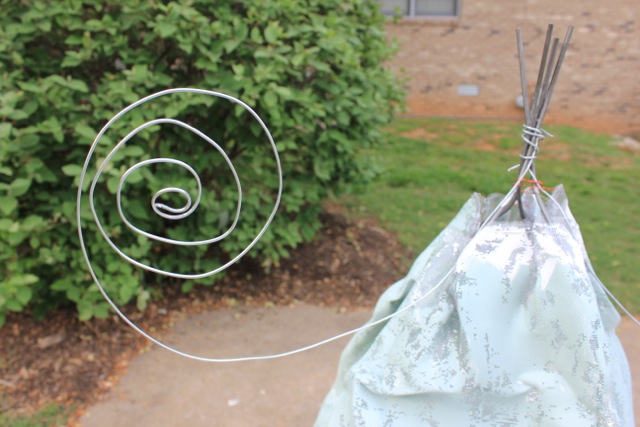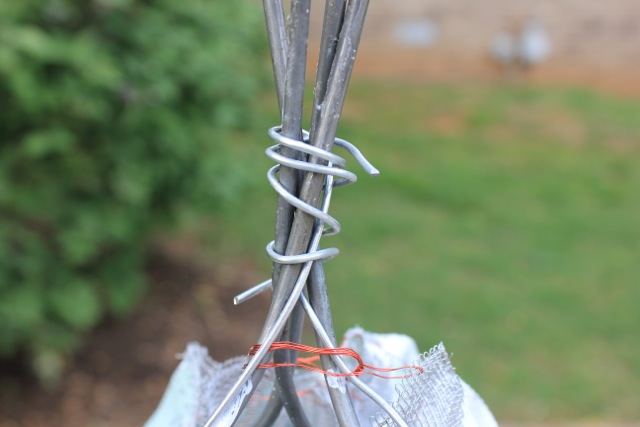 Here she is. . . headless.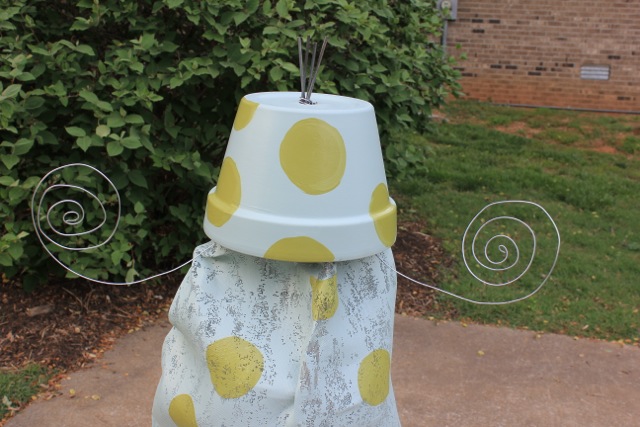 Time to paint her face.  (No Southern woman would be seen without her make-up on!)  I marked out in pencil where I wanted her hair to be just to give me a point of reference.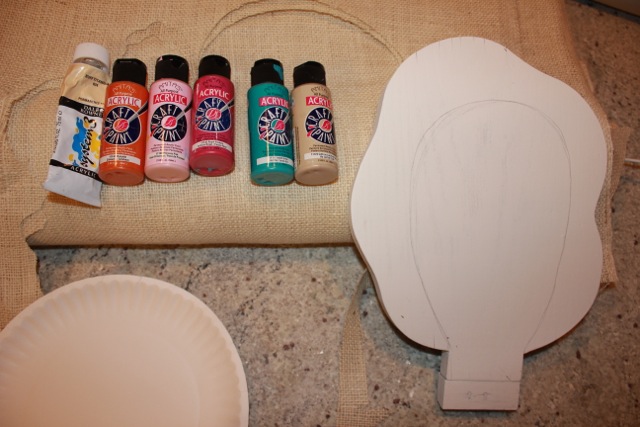 I used small wood balls to make her eyes.  I glued them on with hot glue.  I did paint them first.  I think it would be very hard to paint around them!
She seemed like the type that would wear a hat.  My go-to fabric these days is burlap.  I made a pattern for a hat and cut 2 out of the burlap.
Then I sewed them together, leaving a little opening for stuffing.  I filled it with fiber fill and then sewed it closed.  (My gluing friends could use hot glue for this – no burns, please!)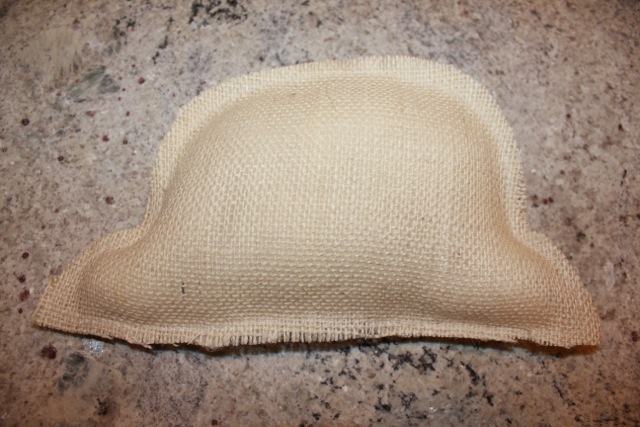 Not only do I love to sew with burlap, but I have found that I love to paint burlap. I chose a nice shade of green and brown.  It needed something more, so I added a flower to her hat.  You can read about how to make those here.
(You will get to see the hat in the finished pics.)
I wanted Violet (I should call her by name now, it just seems more fitting) to welcome our guests, so I figured the best way for her to do this was to hold a banner.  (Seeing as she can't talk.)  Again, my first thought was burlap.  But, then I was in the hardware store and saw these cute little flower pots for starting seeds.  They would be perfect!  I drew a letter on each pot and tied them together onto a piece of yarn.  (I added bows in the finished product.)  There is a part of me that always wants simplicity, but then I just can't resist a little more color or a little more embellishment.
All of the pieces were in place and Violet was ready for her final assembly.
I had to come up with a way to attach the head to the wires at the top of the cage.  I found this in the electrical section of the hardware store.  I am not sure what it is, but it worked great.
I used 2 screws and secured it to the back of her neck.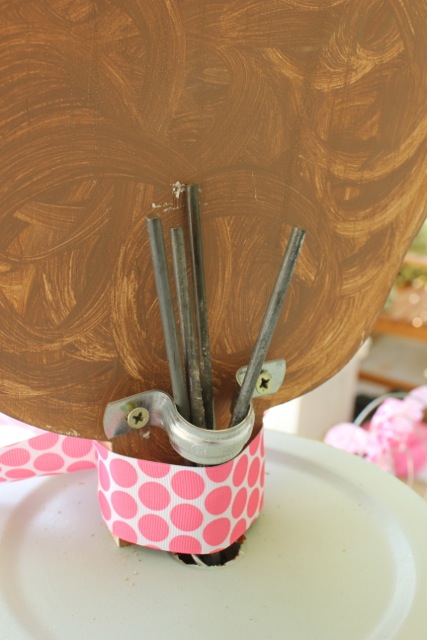 It makes me smile to have Violet greet me at my front door.  I hope that she will make others smile as well!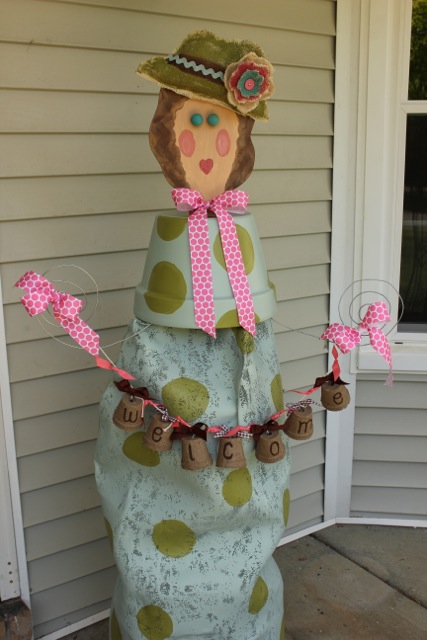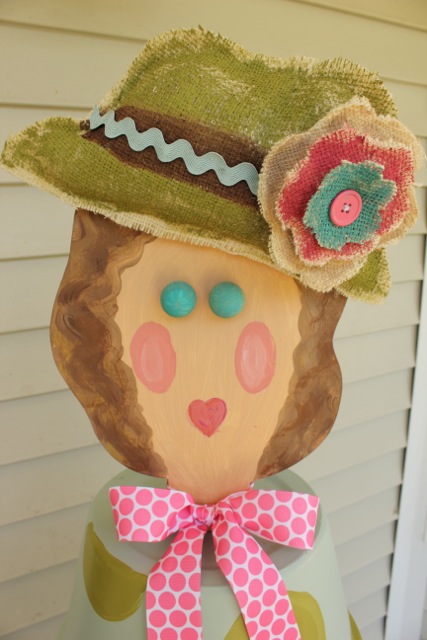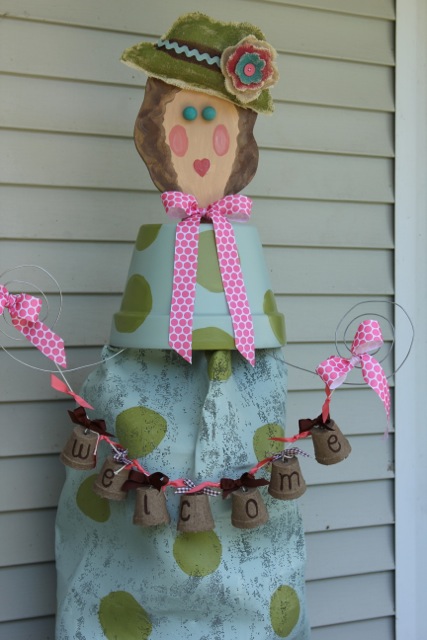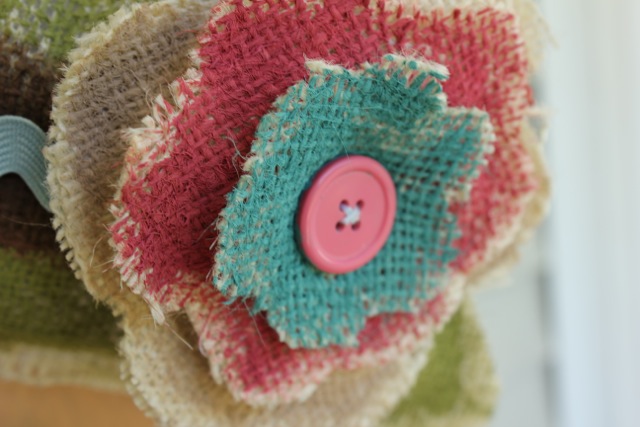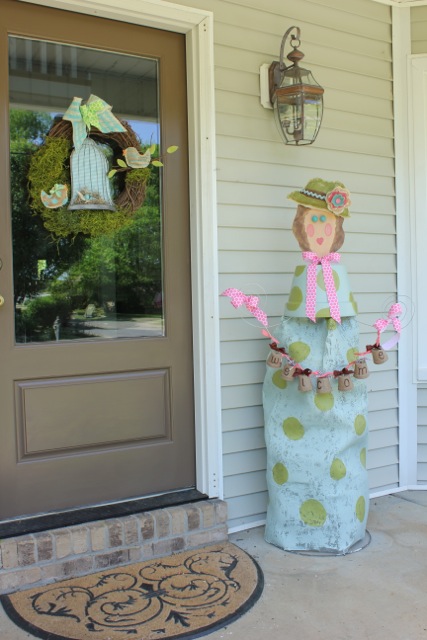 I can't wait to get some plants around her!
I just painted our front door a couple of days ago.  I still need to caulk and paint the trim!
Ya'll come back now!