If given the choice to decorate or clean…I'm going to decorate every time!
But the other day, I forced myself (and maybe my children) to clean the front porch. Like really clean.
Because the stack of wood, the half dead plant, the rust stains, the abandoned birds nest, and the legions of bugs and their abodes just weren't doing it for me anymore.
And let me tell you…the results were well worth the effort! There is just something refreshing about a clean front porch.
Here are my tips for cleaning a front porch: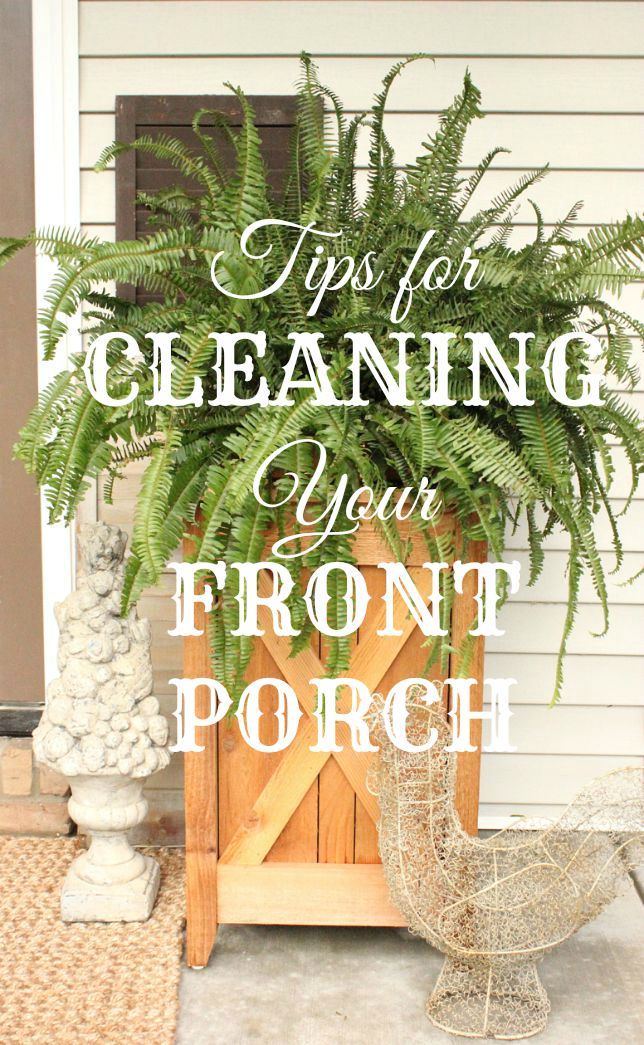 I assembled my supplies:
~ Cleaning Vinegar (I found this at Walmart. I figured that it saved me a step in mixing my own. And I'm all about saving a step when it comes to cleaning.)
~ old sand bucket (I assure you that this bucket will never see the beach again!)
~ apple cider vinegar (which proved to not be needed)
~ spray bottle
~ washcloths
~ nylon brush with a long handle
~ wire brush
~ window cleaner
~ paper towels
~ cleaning gloves (the ones that are made to be used with chemicals)
I assembled my team:
~my sweet family (I am pleased to report that my husband stuck through to the bitter end and was actually the one encouraging me to finish. I must admit that there were times that I just wanted to call it "good enough" and walk away.  Thank you David for the encouragement!)
And walk away is exactly what my girls did after about 15 minutes. They claimed they had homework and other such responsibilities to take care of. But, an extra 3 hands for 15 minutes goes a long way!
Here is what we had: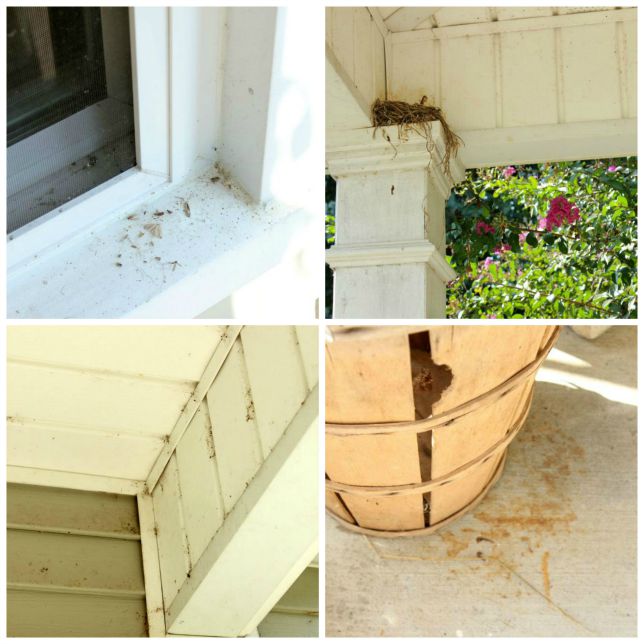 So here is what we did:
First, we took EVERYTHING off of the porch.
Then, we removed the screens from the windows.
When you clean, remember you need to start at the top and work your way down.
With that thought in mind, using the nylon brush, my David knocked down all of the webs and such from the ceiling and corners.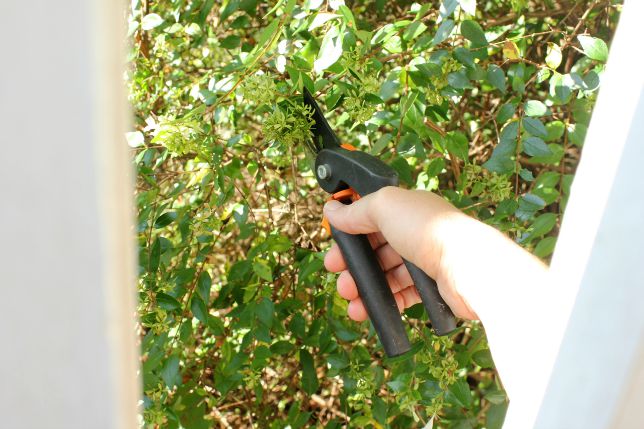 I pruned back all of the shrubs that were growing too close to the porch.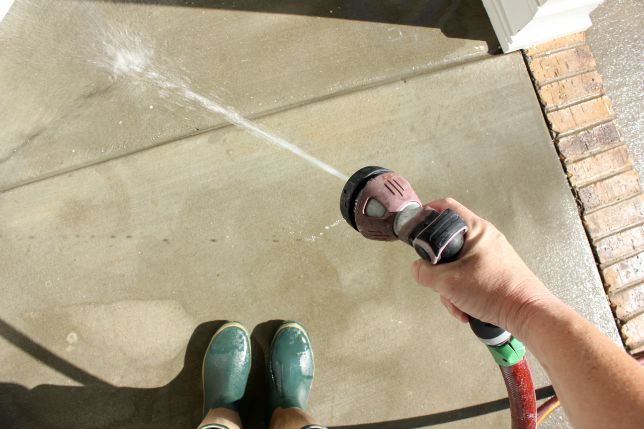 Then I sprayed the entire porch off with the hose– working top to bottom.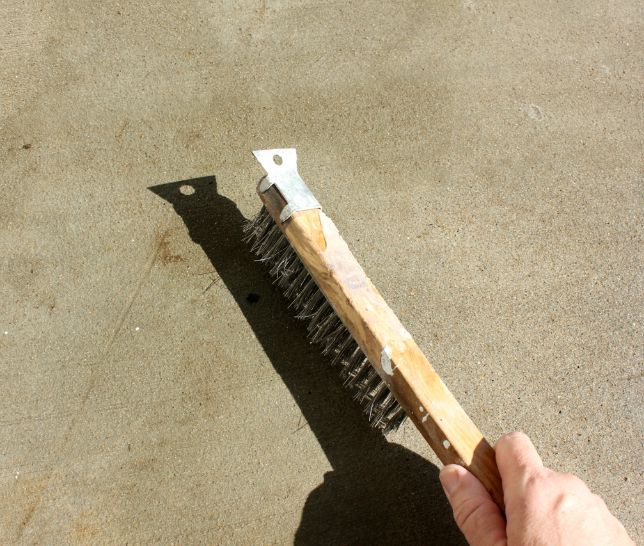 I used a wire brush to scrub off paint splatters. Because sometimes when I paint something, I just drag it to the front porch and paint it real quick…without taking the extra 2 minutes to spread out a drop cloth. Yea, those days are over after scrubbing off that paint. 🙂
I experimented with several methods of cleaning at this point. The one that I found to be the most effective was to hose an area down, spray down with the cleaning vinegar and then use the washcloth to scrub the dirt off. (You will want to use your gloves for this. Cleaning vinegar does begin to burn your skin after a bit!) I then followed with the hose to rinse everything off.
We attacked everything with this method; the siding, the porch swing, the porch railing and the windows.
Everywhere I read, it said that apple cider vinegar would remove rust stains. Everyone was wrong. So, that sent me back to the hardware store in search of something much stronger.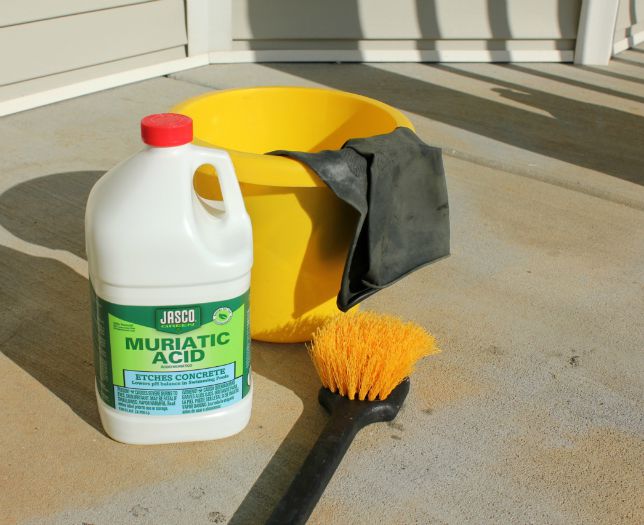 I came home with environmentally friendly Muriatic Acid. I mixed it just like they told me to. I sprayed the entire porch with the solution. It worked everywhere except where the rust stains were really bad.
That is where I came up with my own method. I soaked the bad rust stains with water and then poured the Muriatic Acid straight on those areas. I scrubbed with the nylon brush and let it sit for 5 minutes. That worked well.
While I was busy on the porch, my David was hosing down everything that had been on the porch.
I finished by pruning all of the dead leaves out of the ferns…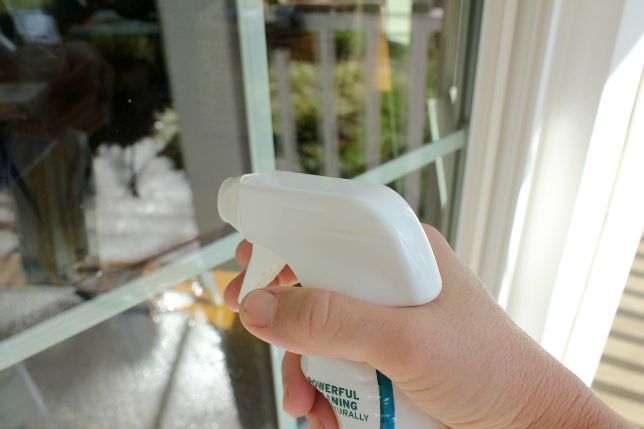 …cleaning all of the windows and the front door with glass cleaner…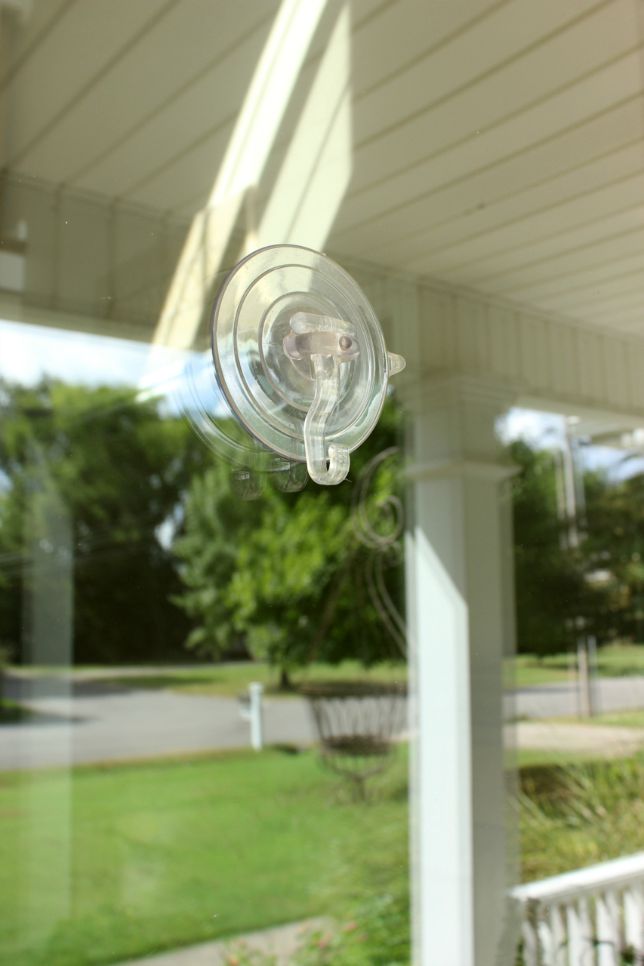 …adding a suction cup wreath holder to the front door…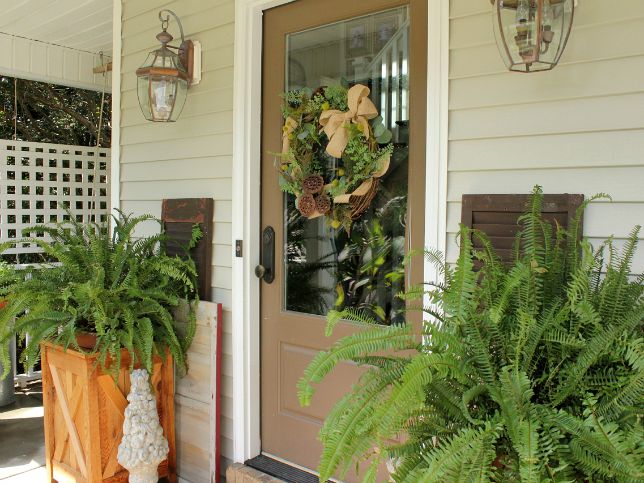 …and returning everything to the front porch.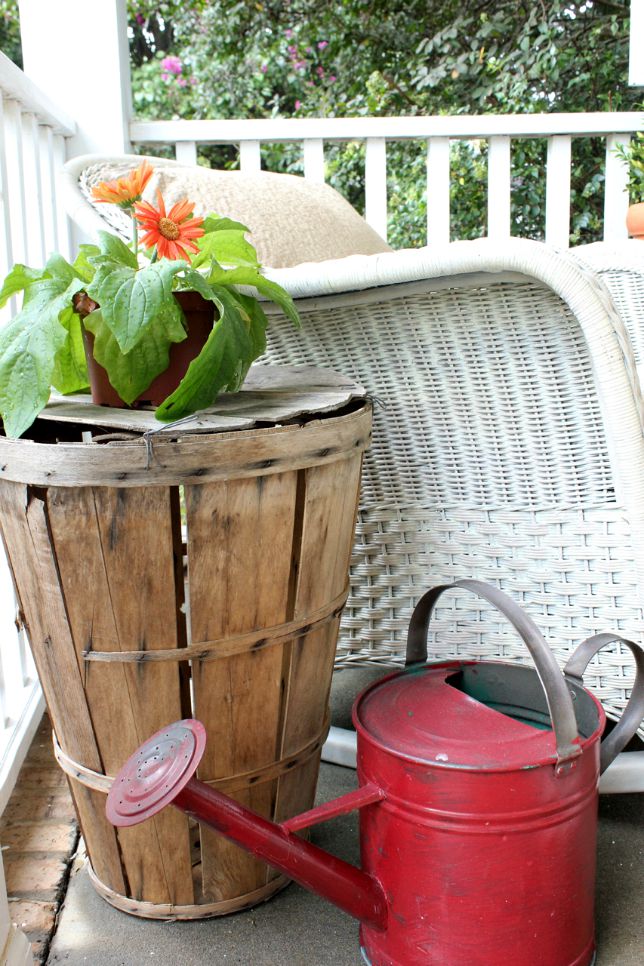 We now have a welcoming entrance again.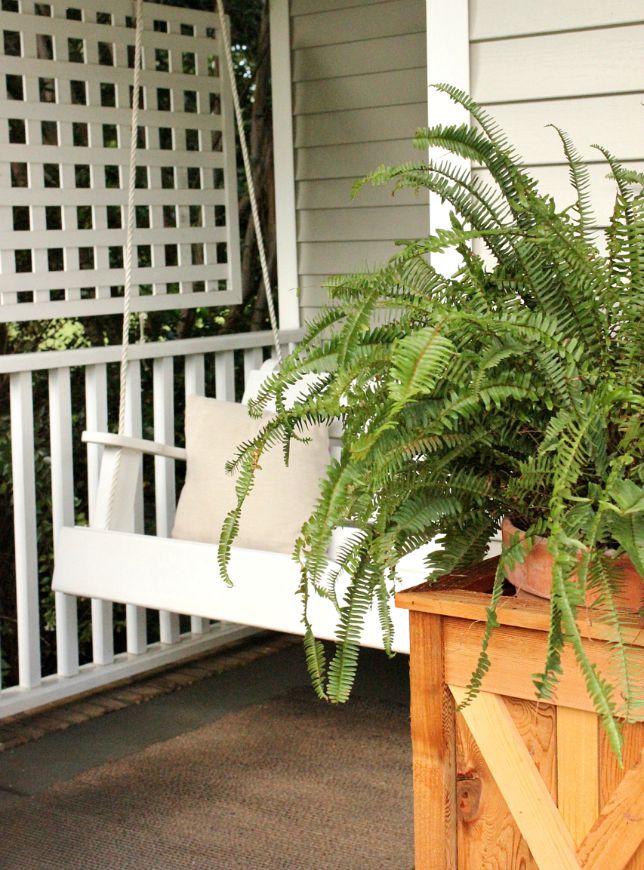 So welcoming that Daisy is currently knitting in the front porch swing.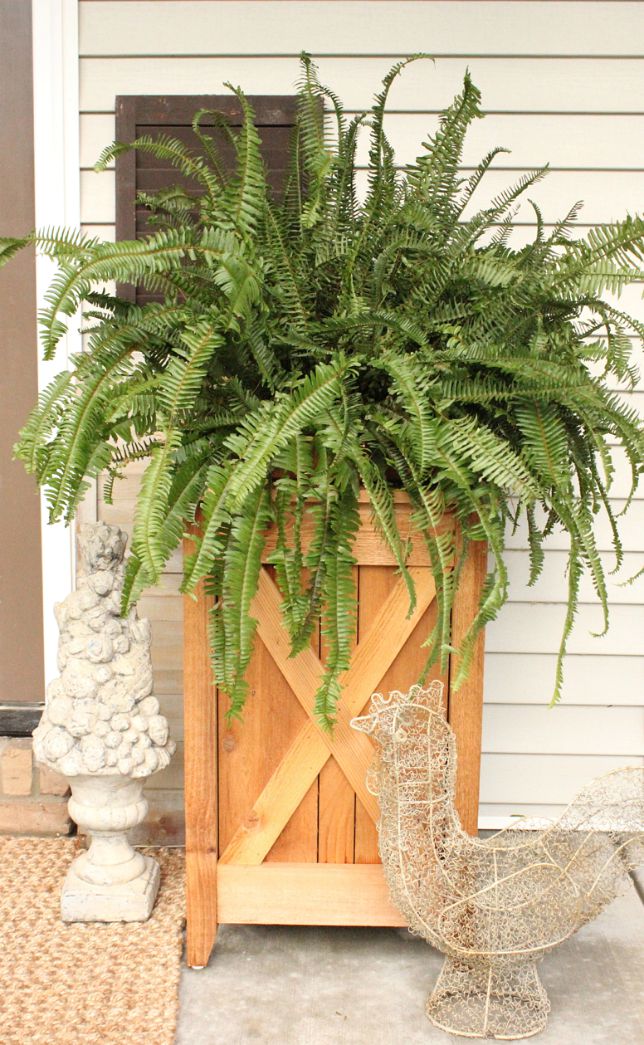 And that makes my heart happy…knowing that my children are enjoying a cozy (and clean) home!
I can't wait to add those pumpkins and mums!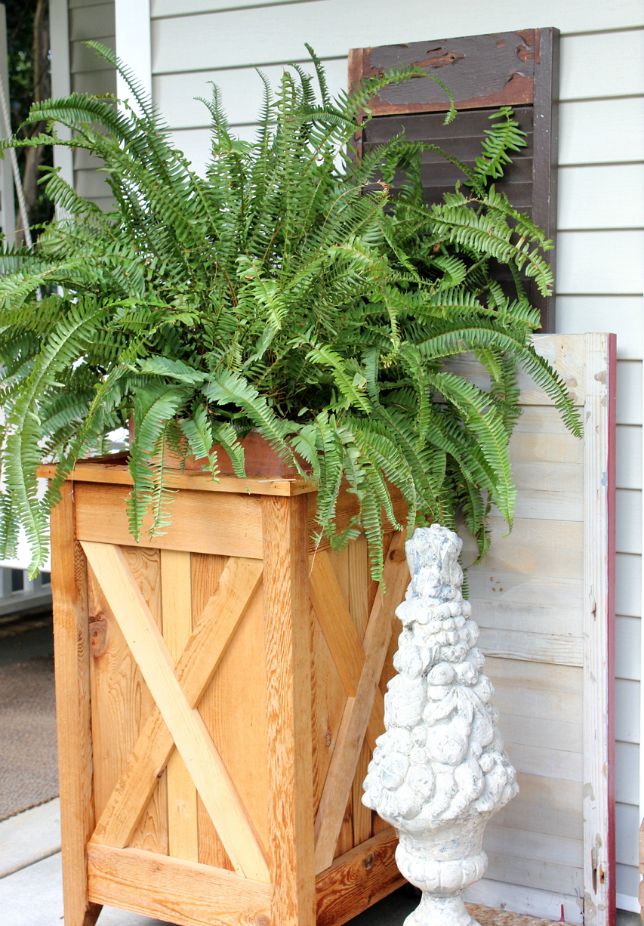 Life to the full!
Melissa