My girls have claimed a corner of our backyard under an overgrown privet hedge.  They call it "The Fort."  They spend hours playing any number of games back there.  I love their creativity, but I do not enjoy their mess 🙂  They were really hoping for a tree house, but the tree is not actually a tree. . . more of an overgrown shrub!  So, to meet their need of defining more of a "space" and to meet my need of not having to see their mess, I came up with this idea.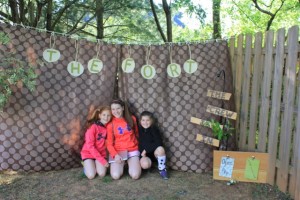 Here is how the space looked BEFORE:
Yes, I let them dig a giant hole in our backyard!  They scoured the neighborhood for rocks and spent several days hauling them in our wheelbarrow!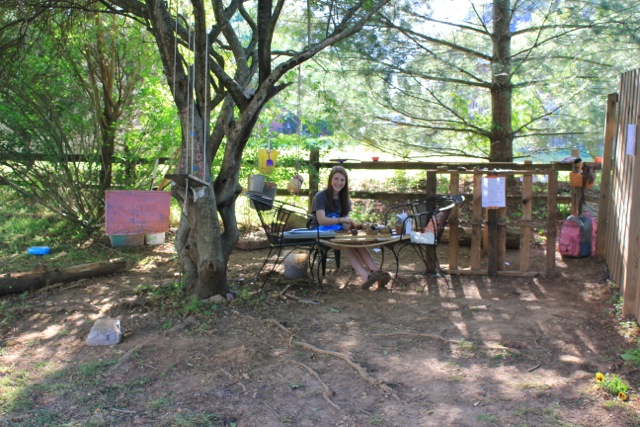 Notice the buckets hanging from branches. . . papers taped to an old brick pallet. . . a table made out of old wood and iron chairs that a neighbor gave them. . . an old "Window World" sign that they painted pink. . . a place full of creativity (and clutter!)
My original idea was to get outdoor fabric and make curtains with grommets and hang that from clothesline.  Once I priced the outdoor fabric and grommets (which would have been very cute,) I realized that this was going to be more money than I was willing to spend!
I tried to think of other fabric that could get wet and still be ok.  The lightbulb went on – shower curtains!  And, they already have a way to hang them sewn right into the top.  This was turning into a "no-sew" project!
I found these great shower curtains over at our discount store that is going out of business – Rose's.  I bought 4 shower curtains at $7.50 a piece and 4 sets of shower rings at $1 a set!  The girls wanted a "cute – yet – rustic" look.  I thought that the tone on tone brown polka dots would be great!
A trip to the hardware store for the clothesline. . .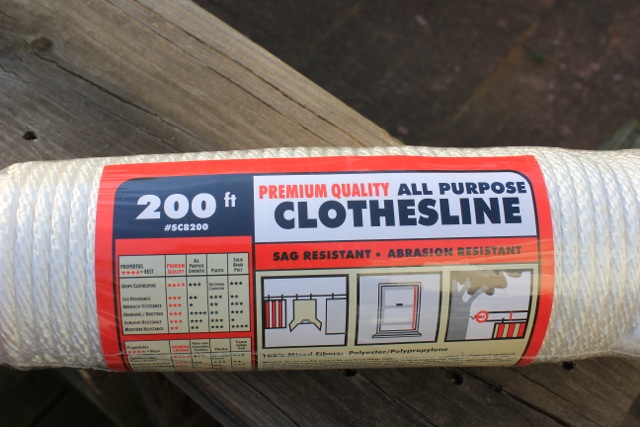 I simply strung the clothesline from the fence to the "tree."  I tied knots to hold it – not fancy boy scout knots – just simple shoe tying knots.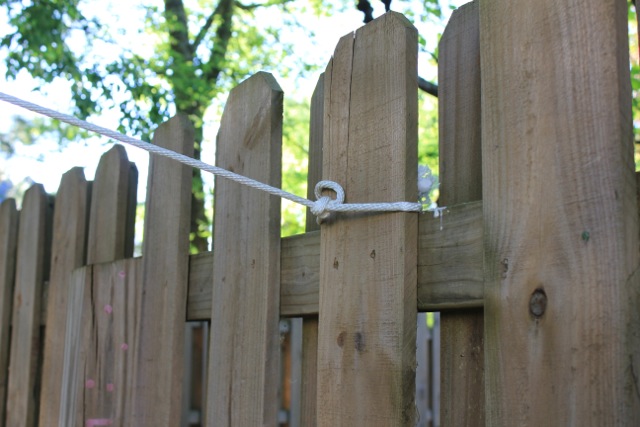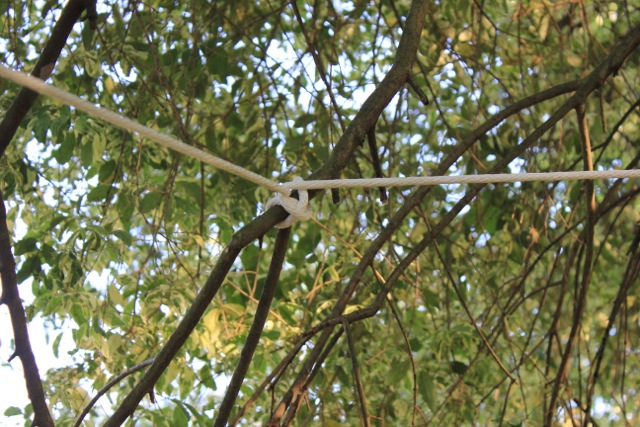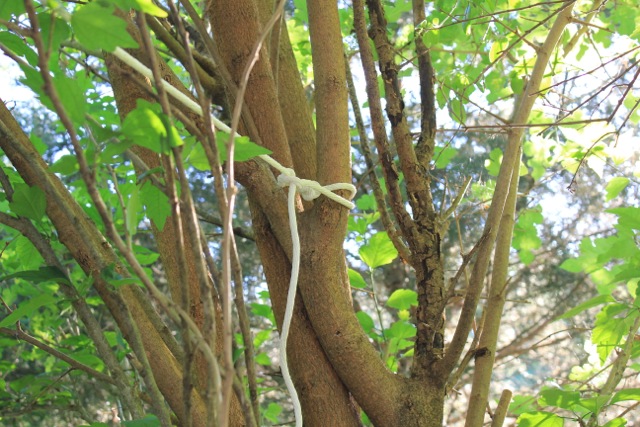 I added a few "cute – yet – rustic" details.
I made a burlap sign, cutting 2 burlap circles for each letter to spell out "THE FORT."  I traced the lid of a pan to get the size I wanted.
Then, I painted each letter onto the circles.  (Remember that burlap has holes in it, so make sure you paint on a surface that it does not matter.  I used a paper plate.)  Of course, I used a paint that I already had.  One day I am going to run out of extra paint!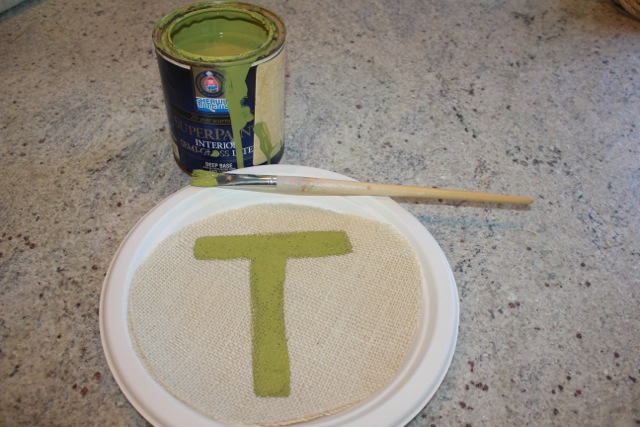 After all of the letters were painted, I cut rope for each letter that I could hang from the shower curtain rings.  I cut each piece a little bit different length because I like that look better!
I hot glued each piece of rope between the 2 burlap circles.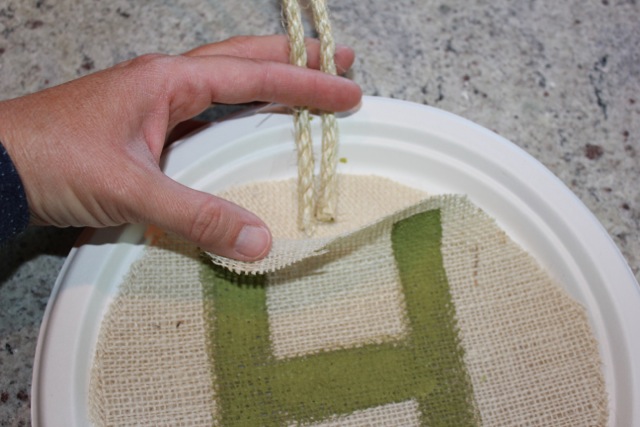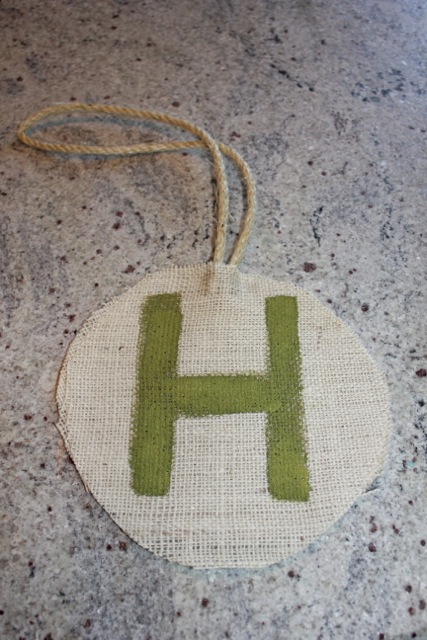 With all of the letters ready to hang, I had another thought.  The girls are always taping paper to the fence and to the trunk of the shrub, so I decided to give them a place that they could post the papers they were wanting to post.  I found this great old cabinet door over at our Habitat store for $3!  I sprayed it down with a acrylic sealer and added 2 metal clips.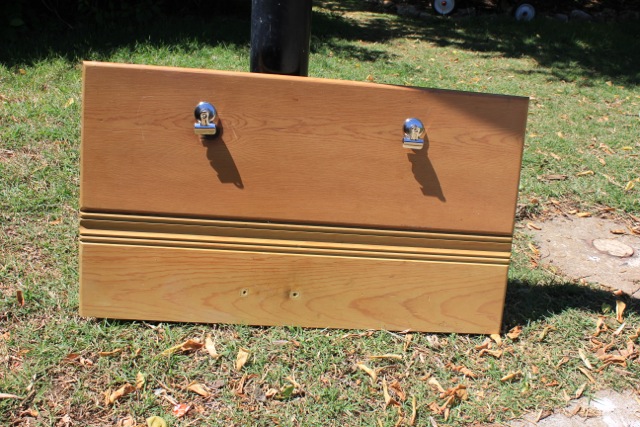 The final touch was an old plate holder that I used to hang in my kitchen.  I cut up an old piece of wood and painted the words: The – crew – is – in.  When you flip the "in" it says "out"on the other side.
Then I hung a metal cone from the plate holder.  (A freebie from a neighbor that I spray painted.  I painted the metal cone, not my neighbor!)  Notice the metal cone.  It is definitely "cute – yet – rustic."
Time to hang the curtain and add the accessories!
I cut an extra piece of rope and tied a knot at the end of each curtain so they could place the ring over the knot to keep the curtain from sliding.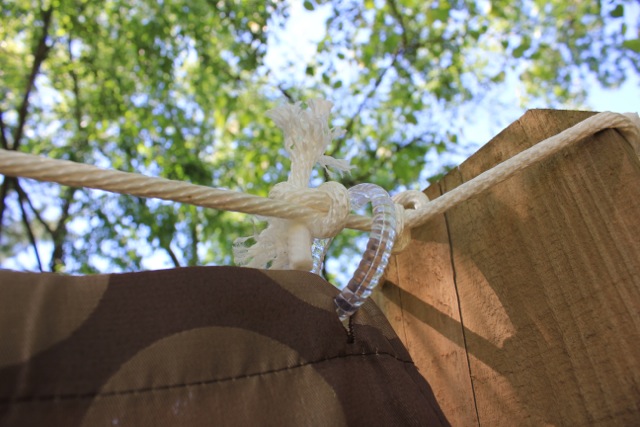 And, here are the final results: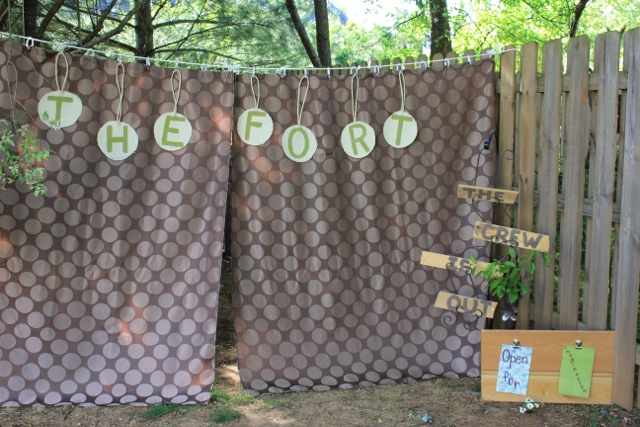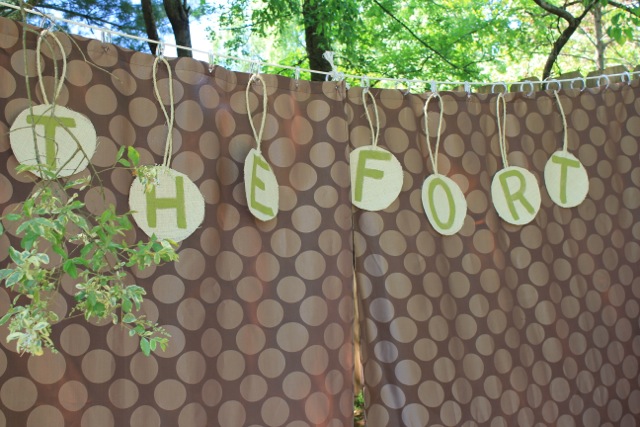 I have one happy group of girls!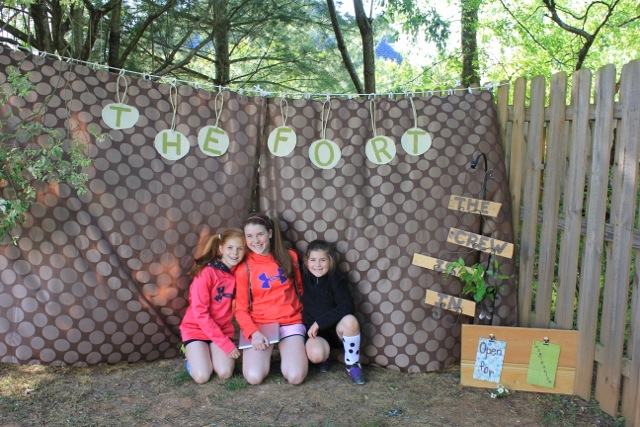 And, they can hide all of their creative goodness behind these curtains!  I actually ended up hanging 2 more down the other side of the shrub 🙂
Here are some fun shots of what they do in "The Fort."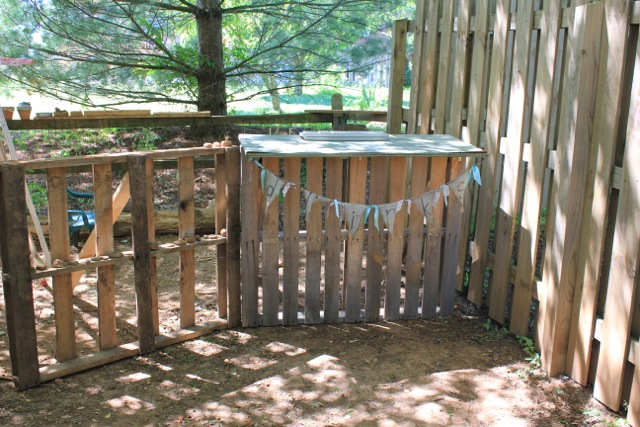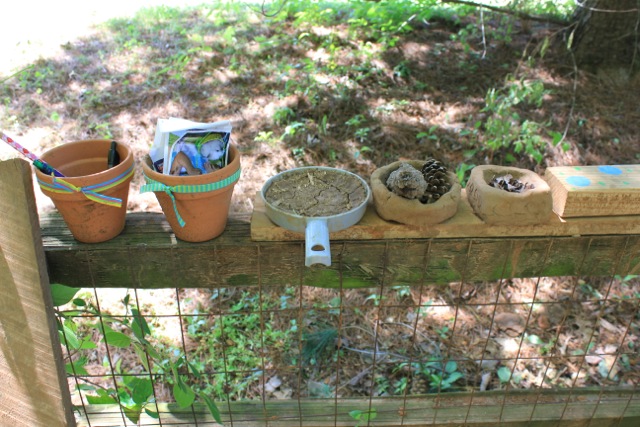 Life to the full to you today!