I continue to work on the playhouse.  She has come a long way!  She has gotten new paint, banners, front door bucket, lanterns with burlap bows, door mat, watering can, and a "relax" sign and shutters.  Wow!  I am working on the inside also.  I will reveal that in the next couple of weeks.
I had big plans for what to do in front of the "relax" sign.  It involved a great yard sale find.  But, it did not work there!!!  Oh well, I added a new wicker rocker to the front porch which caused this great bench to longer have a home.  My dad made this bench for me last year.  (He is an amazingly talented wood-worker!)
And, the great yard sale find will have to wait.  I think I have found the perfect home for it, but it still needs a little work.
The front of the playhouse is finished and now the side is also done.
Here is the finished product.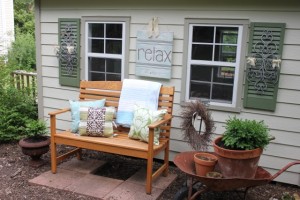 This is what I started with.
The pillow was in great shape, just a little faded.  I liked the idea of a slipcover.  I can easily take the cover off and wash it.
The pillow measures 17 x 17.   I cut one long piece of fabric that was about 8″wide and  35″ long.  (17 + 17 + 1)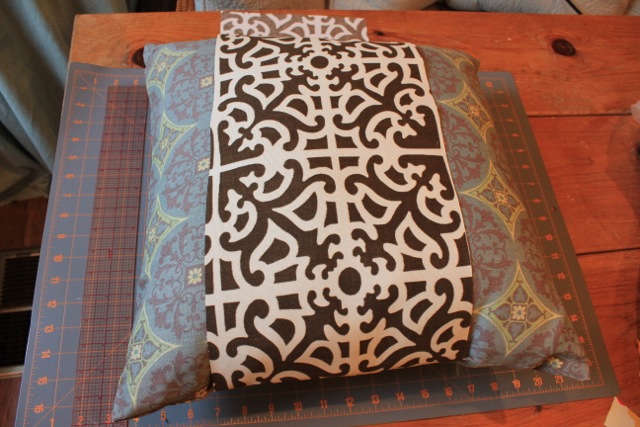 Then, I added 2 strips of fabric down the side.  I cut them about 6″ wide and 35″ long.  I folded the edge over twice and ironed it down.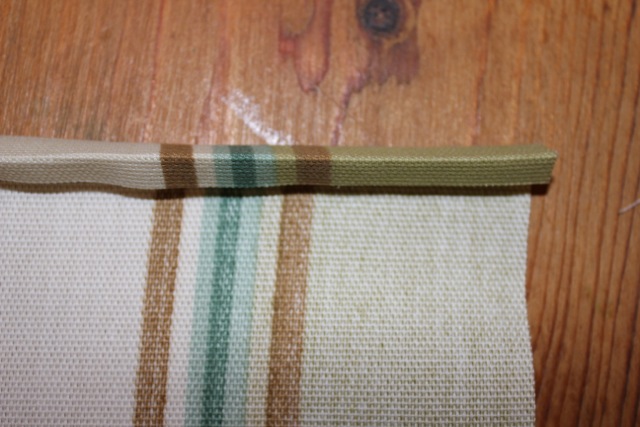 I sewed both edges down.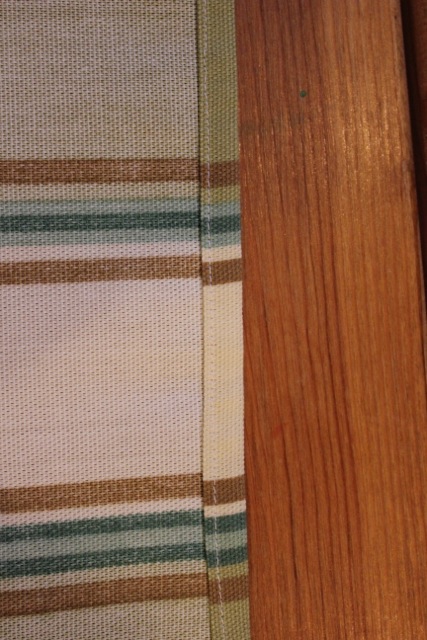 I pinned the right sides together and sewed the 3 pieces of fabric together.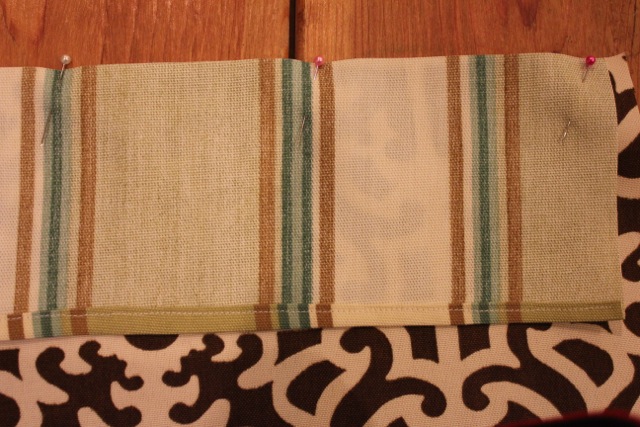 I ironed the seams open.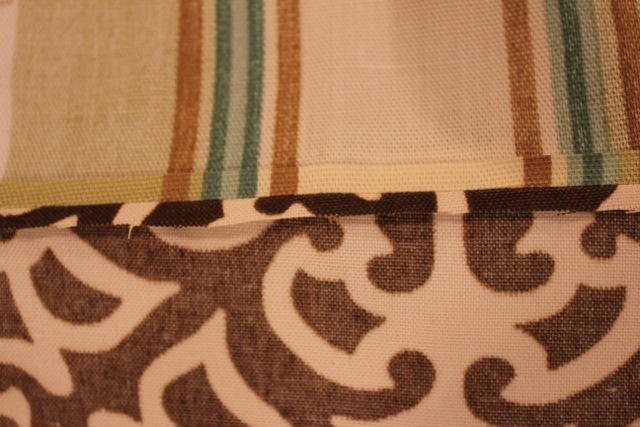 Next, I finished the ends of the fabric.  Folding them over and sewing them down.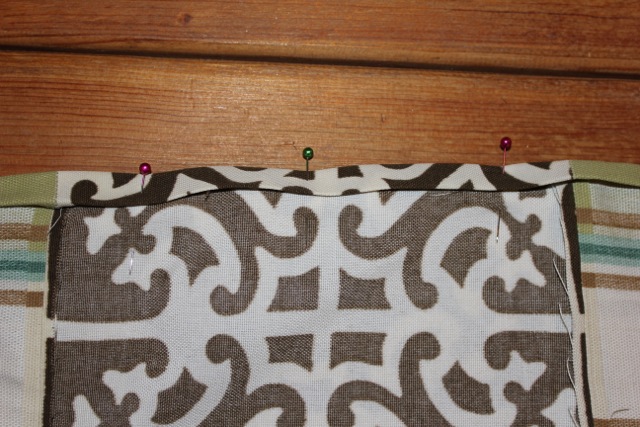 Then, I pinned the right sides together (the long ends) and sewed them together.  This created a circle of fabric.
Now, it was time to add the ribbon ties.  I cut 12 pieces of ribbon and burned the edges to keep them from fraying.
Then, I pinned 3 onto each side making sure to match the 2 pieces up so that they could be tied together.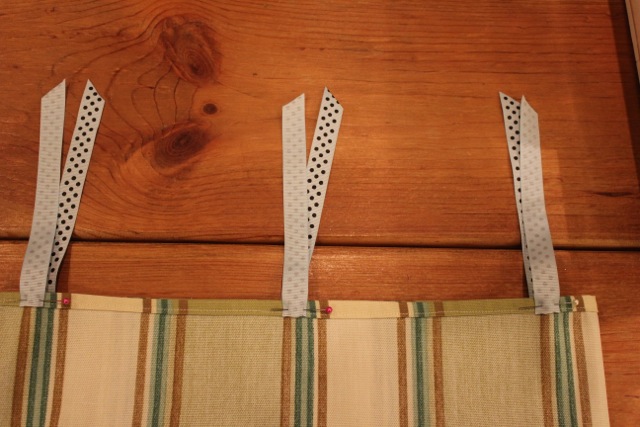 I sewed them with a zig-zag stitch several times.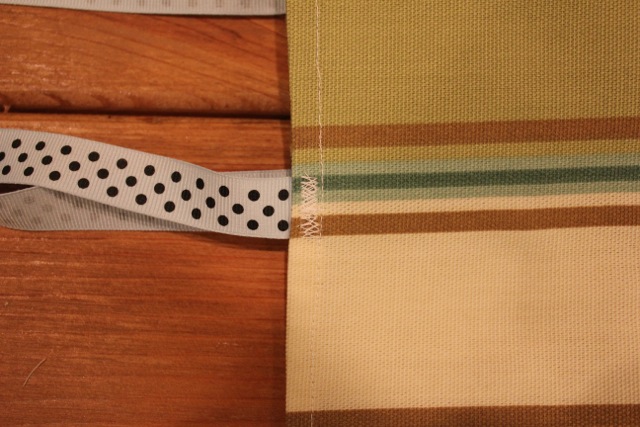 I slipped the pillow through the cover and tied the ribbons closed.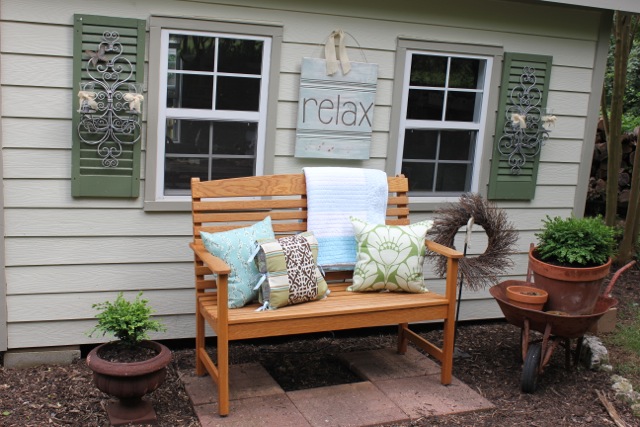 I potted a couple more boxwoods.
I have had the old wheelbarrow for years!
I just found the grapevine wreath this weekend at a yard sale.  For 25 cents, I could not pass it up!  I tied it onto a tall candleholder.
I actually moved those pavers from another part of my yard.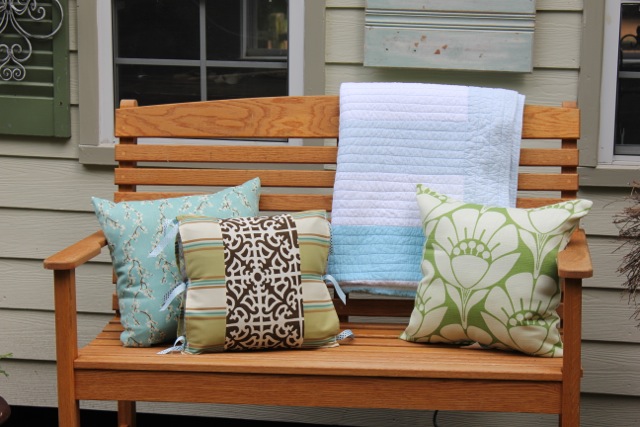 I found the other pillows today at Old Time Pottery.  I was going to make some more, but at $7 each, I could not pass these up.  I do  not think that I could make them for that!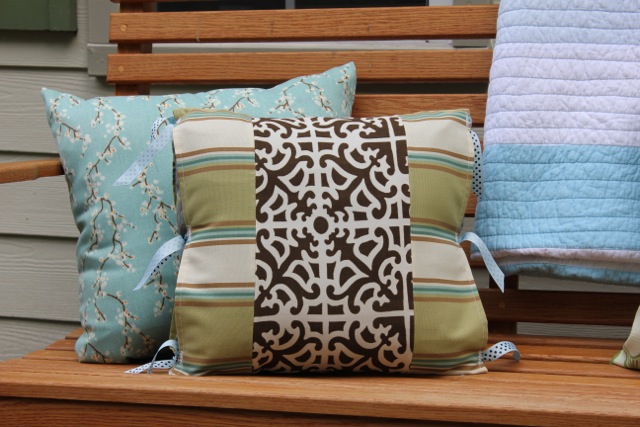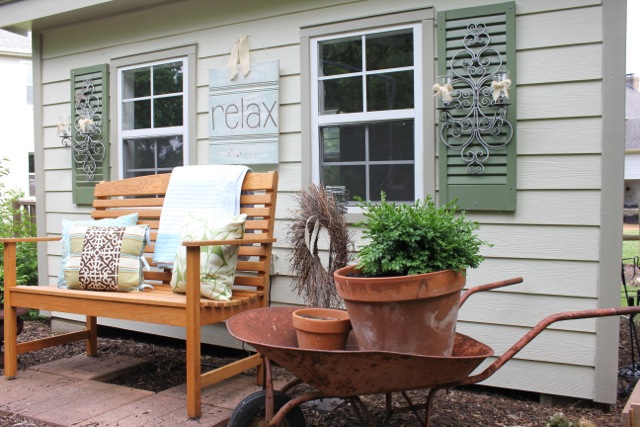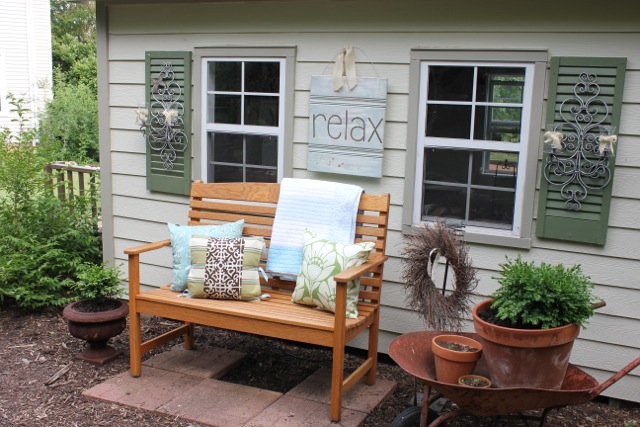 Now, I need a little time to sit here and relax!
Life to the full to you today!