I have the great pleasure of hosting Thanksgiving at my house this year.  I have the menu planned.  We are creatures of habit and we know what we like.  So, the menu this year will be the same exact menu that it has been for the past several years.  I don't like to try new recipes on a day where the food is so important!  It must be all of the tried and trues.  I want everyone walking through the line saying, "Yes! The sweet potatoes!" and "Yippee! Nana's dressing!"  This is no time to be testing out new recipes.  This is a day of traditions – food included!
I do set my tables a little different each year.  No one seems to care if the placemats are a different color or if the napkin rings are new.
I serve the meal buffet style, so that leaves room on the table for decorations.
I think my dining room looks best in neutrals.
Here is what I have come up with.
I love the look of chargers.  I think that the more layers you have, the more interesting the table looks.
I do not, however like the price of the chargers.  I always set a table for 6, and at $12 a piece for the pretty ones, I just can't spend that kind of money.
I set off to see what Old Time Pottery had to offer.  I found some of the bright gold plastic ones for $1.99.  The price was right, but the color was not!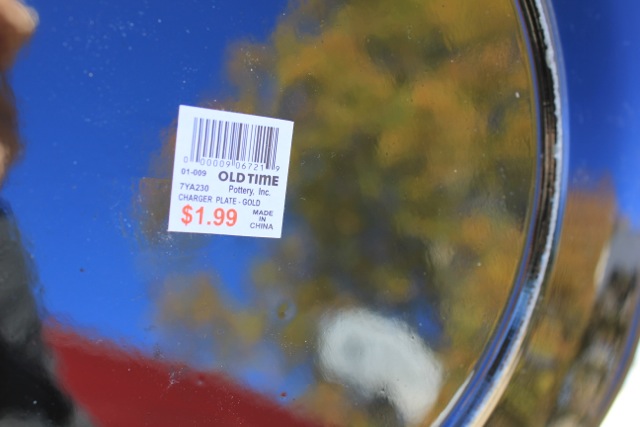 This is where I was a bad blogger and did not get a before picture.  But, you know these chargers.  The bright, shiny plastic gold ones.  There is nothing wrong with the bright gold.  I really am liking gold more and more these days.  I just wanted a richer, warmer look.
I roughed them up a bit with sand paper.  Painted on a coat of Annie Sloan French Linen and another coat of Old White.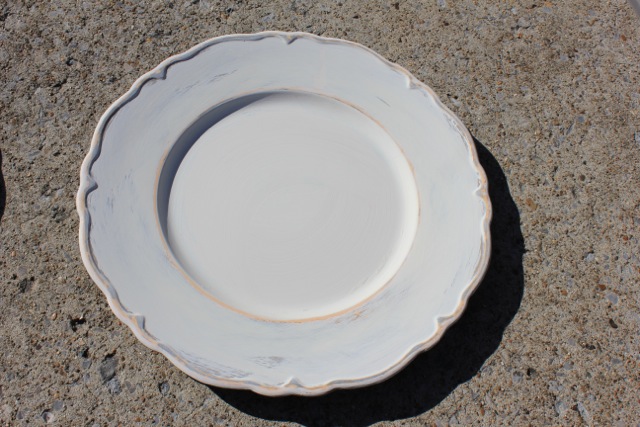 I sanded them and waxed them with a dark wax.  I was totally surprised at how great they turned out!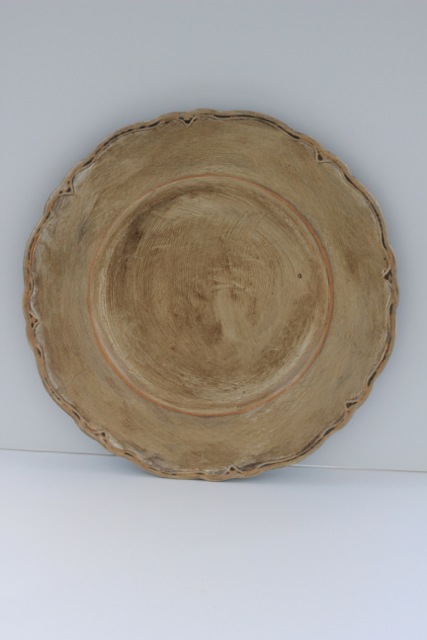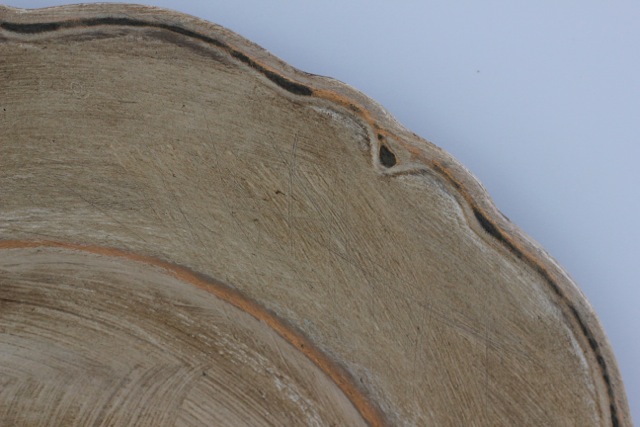 I love how they looked stacked under the plate and bowl.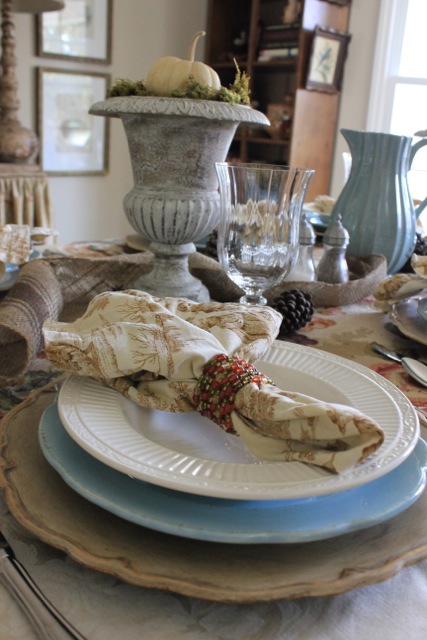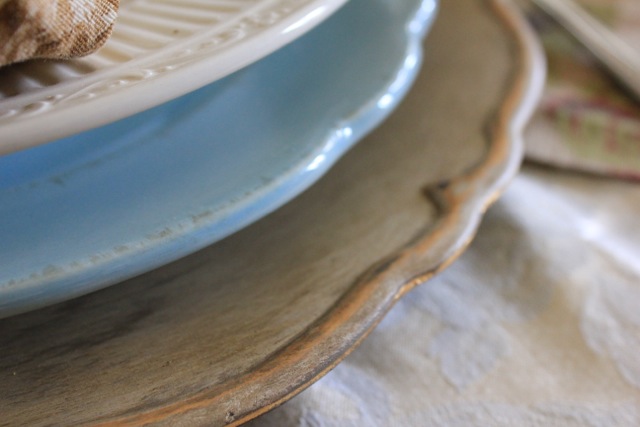 I found a set of these iron urns at a yard sale.  They had been spray painted gold.  I added a light coat of Old White and sanded them down a bit.  I added moss and a white pumpkin.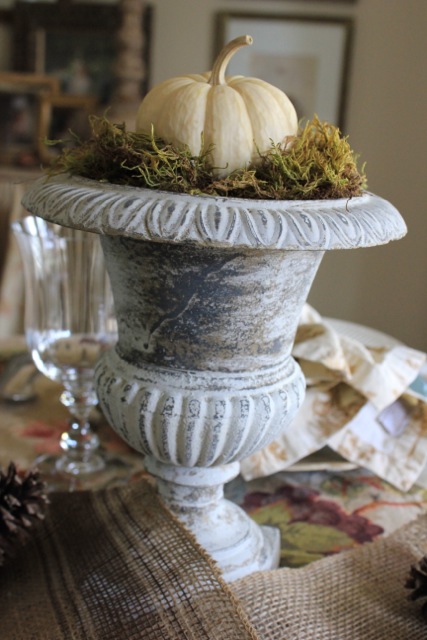 I do not like to stack the decorations too high on the table. I have tried to have conversations through large flower arrangements, and it is not easy to do!  So, I always hang some decorations from the chandeliers.  I mixed some real bittersweet in with the giant acorns.  The color of the bittersweet is so vibrant!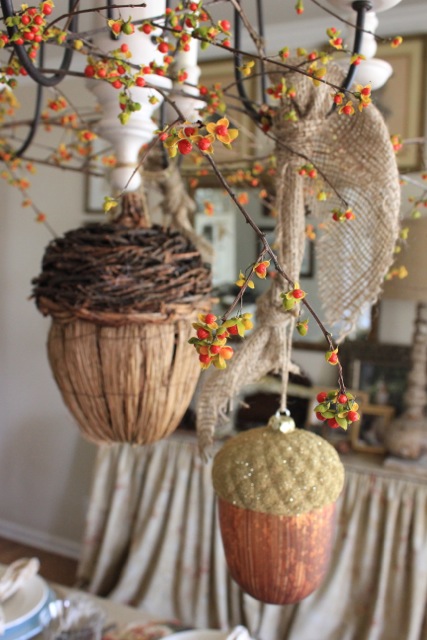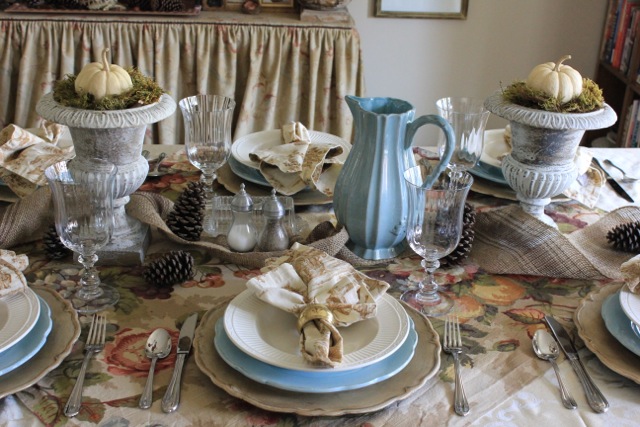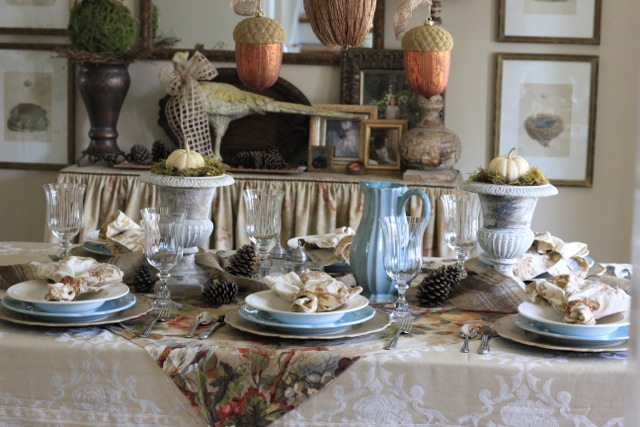 I am looking forward to a day of family, food and fun.
Life to the full,
Melissa