I cannot resist a thrift store!  You just never know what you might find!  Oh, the possible treasures to be discovered!  My girls do not yet share my love of the thrift store, but maybe in time. . .
Well, I happened to find a treasure the other day.  A precious rusty bunny.  I think that she is intended to be put in the garden, but I thought she would look great in an arrangement on my dining room table. . . and she did!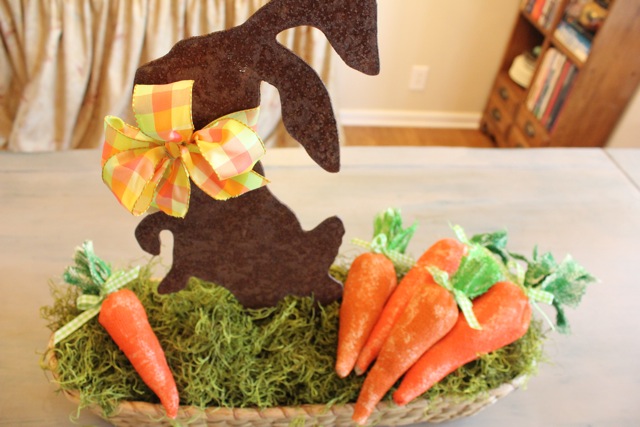 After purchasing the rusty bunny, I headed to Goodwill to find a long basket to put her in.  Score!  Perfect size basket!
I added 2 bricks to hold the basket steady and filled the rest with floral foam.  The bunny is on spikes that are meant to be inserted in the ground, but they worked well in the floral foam.
Next, I added lime green Spanish moss.  But, still something was missing?  Eggs?  Jelly beans?  Then the perfect idea struck. . . burlap carrots!  I told you I have a thing about decorating with carrots.  They are just so fresh!  So, here is how I made the carrots.
I cut out several triangles in burlap.  Some a little smaller and some a little larger.  This is the basic shape.
I then sewed the sides together, leaving the top open.  (Hot glue would work fine.  Just overlap a little and glue together.  I always tend to burn myself, so I try to avoid the hot glue whenever I can!)
After sewing the sides together, I filled it with stuffing leaving about 1-2 inches at the top.  I tied it off with string at the top of the stuffing.  Here is what I had so far.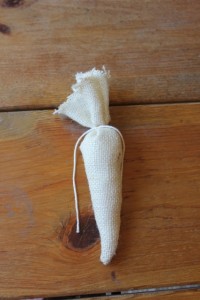 From there, I cut slits into the top to make the leaves.  Then I painted away.  I used a couple of shades of green and orange.
What cute carrots.  I tied them off with gingham ribbon just to jazz them up a bit more.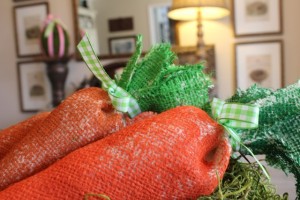 They were the perfect finishing touch for the arrangement!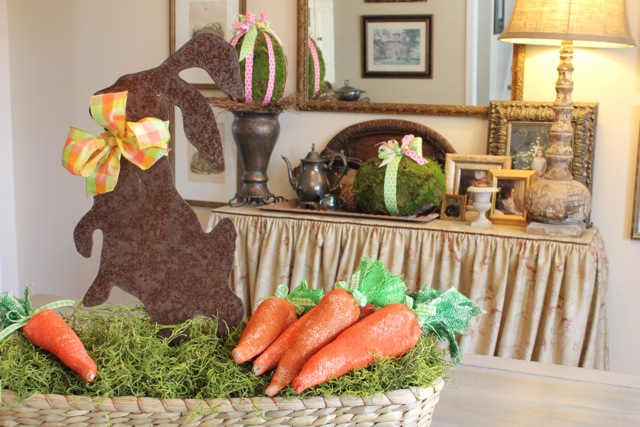 The precious eggs hanging from the chandelier came from one of my favorite stores here in Murfreesboro, TN.  It is called Samantha James, and is full of antiques, gifts, and home decor.  I will share more about Samantha James in a future blog!
Happy creating!