I am continuing to work on my front porch.
I still have the rocking chair that went in our first nursery for Daisy.  We bought it at the Pottery Barn Outlet.  It was a beautiful pale shade of blue with a whitewash finish over that.  I covered the cushions with an old quilt.  It was a beautiful chair in a beautiful nursery.
With the birth of our next child, Anna Belle, we decided that we wanted a more comfortable rocker. (I actually did not let David sit in a glider when we first started looking for rocking chairs for Daisy.  I could not stand the way they looked, and I wanted pretty.  I knew that he would be the practical one and want the comfort.  With the second child, I was all about comfort and less about look!  Reality had set in!!!)  So, we got a glider.  Not near as pretty, but much more comfortable!
Not being one to get rid of furniture, I painted it black and put it in our family room.
Now, it is time for it to make its way to the front porch.  Oh, how I wish that it was still the lovely pale blue!
Since it was not, I got out my paint and this is what I came up with.
Here is where I started.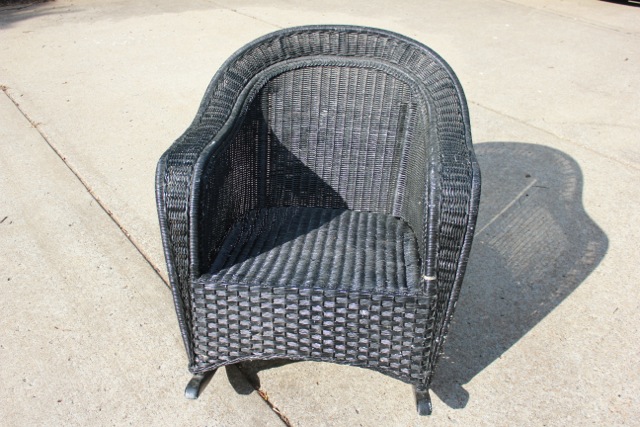 When I had originally painted it, I used spray paint.  Spray paint is an enamel paint.  I was not thinking about that little fact when  I painted the whole chair with a latex paint.  (If you paint latex over enamel, the paint literally wipes right off.)
So, I ended up with this.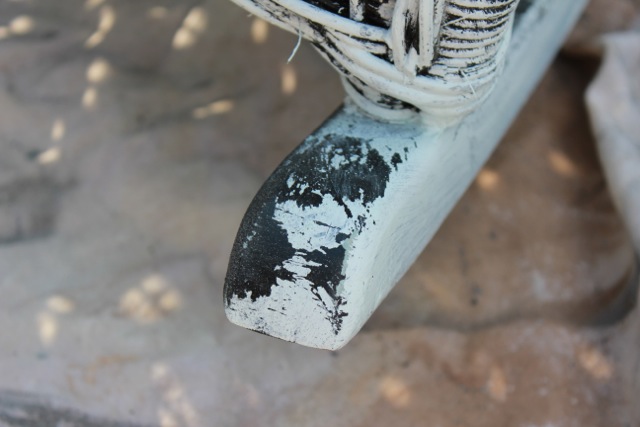 Oops!  I wiped off all of the latex paint and went to the spray paint.  I actually had to buy this paint.  I am finally out of all of my white spray paints.  I bought a primer and paint.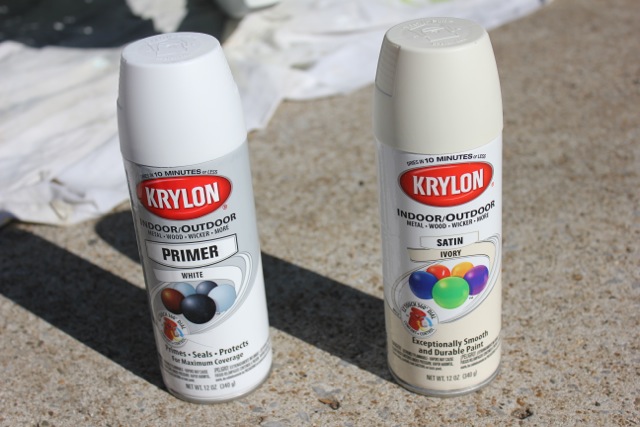 I sprayed the chair down. I did not worry about completely covering the parts that would be covered with the cushions.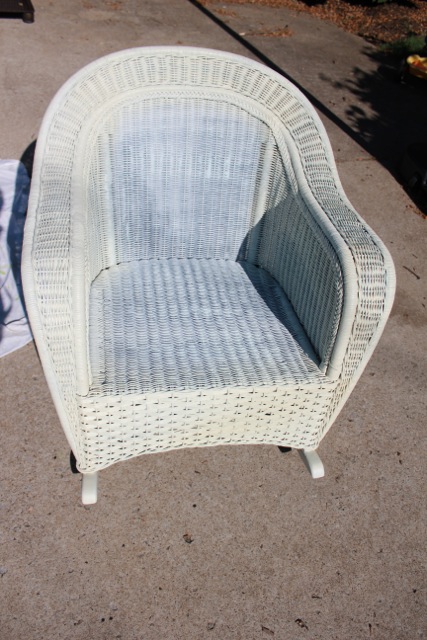 Then, I used an enamel paint that I already had and dry brushed some of it on.  You cannot tell from the pictures, but it gave it an "aged" look.  I used a super cheap brush so that I could throw it away when I was done.  I did not want to have to bring out the mineral spirits to clean my good brush!
With the rocker painted, it was time to recover the cushions.
I found a great outdoor fabric on the clearance rack at Hancock Fabrics.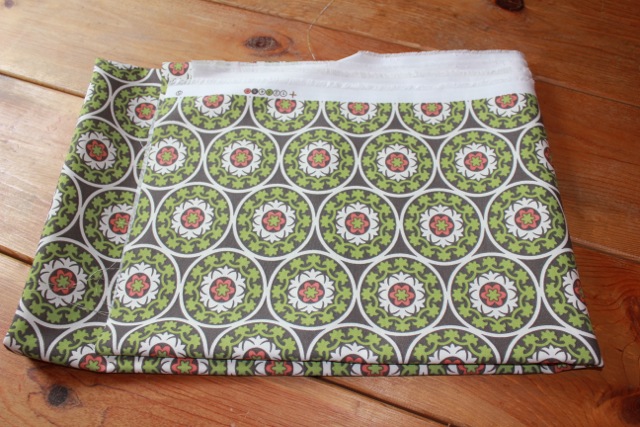 I wanted to be able to easily wash these cushions, so I made a slipcover for the cushions.  I started by wrapping the fabric around the cushion and cutting it about 1 inch wider down the sides.  I had one long strip of fabric.
I ironed and hemmed the edges.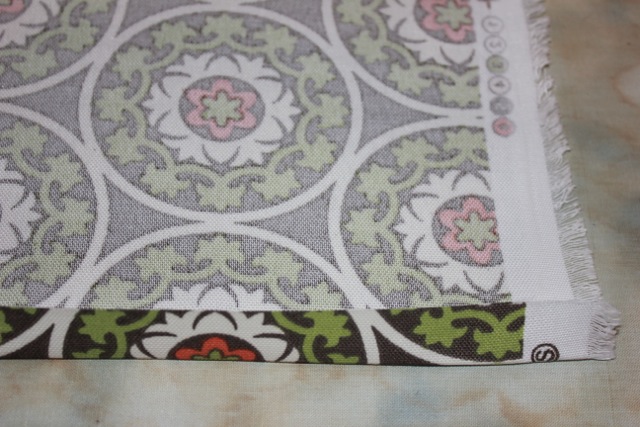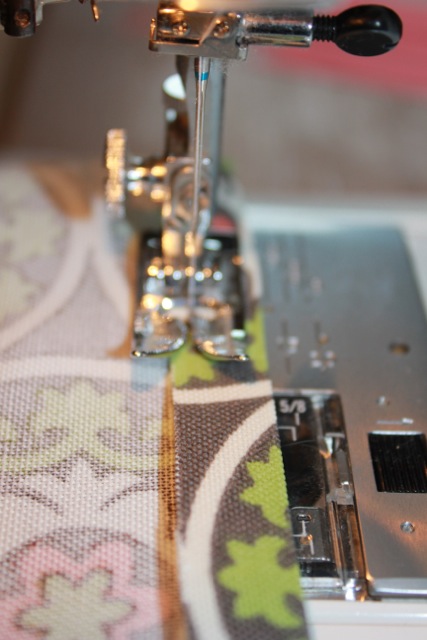 I wrapped the piece of fabric around the cushion and pinned it.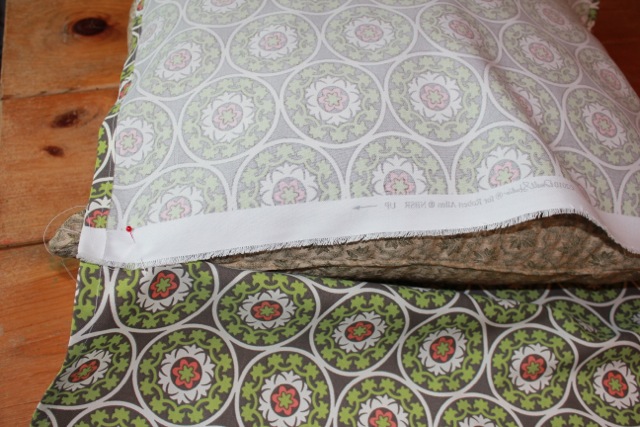 I slide the cushion out and finished pinning the right sides together straight across.
I trimmed the excess fabric and sewed the right sides together.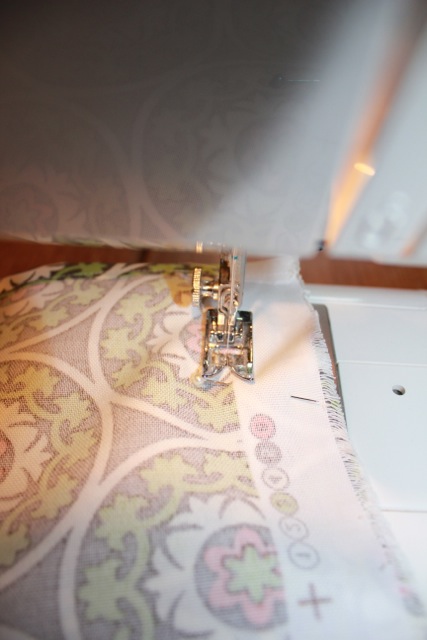 I pressed the seam open.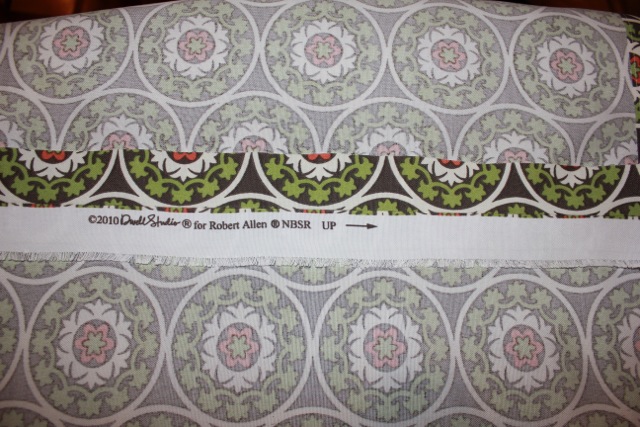 I cut 12 pieces of ribbon and burned the sides to keep them from fraying.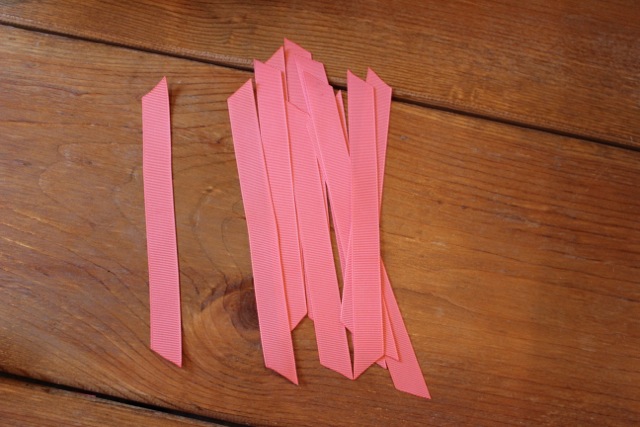 I evenly spaced the ribbon and pinned it to the inside of the fabric.  I made sure that the ribbons matched up on each side.   Then I sewed them down.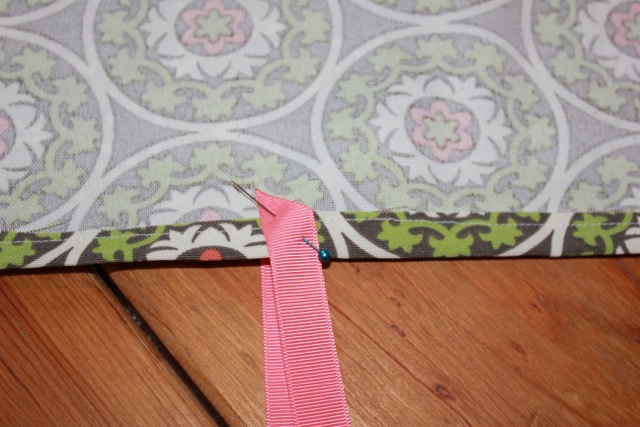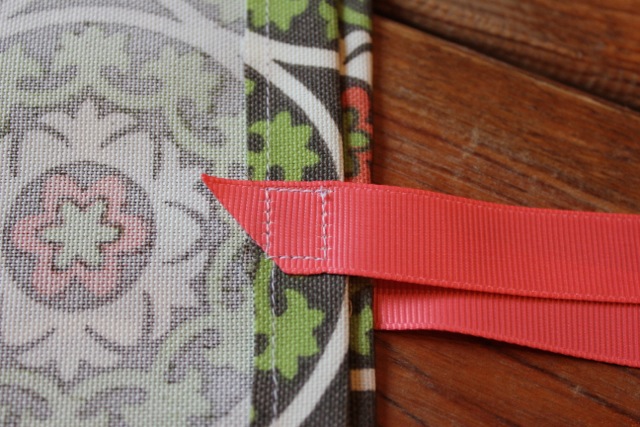 I slipped the cushion into the middle and tied the ribbons closed.
I did the same thing with the bottom cushion.
Here is the rocking chair in its new home on our front porch.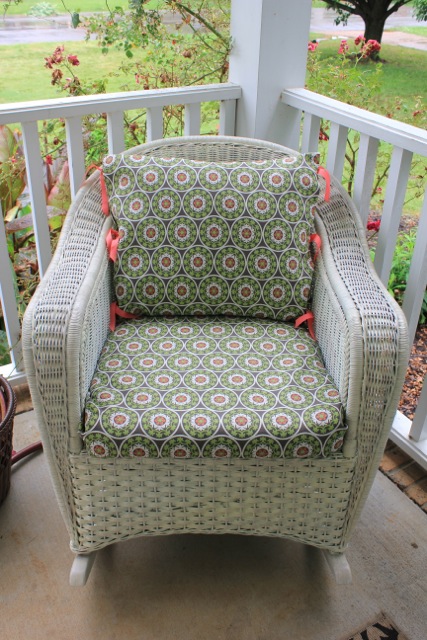 I already had a couple of pillows on the swing (opposite the chair – I will show pictures)  I can't decide which pillow I like better in the chair, so I took some of both!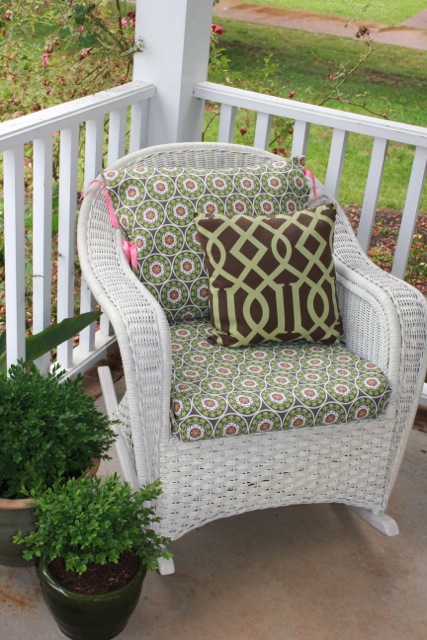 Ignore the climbing rose bush in the background!  I did not get the bug spray on it soon enough this year, and it has been eaten up!!!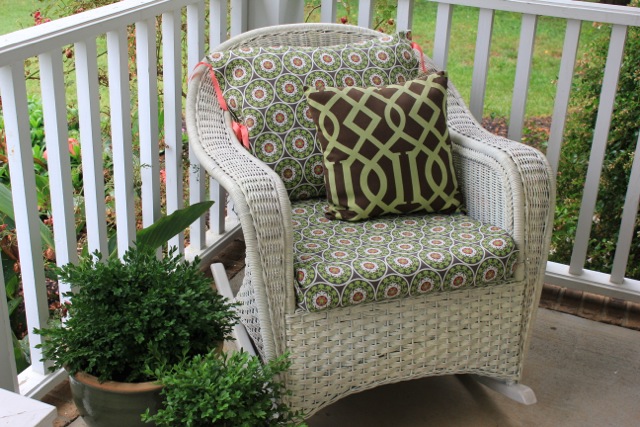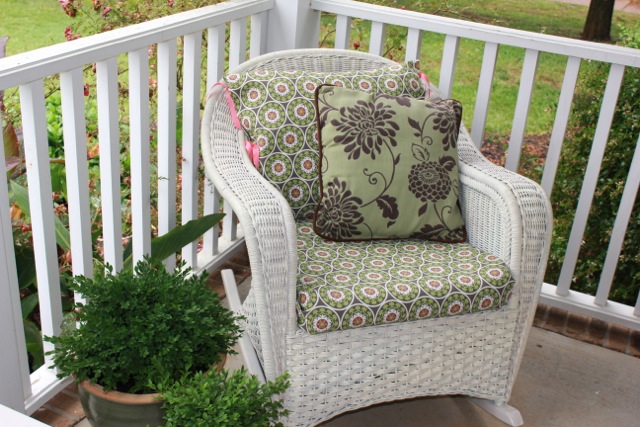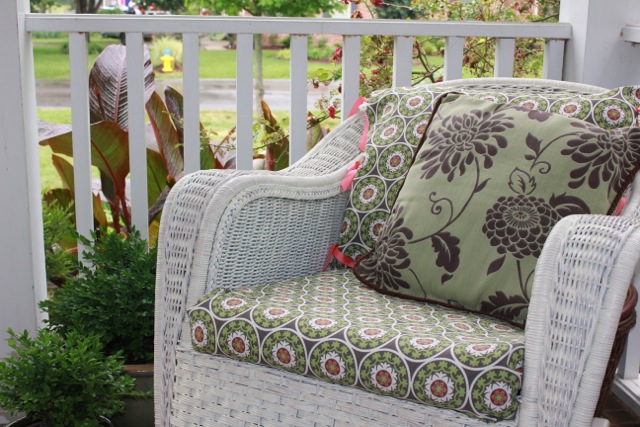 My dad made the swing for me a few years back and the lattice.  He is SO handy!   I need to get some more pillows on it and maybe a throw on the back!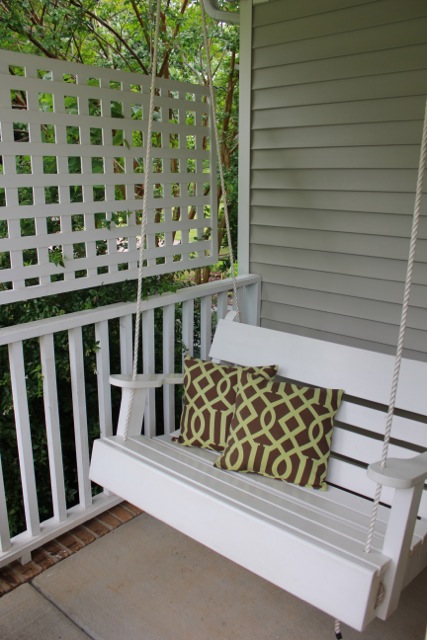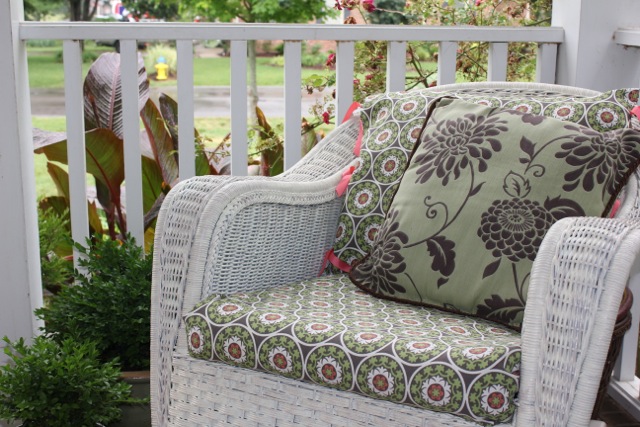 This is going to be a great spot for my morning coffee!  And, don't those boxwoods look great?  I have just about bought Kroger out of them this year!  No more ferns for me. . . only boxwoods!
I found some amazing yard sale finds this weekend.  I hope to share them with you this week!
Life to the full to you today!