Ok, so I am one of these people who is constantly changing my home!
I cannot leave well enough alone!
When we got home from camp, I saw that my hydrangeas were ready to start coming inside.
They had reached the perfect shade of green!
You can see where I put them in my family room here.
Luckily, I had a few new Goodwill finds that I wanted to put to use on my dining room table.
Here is what I came up with!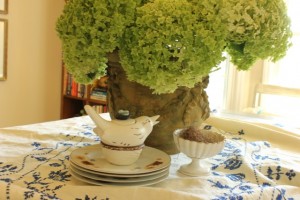 Can you believe that everything (except the bird sugar and creamer set – that was a gift from a dear friend!) came from Goodwill, yard sales and  nature?!
Seriously, check out how huge those hydrangea blooms are!
Not to mention, they are the most beautiful, freshest shade of green ever!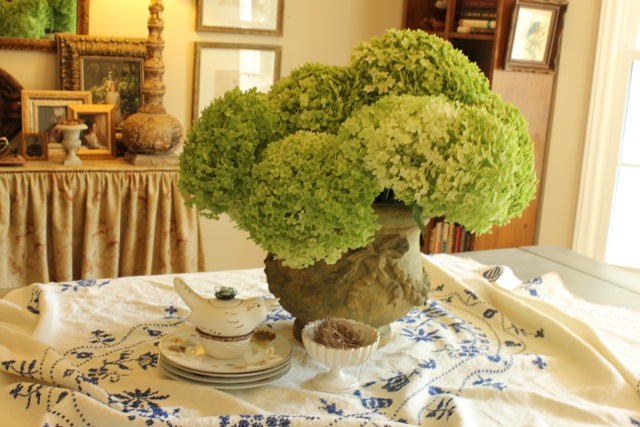 The white dish was a Goodwill find.
The nest inside was provided by some sweet little bird from my friend's barn!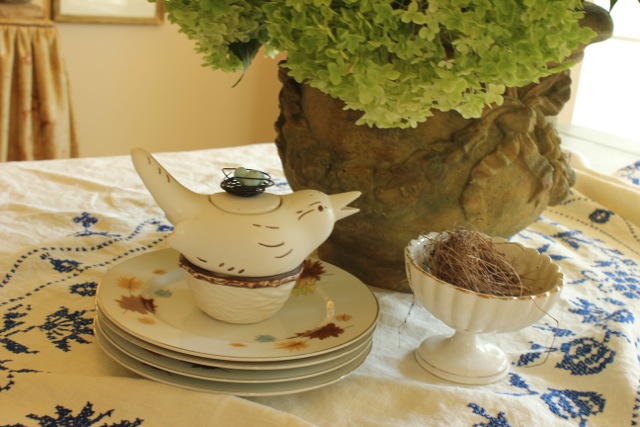 The stack of salad plates was also Goodwill.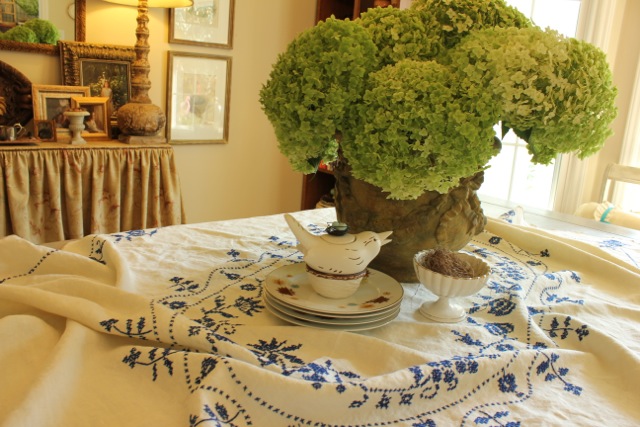 The planter was another Goodwill find!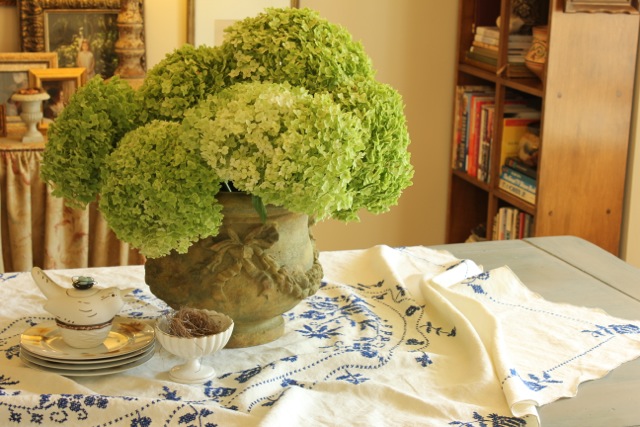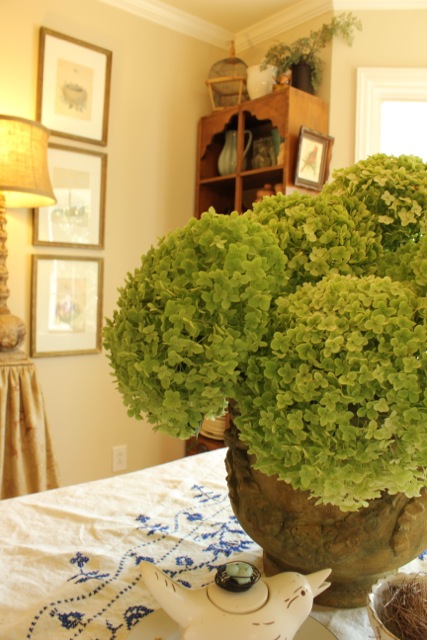 These bird pictures used to hang in my grandmother's house – sweet memories!
And, what do you do if you run out of wall space, hang them from your bookcases!
(I used the Command hooks – no nails!)
I have shown several pictures of my dining room, but realized that I have never shown you this bookcase.
I have 2 of them.  They were in my husband's room growing up.
They now sit on either side of the bay window in my dining room and hold my treasures! (along with some of his)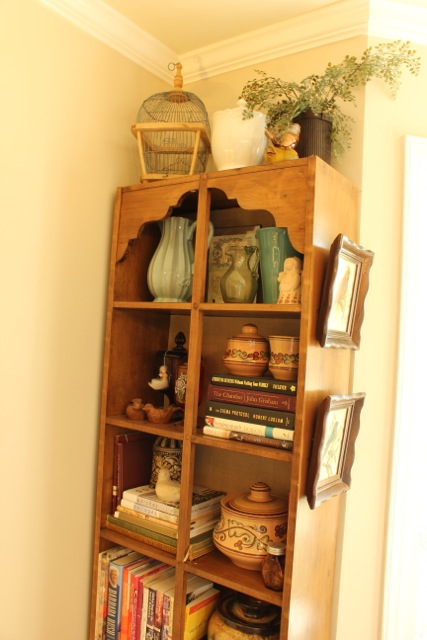 I added 2 more candlesticks to the collection on my buffet.
You can see more pictures of my buffet here.
And, another cream ceramic dish to my hutch.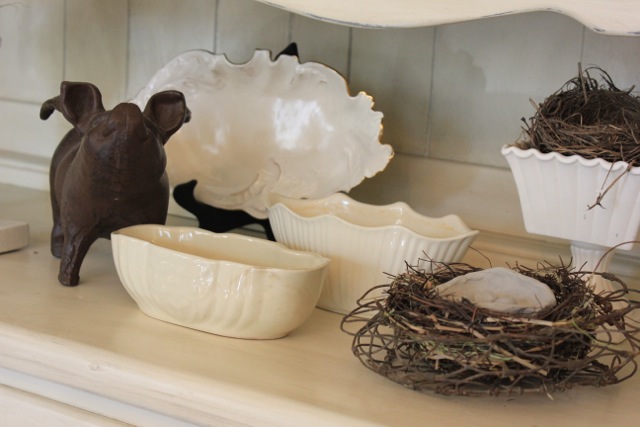 And, another twisted brass candlestick.
You can see more of my hutch here.
(My oldest is concerned that I might be a hoarder?!)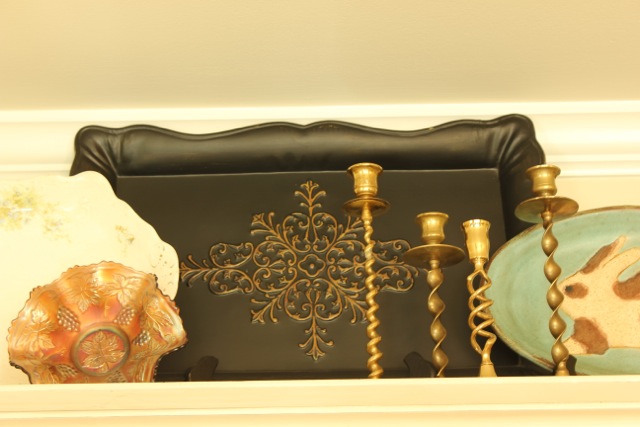 The tablecloth was a yard sale find.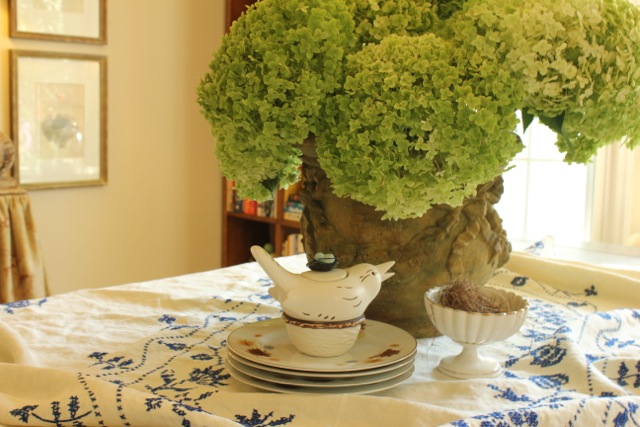 Can you believe the color of these hydrangeas?!
They are huge!
I really have to find a place to start selling some of these treasures.
I was trying to explain to my husband today how I have to keep bringing new (old) things home so that I will have something fresh to post on my blog (as I unloaded my car with more finds). . . I think he understands?
He is a saint!
Life to the full to you today!
Here are the places that I party!
Sunday
Monday
Tuesday
Wednesday
Thursday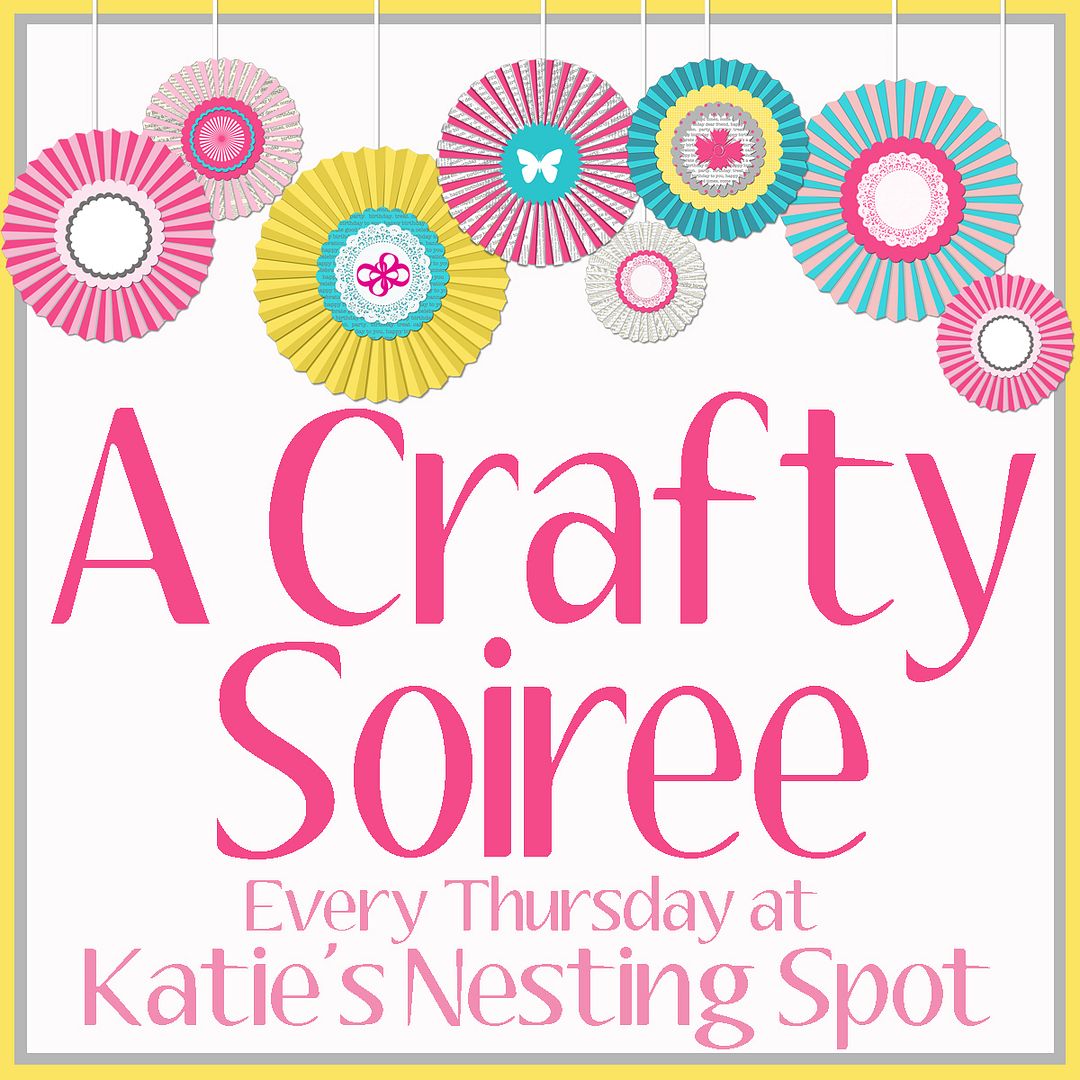 Friday
Saturday