I have always loved a good yard sale.
I was yard-saleing long before I was blogging.
This is one of my finds from 11 years ago.
I bought it for $75.  I painted it black originally.
About 2 years ago, I painted it a creamy color.  I actually used spray paint and a glaze over the top.
This was before I knew about Annie Sloan chalk paint!
So, here is another peek at my dining room.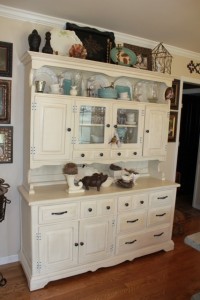 Notice the stack of blue salad plates that the silver bird is sitting on.
 I bought 8 place settings of those dishes at Goodwill for $15.
They are from Ballard Designs!!!
 When I bought them, they were still in the catalog.  I am not sure if they still are or not, but they were still quite the deal!
Who gets rid of brand new dishes?!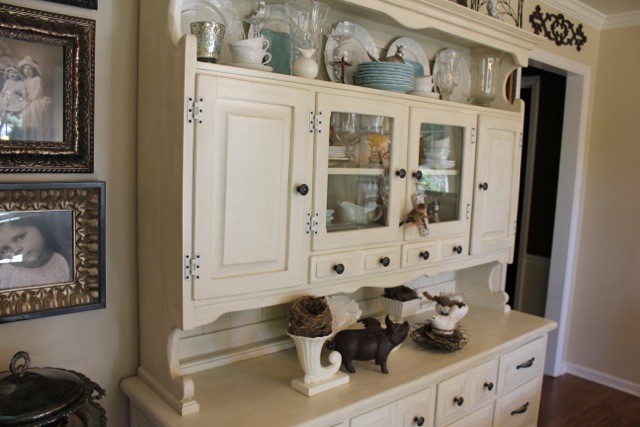 The ceramic pieces are collected from yard sales and thrift stores.  They are great for holding my bird nests!
This is just a little carved bird that I could not resist!
I paid as much for him as all of the dishes from Goodwill!
Sometimes, you just have to "splurge!"
You can see into my kitchen from this view.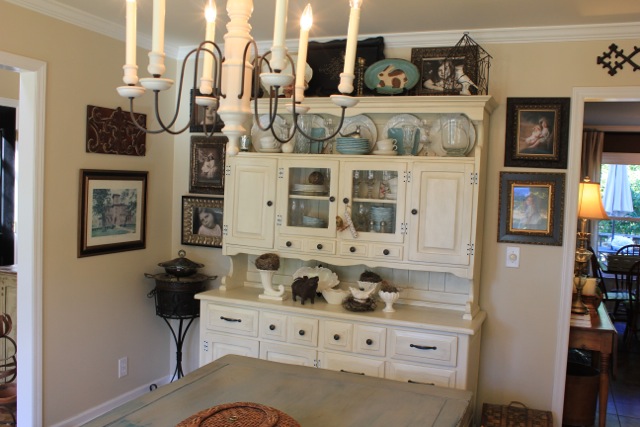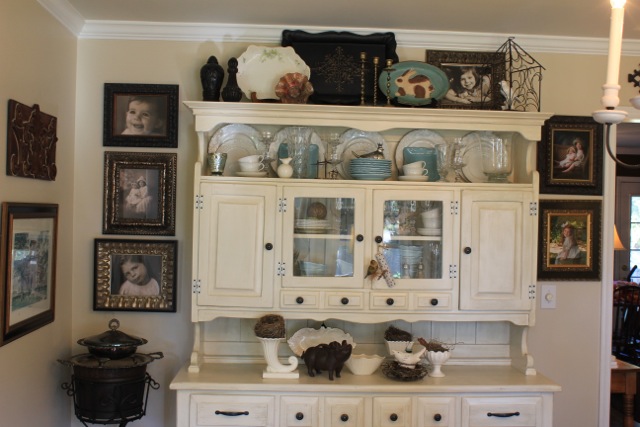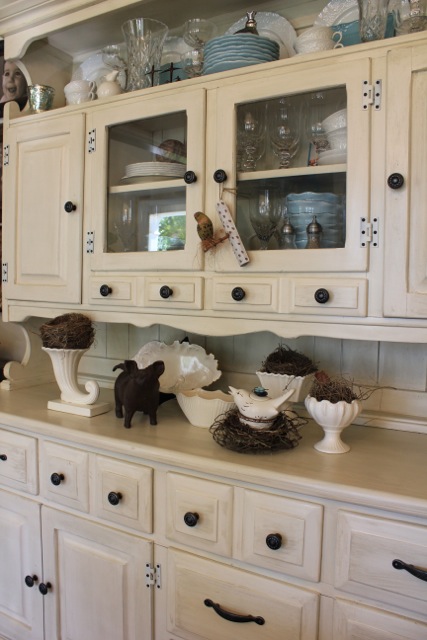 The cream platter with the blue flowers on the top of the hutch was purchased last weekend for $2 at a yard sale.
The pretty little glass bowl belonged to my grandmother.
Her grandmother purchased it for her when she was a little girl.
She bought it for her with her extra egg money!
 My grandmother loved to tell me the story of the day she picked it out!
 Special memories!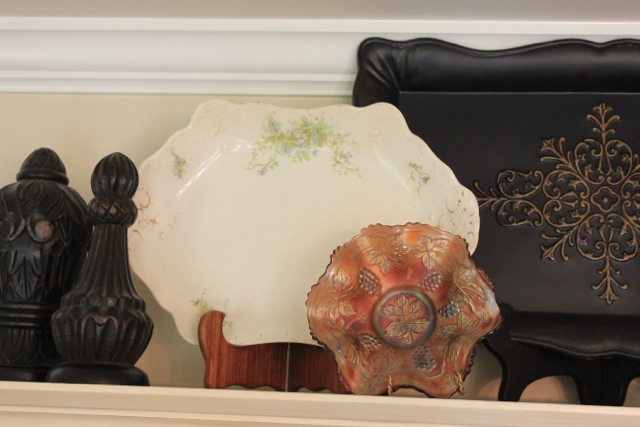 One of my newest items to be on the hunt for are twisted brass candlesticks.  So far, I have found 3.  I paid $1.99 each at Goodwill for these.  And, I have no plans of polishing them!  I like them tarnished. . . they match my silver!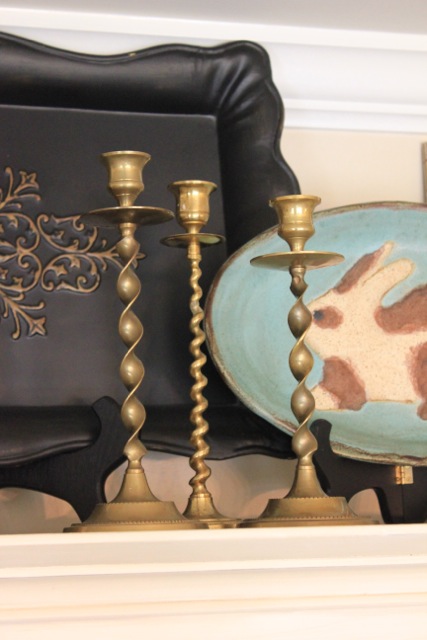 The dining room table got a coat of Annie Sloan chalk paint and dark wax pre-blog days.
I used French Linen.
The basket on the table was a $4 yard sale find a couple of weekends back.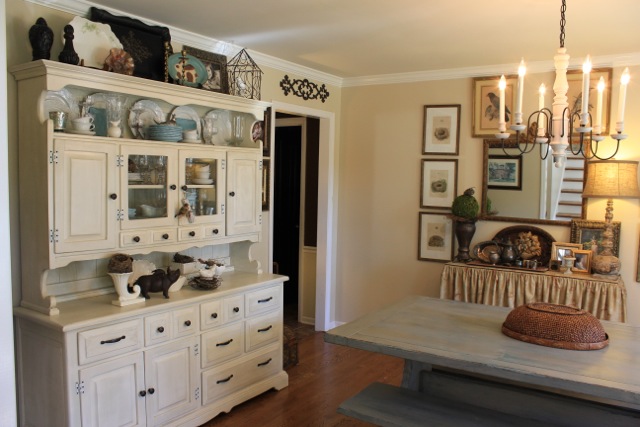 Here is the view out of my dining room into my foyer.
You can read about my foyer and rusty gate.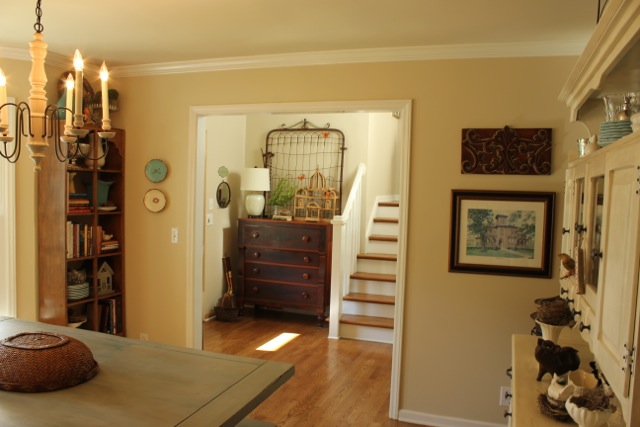 I have one of these bookcases on each side of the bay window.
 They were my in my husband's room growing up.
I backed them with burlap and changed out the drawer pulls.  (Once again, pre-blog!)
 They work great in here.  They are the perfect size.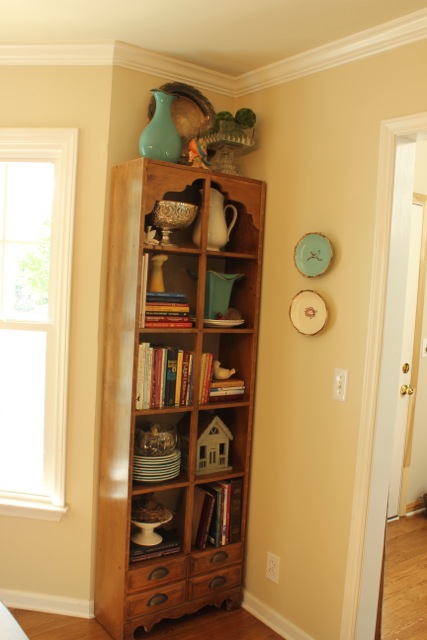 We have books in every room of the house.
I am always looking for more ways to store them!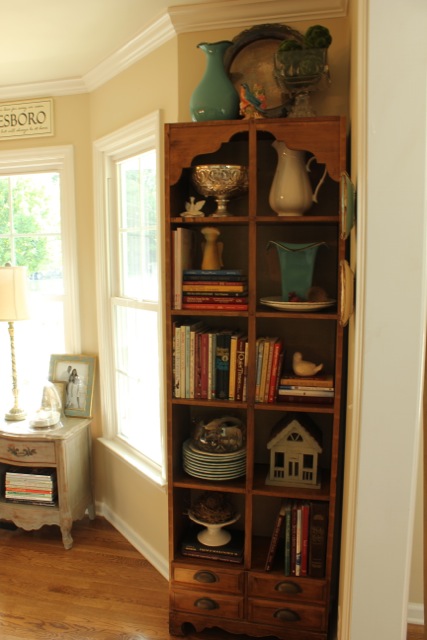 And, this is the view from the foyer into the dining room.
You can read about my chalkboard here.
Hope you enjoyed my dining room!
Life to the full to you today!
Here are the places that I party!
Sunday
Monday
Tuesday
Wednesday
Thursday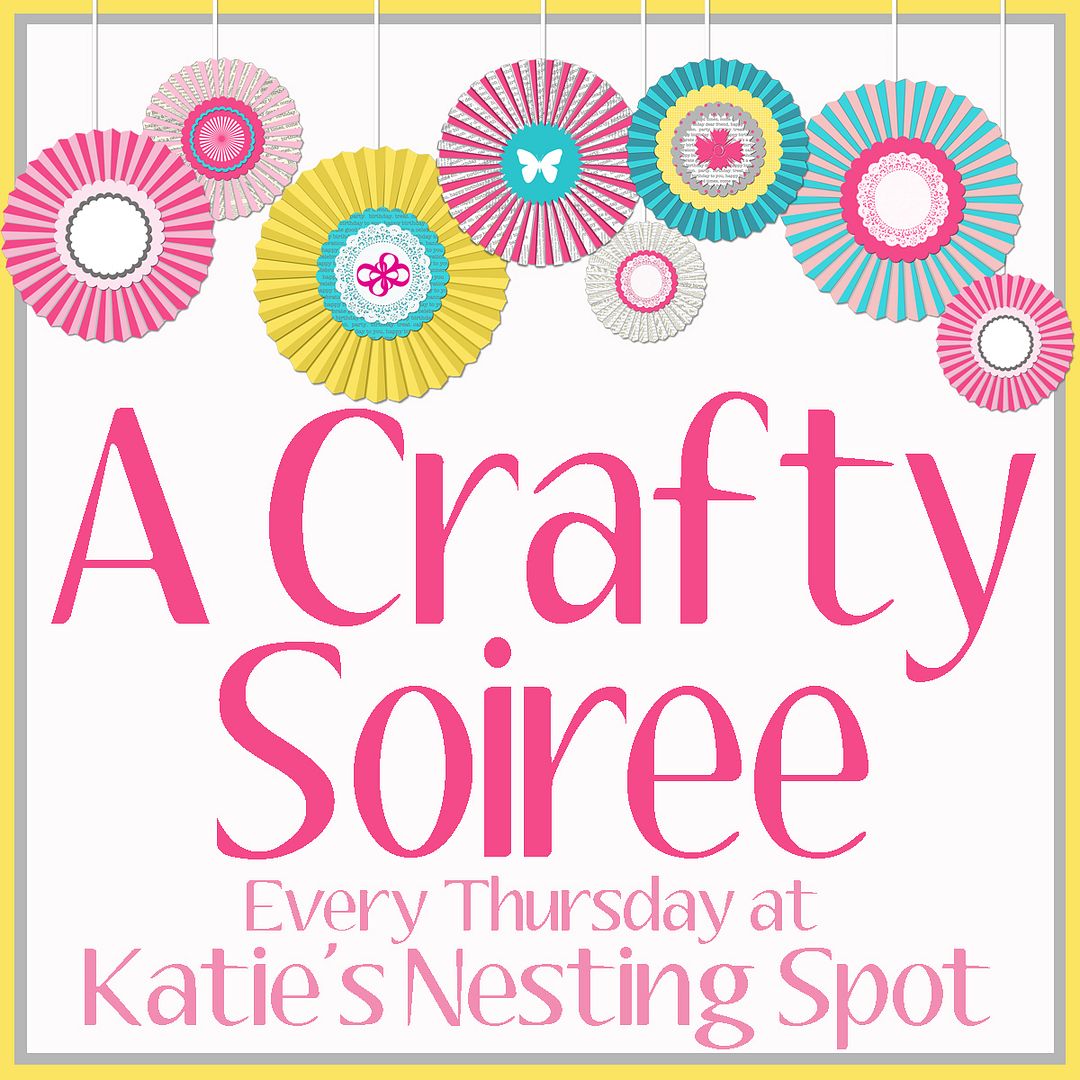 Friday
Saturday