It seems that I have always been a collector of sorts.
I have always seen the potential in some random piece and feel the need to hang on to it.
I have always loved a good yard sale or thrift store.
That passion (problem) has only grown since I started this blog!
I am fortunate that I have my own little "playhouse" in the backyard to hold my treasures.
I let it go for a couple of  years and had quite a mess on my hands.
There was a lot of, "I am not sure what to do with that?  Just throw it in the playhouse!"
Well, when you do that for too long you end up with chaos!
I had plans to totally redo the inside and have a big "reveal!"
But, then it occurred to me. . .
This space will NEVER be finished!
This is where I house all of my "works in progress!"
So, I thought that I would share its most recent transformation.
Here is my "treasure house!"
Ok, I know that it still looks incredibly full, but this is the before.
Should I really show you this?!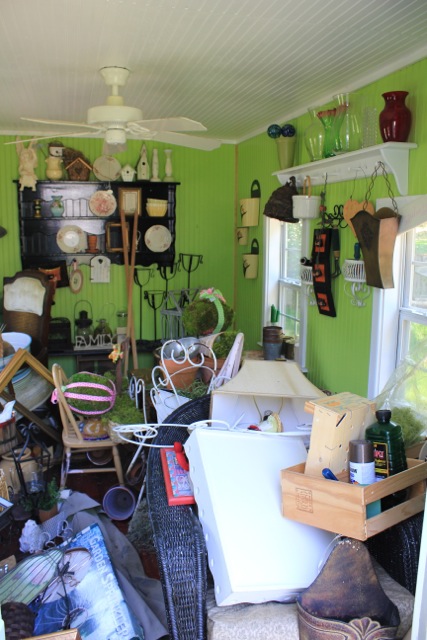 Crazy?!?!
The first thing I did was move it all outside!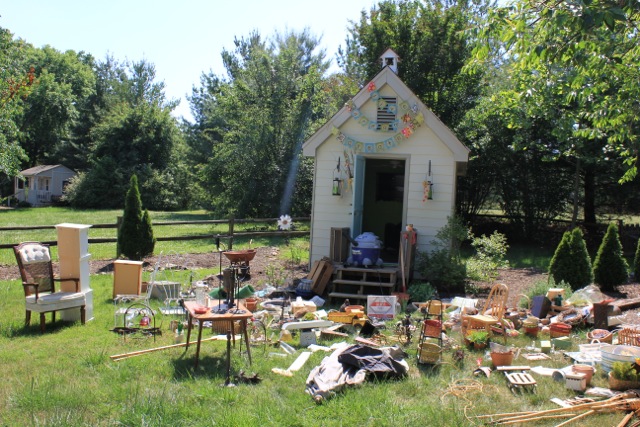 It looked like Goodwill had exploded in my backyard!
Can you believe that all of that stuff fit in there?!
I did a major clean out!
Only keeping those items that I thought would be makings for a really GREAT project!
I had already done a lot to spruce up the outside.
You can read about the new paint here, the doormat here, the new lanterns here and the banners here.
After everything was out, I gave her a fresh coat of paint on the inside.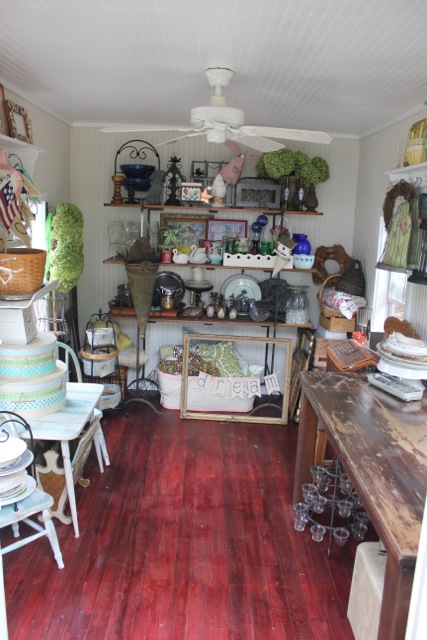 I love how the lighter walls really brighten up the space!
These little guys are going to look great with some ASCP!
I really like a collection, and that takes a minimum of 3. . .
So, I am still on the hunt for another great chunky candlestick!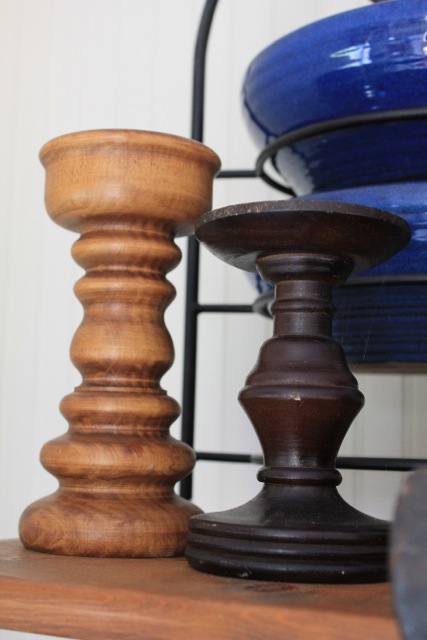 I love to bring in fresh flowers when I am setting a table. . . so, I tend to keep a lot of vases!
I am really liking the look of old brass, so that collection is beginning to grow!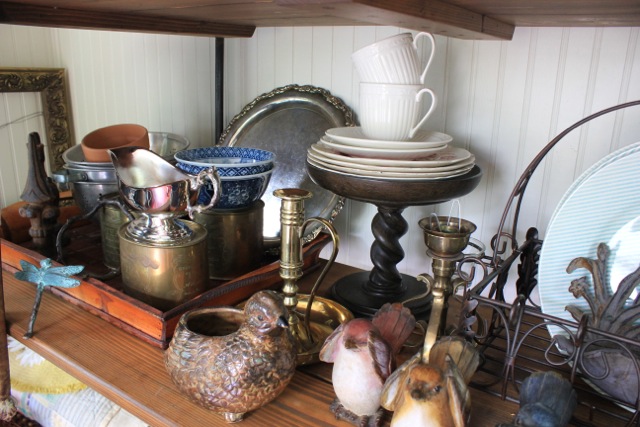 These great frames are a recent find.
I already know what project awaits for them!
I have seen so many projects made with old sheet music, so here is my stash for when inspiration strikes!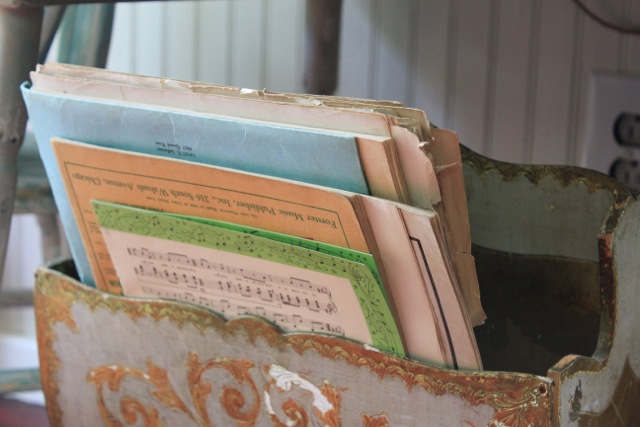 I also know where that chair is going.
Just needs a little ASCP and a new seat!
The "dream" banner is a recent craft.
It will stay here until I figure out where to put it!
I look through these shelves and I see endless possibilities. . .
The embroidery hoops in the baskets also have a project that awaits them!
And, more frames await more projects in this corner!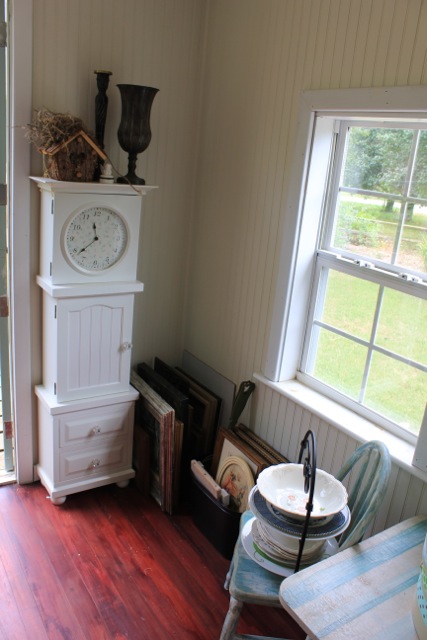 The dishes. . .
What can I say?
I am a sucker for old dishes!
I am not sure what I am going to do with the old ice cube tray.
It was just too cute to pass up!
Any good ideas?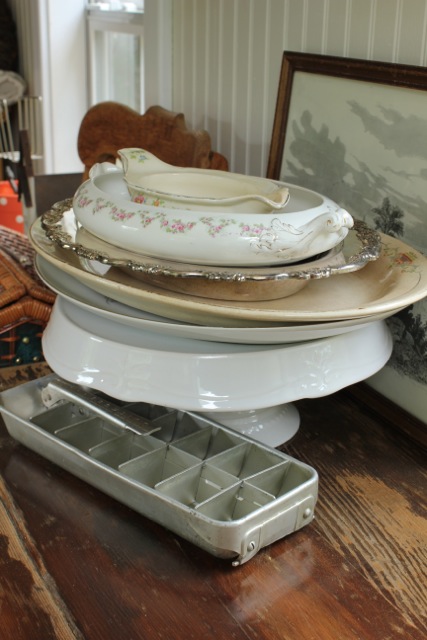 I now love to open this door and see all of these great projects that await!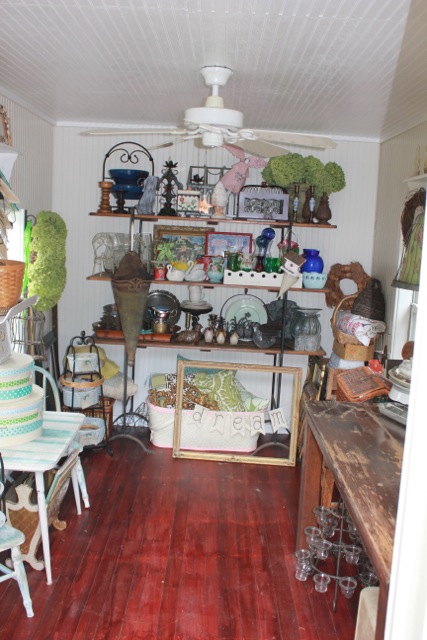 I am not a blogger that is afraid that they are going to run out of ideas!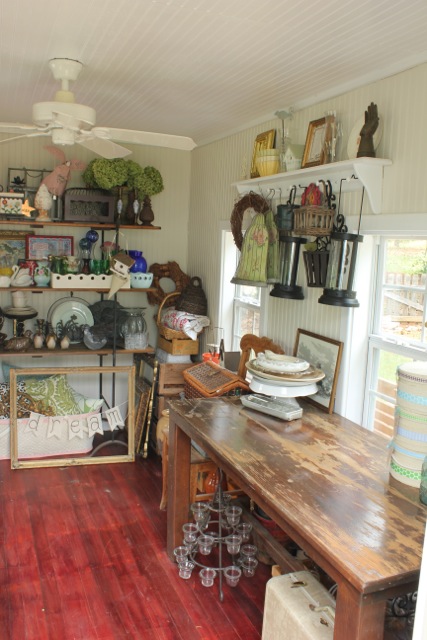 I am a blogger that needs to make my mind slow down for a minute so that I will complete a project!
This space makes me happy!
 I had been thinking about painting the floor, but had decided not to.
But, after looking at these pictures. . .
Maybe a nice diamond pattern?
Life to the full to you!
Here are the places that I party!
Sunday
Monday
Tuesday
Wednesday
Thursday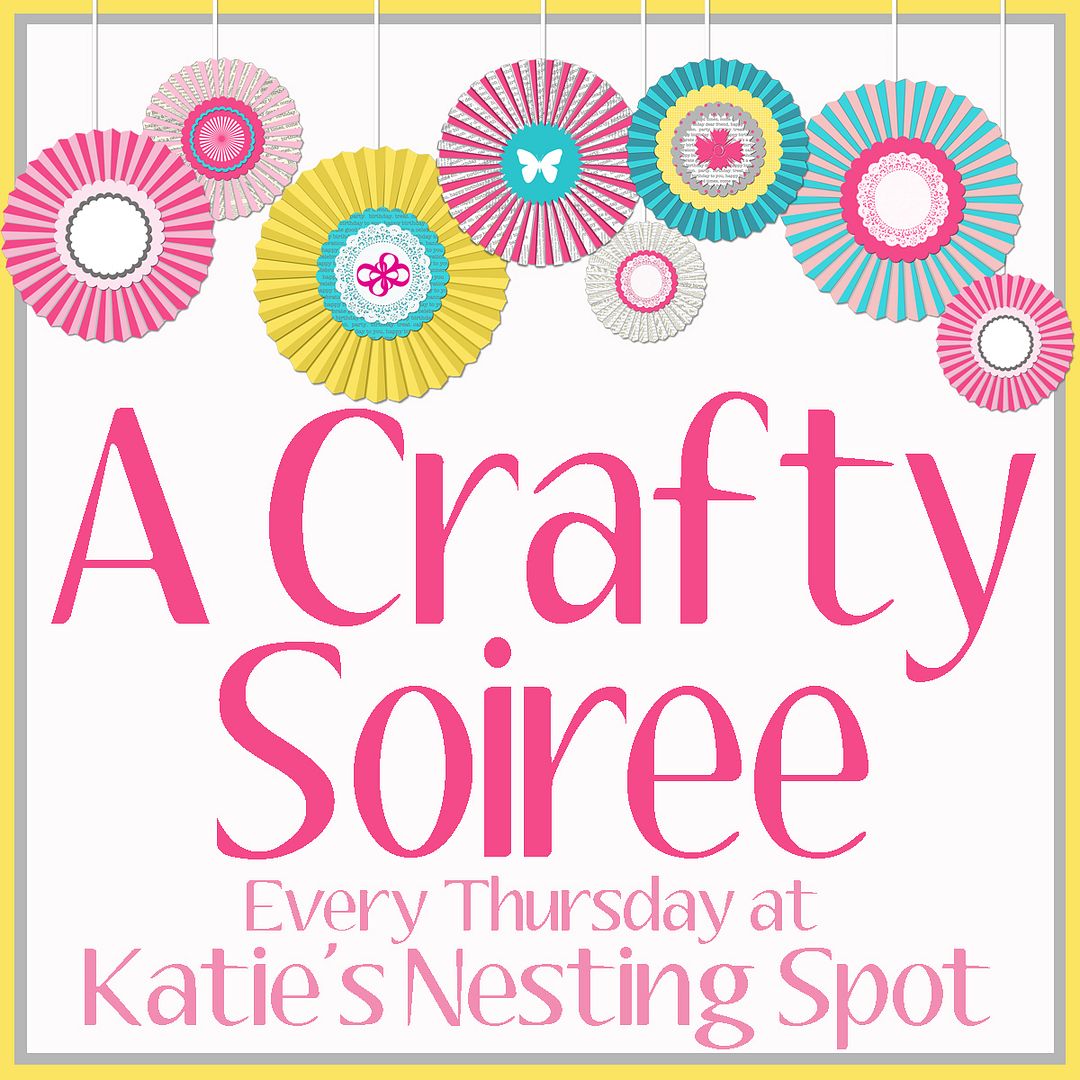 Friday
Saturday