Not only is the inside of my house a constant work in progress.   The same thing goes for my backyard.
We have recently graduated from "Little Tikes" decor and swing sets to a fire pit and entertaining space.
I miss the fact that my children are not toddlers anymore, but I am not sad about the giant plastic sandboxes and climbing apparatus in neon colors no longer being part of my backyard decor!
But when we moved them out…I was looking for backyard ideas on a budget!
Here are a few Backyard Ideas that you might be able to use yourself!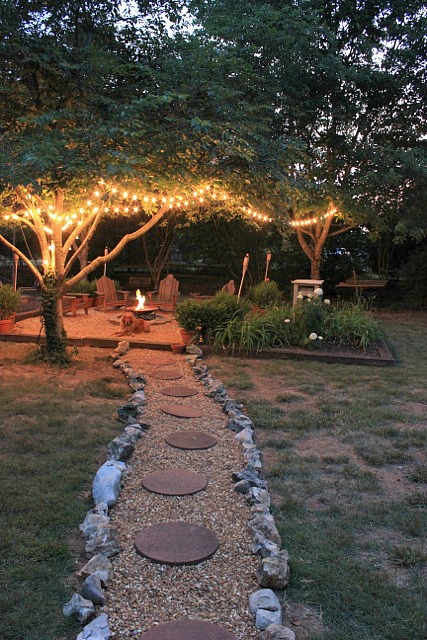 The railroad ties were added during the "Little Tikes" phase.  I was so tired of weed-eating around all of the little pieces, so I created an area with railroad ties and playground mulch.  It was a great idea at the time. . . but, fast forward a few more years and we no longer have playground equipment.  Now what was I supposed to do with this area?
My first thought was to get rid of them and plant grass.  But, what are you supposed to do with 10 giant railroad ties?!  Do you know how heavy those things are?!  Not to mention, we had bought 2 too many when we did purchase them.  We had not known what to do with the extras then, so we just set them by the fence on the side yard.
I knew that I needed a plan B.  That is when it occurred to me that I could make a "patio" out there!
I moved the other 2 railroad ties (did I mention how heavy they were?!)  I got them as far as the gate and then I called on 3 of our teen boys from the youth group to help from there!
I had just seen in a magazine about planting boxwoods in containers, so I used the 2 extra railroad ties and the boxwoods to make a smaller area for our patio.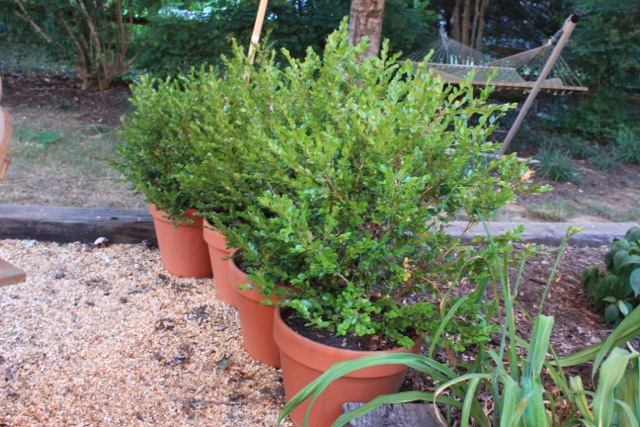 I added a little stone area to hold a table and planted flowers around it.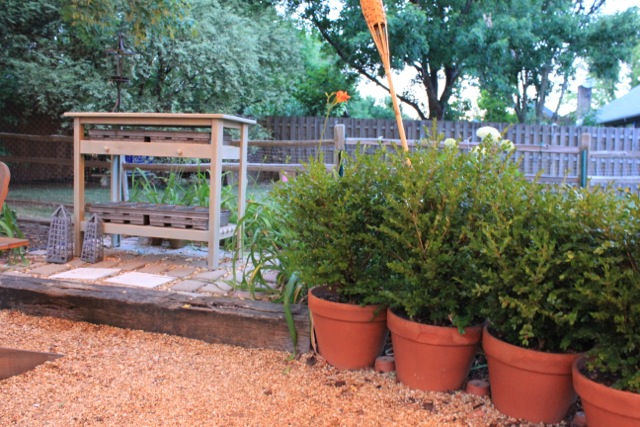 Then, I began to haul bag after bag of pea gravel to the house!
Next,I placed a phone call to my dad.
Me:   "Hey Dad, this is Melissa.  Are you up for a little project?"
Dad:  "What did you have in mind?"
Me:  "I was wondering if you could make an adirondack chair?"
Dad:  "I think I could do that.  Were you thinking about a couple for your front yard?"
Me:  "Actually, I was thinking about 5 for my backyard."
Dad:  silence
Me:  "You still there?"
Dad:  "Did you say five?"
Me:  "Yes, one for everyone in my family."
Dad:  "When would you like to have them?"
Me:  (doing a happy dance)  "Whenever you get them finished would be great!"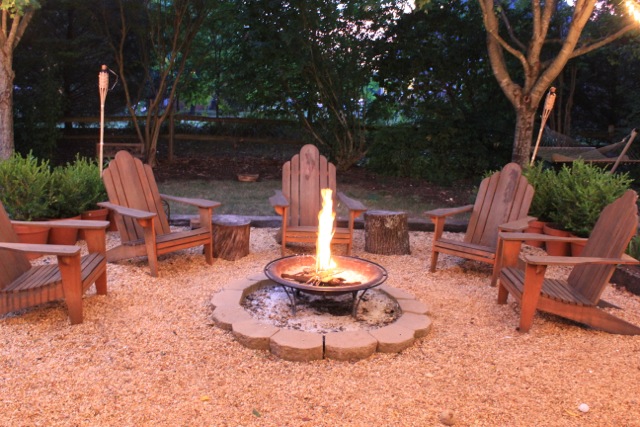 I used zip ties to secure some Christmas lights to the branches of the trees.  These are the big bulb Christmas lights. They really make the backyard feel magical!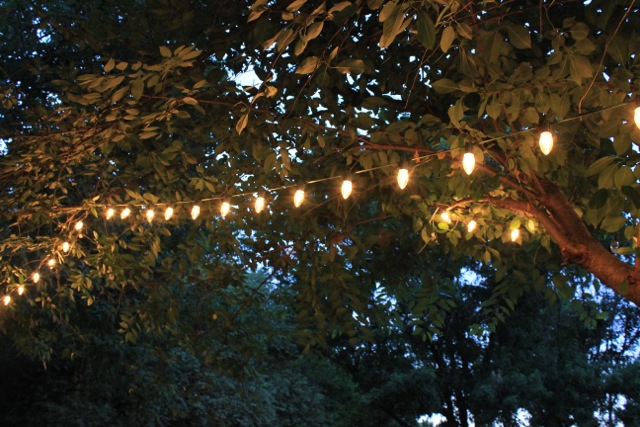 We have been enjoying some great mild weather here in Murfreesboro, so we have really enjoyed this area so far this summer!
Did someone say, "S'mores!"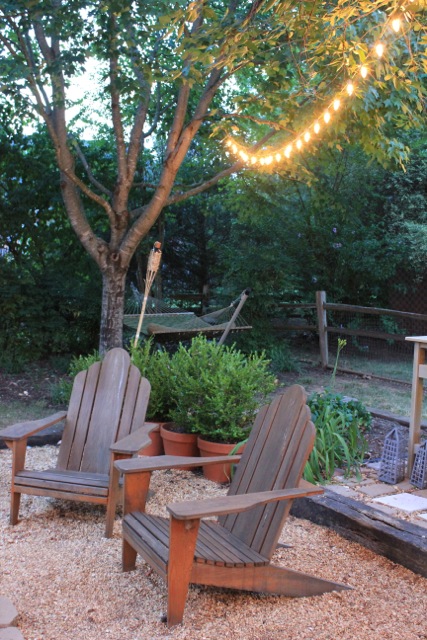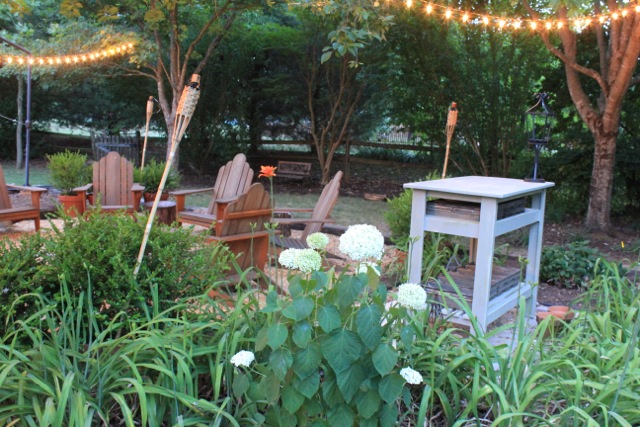 You can see my little playhouse is the back.
You can TOUR THE INSIDE OF MY SHED HERE!
Yes, my dad made that also!  I told you he was handy!
My in-laws have a farm just a few miles from our home.  They have tons of rocks! So, we drove over one afternoon and loaded up with rocks to line the path to the fire pit.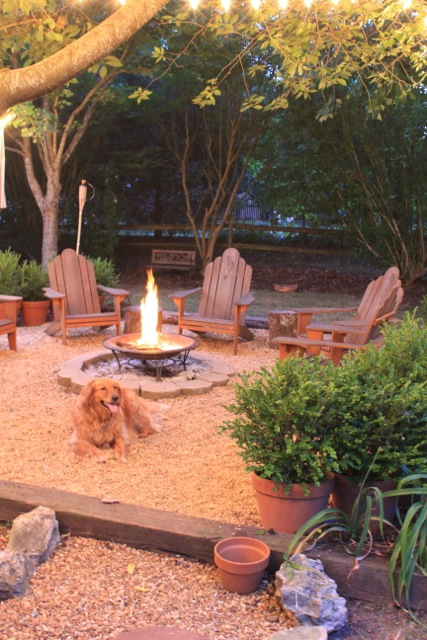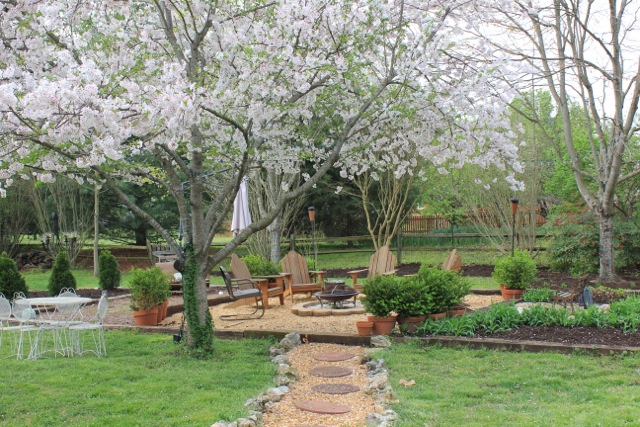 This is a picture that my oldest, Daisy, happened to snap in the spring.  I thought it was too pretty not to include!  Nice work, Daisy!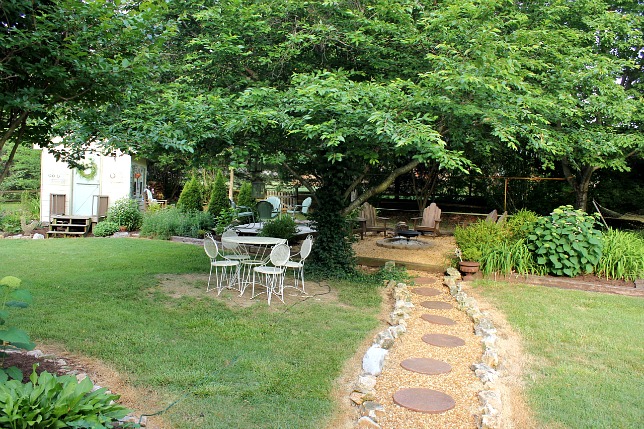 Backyard Design | DaisyMaeBelle | www.DaisyMaeBelle.com
If you would like to see the updates to this backyard…you can take the
**Updated Backyard Tour HERE**
Life to the full to you today!
Melissa