I am officially exhausted after a wonderful baby shower for my good friend Becky.
Here is a quick recap of the food and decorations.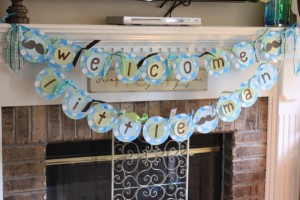 I will start with the menu:
Chicken Crescent Bundles
3 cups chopped cooked chicken
1 8oz cream cheese
Pillsbury crescent rolls
Pepperidge Farm cornbread stuffing
Mix the chicken with the cream cheese.  Open crescent roll into triangle and add a scoop of chicken mixture.  Roll up.  Add stuffing to the top and a dab of melted butter.  Cook at 375 for 10-12 minutes.  Quick, easy and delicious!  One of my children's all-time favorites.
Paula Deen Crock Pot Macaroni and Cheese
(you can google this – it is everywhere and very good!)
Salad bar with lettuce, spinach leaves, strawberries, mandarin oranges, toasted pecans, feta cheese and 3 kinds of dressing.
Sister Shubert rolls
Milo's Sweet Tea
Fruit Tea from my favorite bar-b-que place in town (Slick Pig – if you are ever in Murfreesboro – you will have to give it a try!)
Cupcakes for dessert
Now on to the decorations:
I set 3 tables; kitchen, dining room and family room.
I used quilts for the tablecloths.
I hung bibs from the chandelier along with pom pom yarn.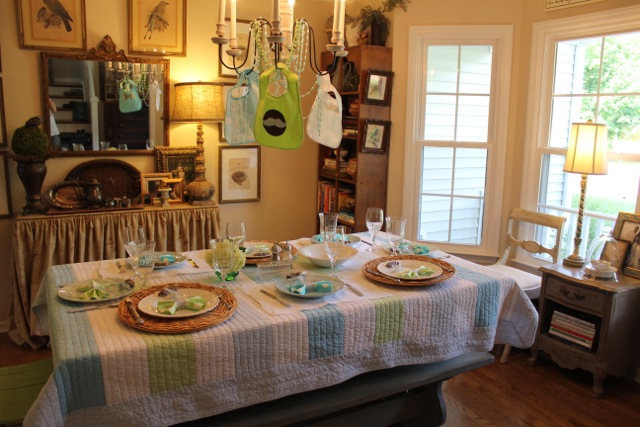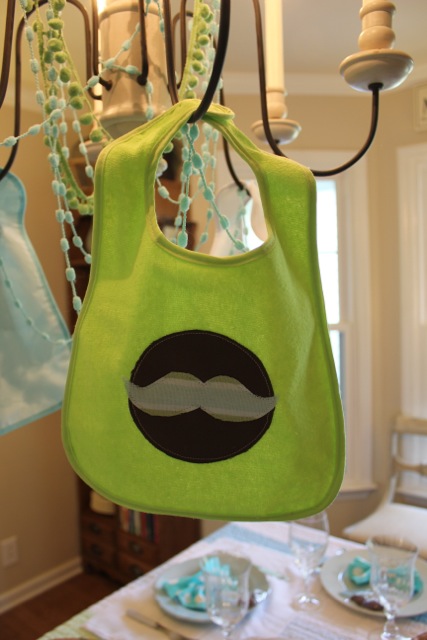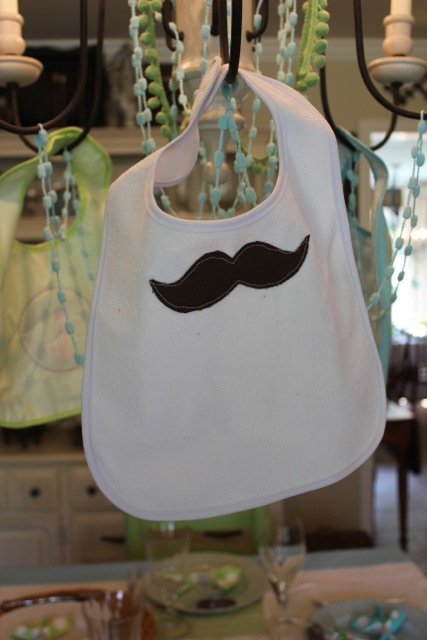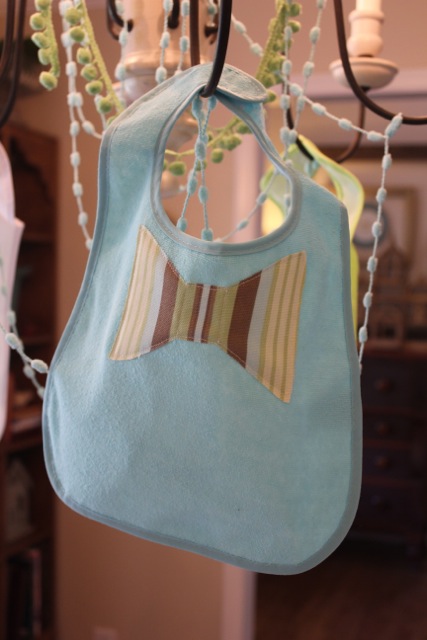 Each place setting was a little different.  I do not like "matchy."
I saw the idea for the bow-tie napkins here.  The blog is called, "Nothing but Country."  They did a great "little man" shower!
I also made a mustache chocolate pop for everyone.  I had bought the mold for my girls Valentines this year.  (They passed out the chocolate staches with a note that said, "I mustache you a question.  Do you like Valentine's Day?"  The idea that I had seen said, "I mustache you a question.  Will you be my Valentine?"  But, my girls were afraid that someone might think they were really wanting them to be their Valentine!)
I used new cloth diapers for some of the placemats.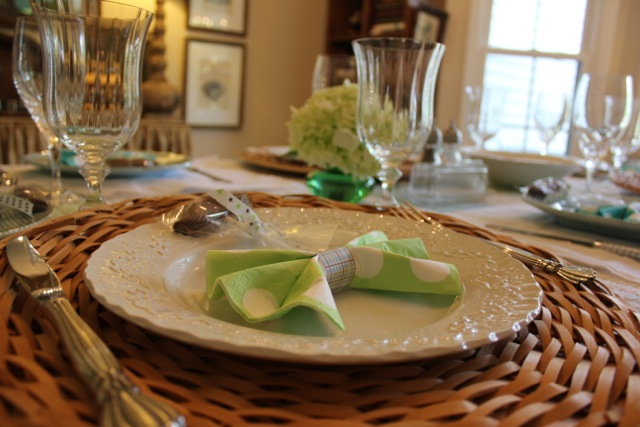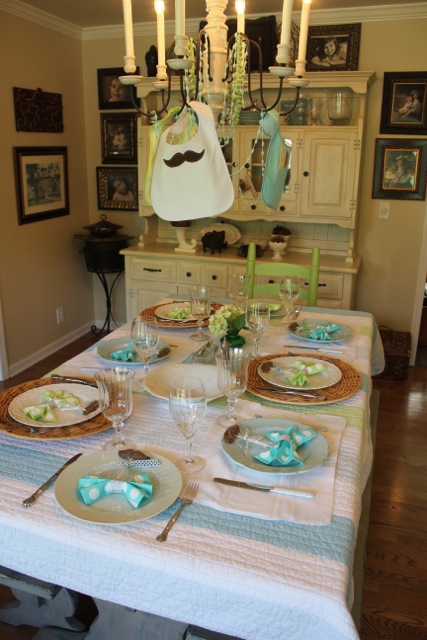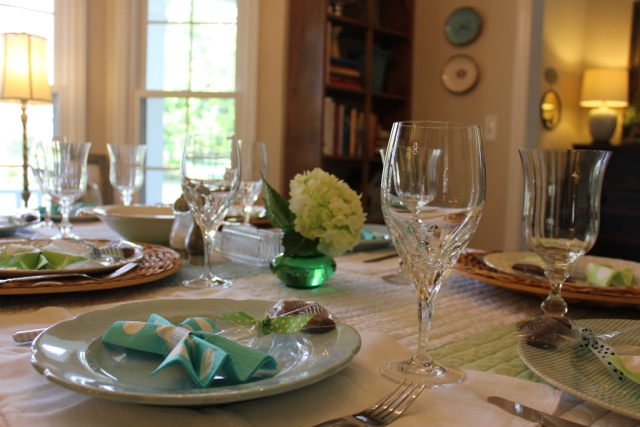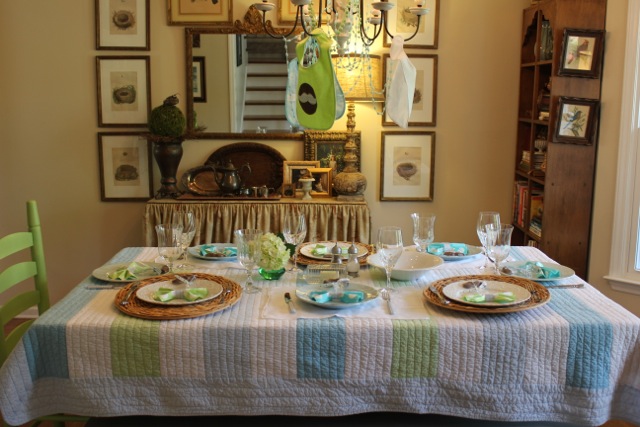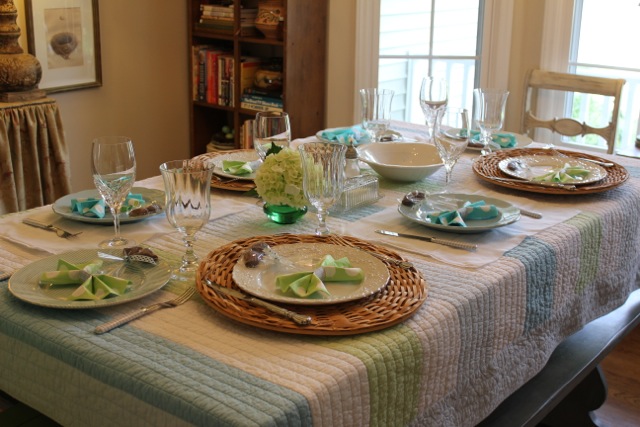 On to the kitchen table.  I always have the viney thing in the chandelier.  I like to hang different things out of it for different seasons or events.  This time it got circles with mustaches.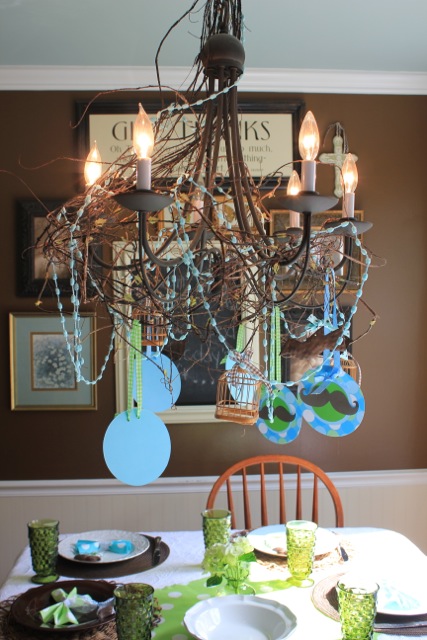 Those green glasses belonged to my grandmother!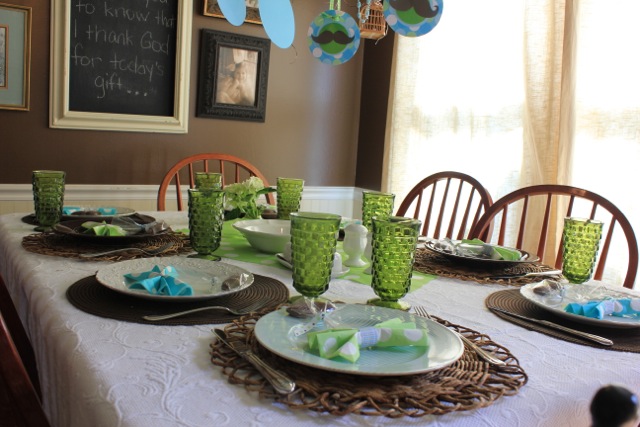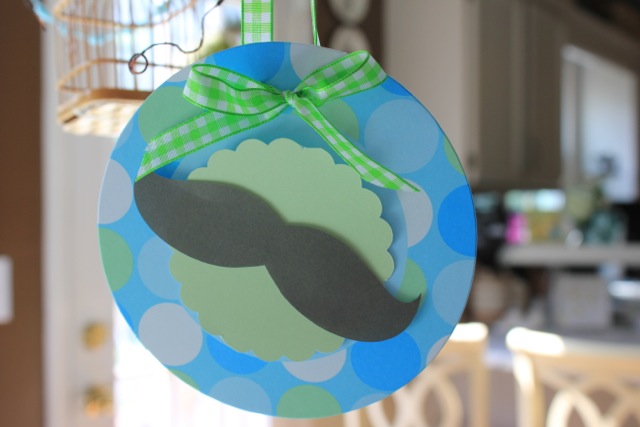 And then the family room table.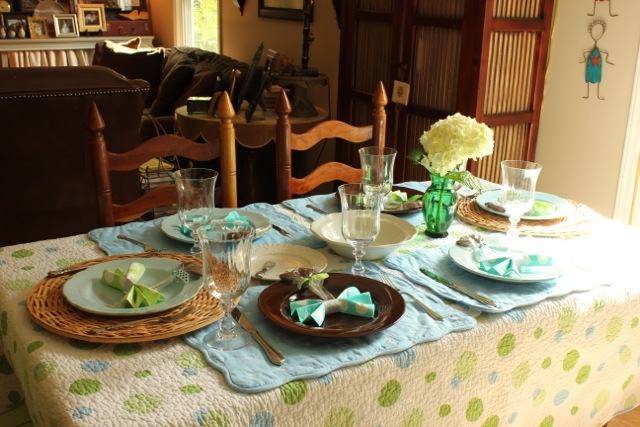 Here is the little display where I served the food.  The old baby scale and shoes actually belonged to my husband when he was a baby!  The blue Mason jar was a $2 yard sale find and the "God is Good" book was a 10 cent find a few weekends ago.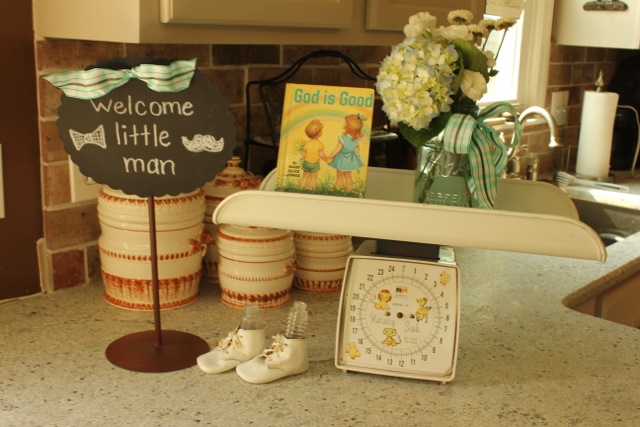 I bought 2 banners at Walmart for less than $3.  They said "Welcome Baby."  I just cut out scalloped circles and mustaches with Daisy's Cameo and used glue dots to attach them.  I painted the letters on and added ribbons.  The mustaches that are hanging from the chandelier in the kitchen were made from the leftover letters!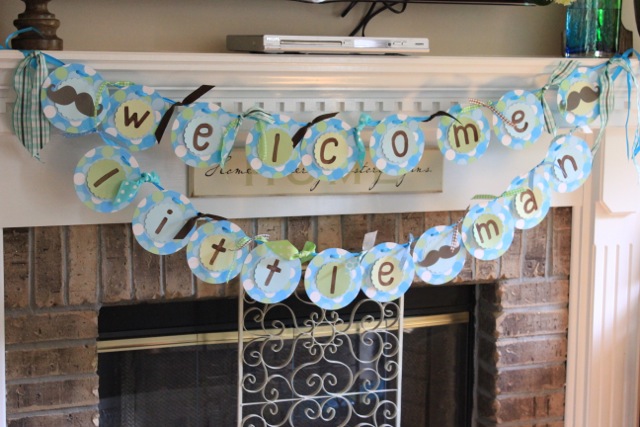 I bought the old wicker bassinet years ago to decorate with in Lila Mae's nursery.  I use it to hold the presents for baby showers  now!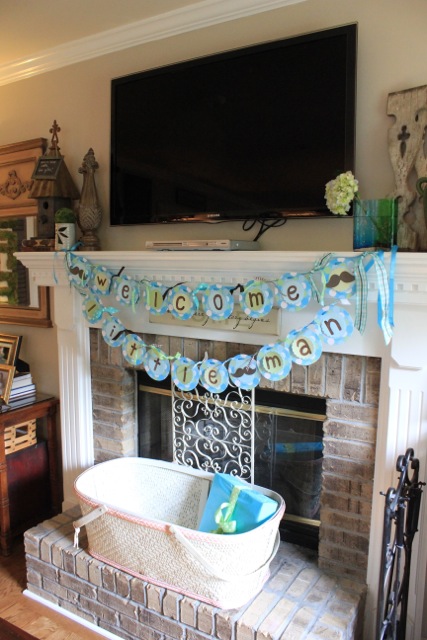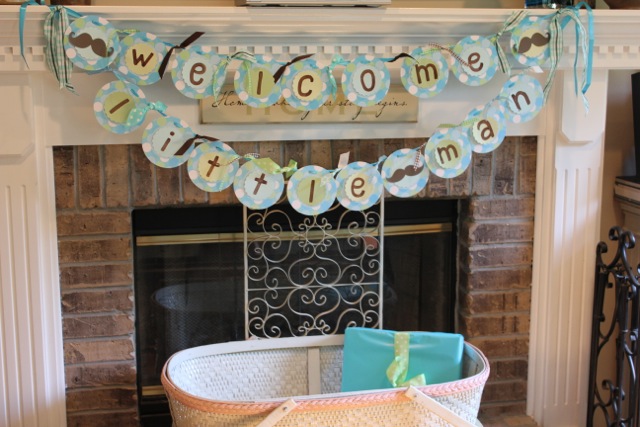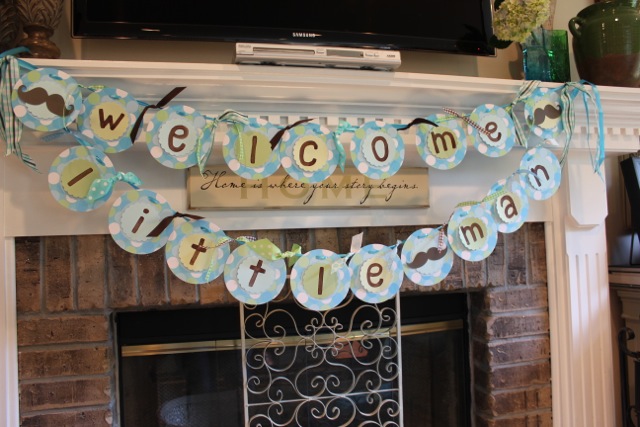 I had a little assistance with the photography tonight.  I was scurrying around getting dinner ready and Daisy was taking the pictures for me!  Doesn't she look cute in her new braces.  She has had them for 2 days now!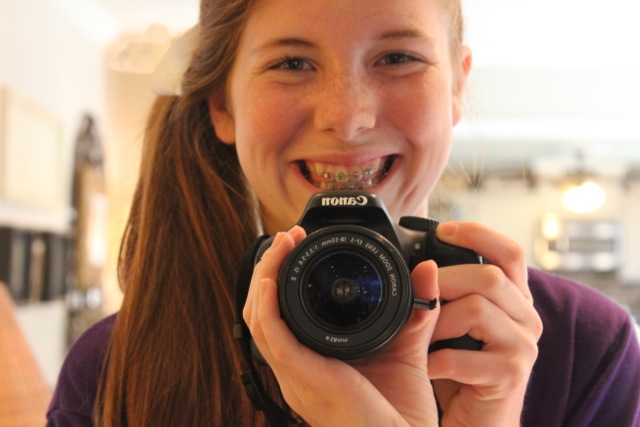 I am now off to bed. . . I will sleep good tonight.
I left the dirty dishes in the sink tonight. . .  I was just too pooped to deal with them!
Life to the full to you today!