It was a beautiful fall day!
The perfect day to work on my front porch.
I had a couple of hours to work on it.
Daisy (my oldest) called about noon and said that one of her wires had broken on her braces and it was sticking in the side of her mouth.
My first response was, "Can you live with it?"
I was REALLY wanting to finish what I had started with my porch.
She said, "I can live with it, but the wire is cutting into the side of my mouth."
Ok, so my compassionate side kicked in and I left what I was doing and got her to the orthodontist.
(Did you know that you are not supposed to eat pretzels with braces?  Now we know!)
That proved to be the last I would get to work on my porch for the day.
Luckily I had snapped a few pictures!
So, instead of the full front porch reveal, I will show you one of the projects.
Here is how I made the owls.
(Three of them, of course, for my 3 girls.)
I started with a piece of picket fence from the hardware store.
I had a friend (thanks, Steve) cut them for me.
I cut the top off of the picket.
The pictures will explain it better.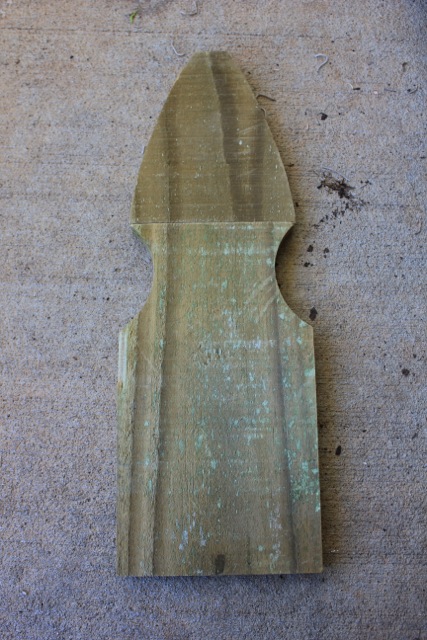 And, then cut the top off of that.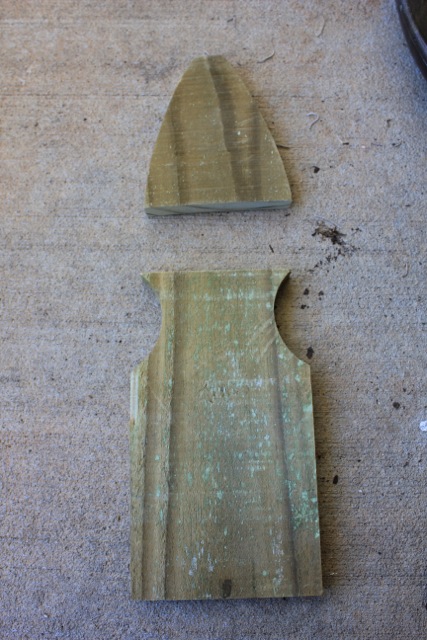 I bought wood circles for the eyes.
Using the Annie Sloan dark wax, I painted the eyes and feathers.
I cut a burlap beak.
And, centers for the eyes.
I also painted the middle of the eyes with dark wax.
I hot glued all of it down, and had this precious little owl.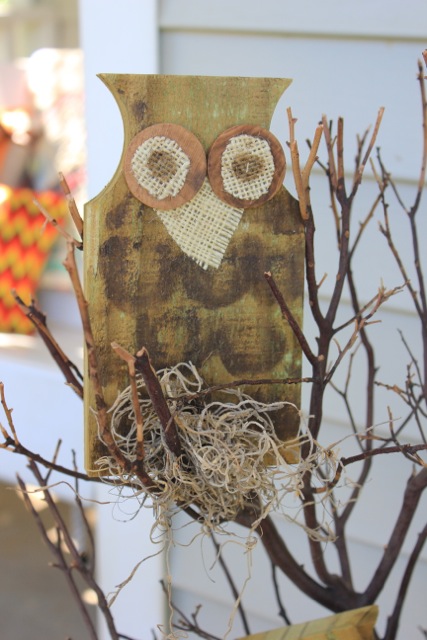 I picked this branch up at the thrift store last week for $1.75.
It was a great branch and it was very smooth.
I also picked the brass planter up at a yard sale for $4.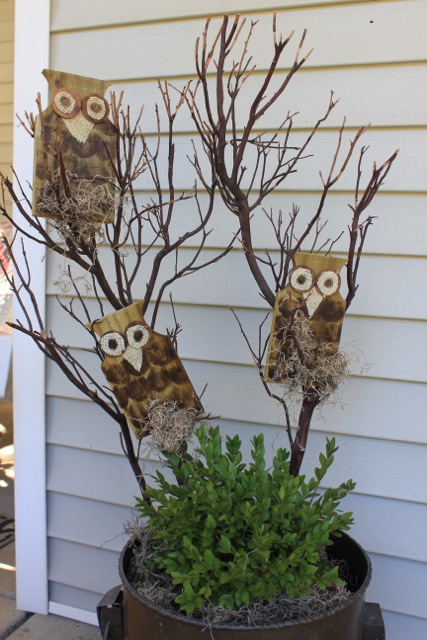 I set one of my planted boxwoods over in the planter and secured the branch in with a brick.
I love how versatile my boxwoods can be!
(You can see my former front porch here.)
I added Spanish moss to the top.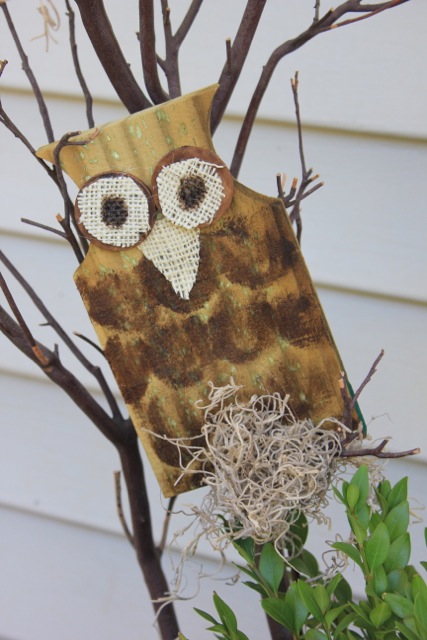 I just wedged the owls into the branches.
They seemed secure enough.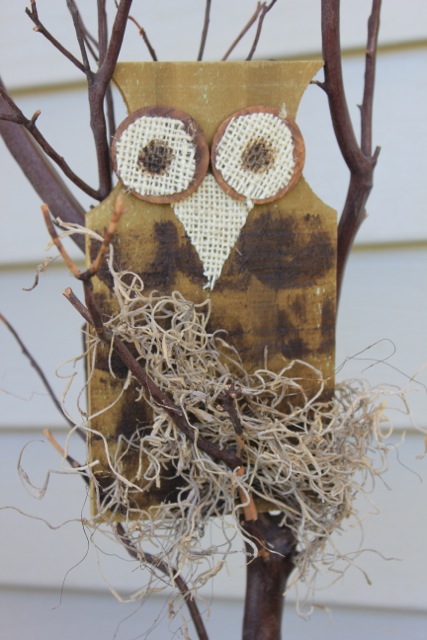 I also added a bit of moss to each place that the owl was going to sit.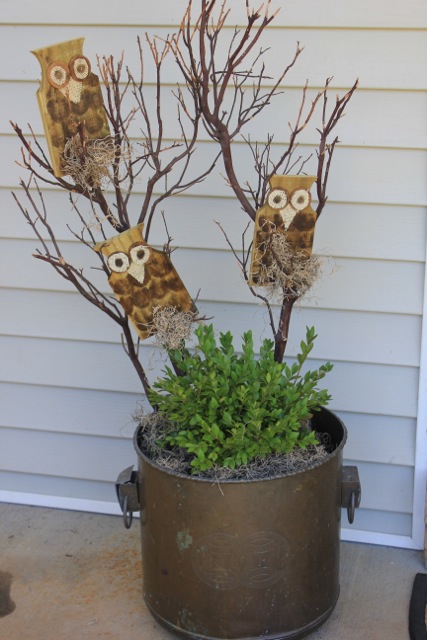 I am hoping that tomorrow will be the day that I get to finish!
As for our skunk situation, the smell is almost gone. . .
But, now we have a rabbit situation in the backyard.
I live in the city?!
Why all the wildlife issues?!
Yesterday, we saw our golden retriever sniffing at something in the backyard.
Upon further investigation, we saw that it was a tiny bunny.  We immediately got the dog away and went inside.  In just a few minutes, the mama was back.  I thought she would gather up the tiny fellow and that they would be on their way.  Instead, she dug a little hole for the bunny to get into.  I knew it was going to get cold last night, so I covered up the hole with a kitchen towel.
I checked on him this morning, and he was still alive.
This afternoon, Daisy said that the bunny was hopping around the backyard!  We were so excited! Until we realized that it was a second bunny.  The first bunny was still in his little hole.  I carefully scooped him up with a towel and carried him to his brother.  They nuzzled all over one another.
So, now there are two bunnies in the bunny hole.  I am afraid that mama has left them?
They are the cutest little things you have ever seen!
I asked a friend whose husband is a vet and she said that there was really nothing I could do and they would probably both die.
Very sad life (death) lesson for my girls.
I have had about enough wildlife drama in my backyard for a while!
The strangest wildlife event that we have ever had was the time that there were 2 peacocks on our roof.
But, that is another story for another day. . .
Life to the full,
Melissa
Here are the places that I party!
Sunday
Monday
Tuesday
Wednesday
Thursday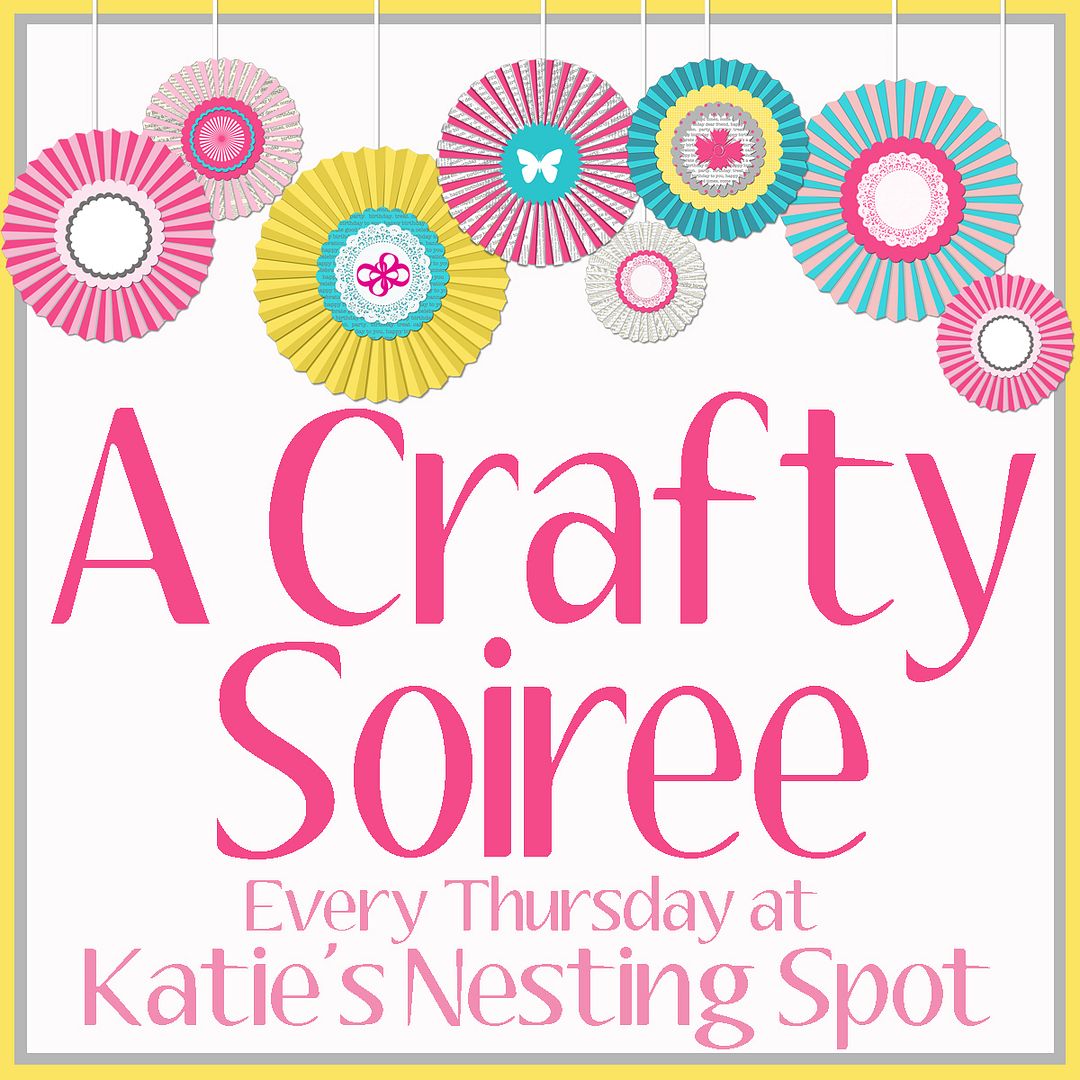 Friday
Saturday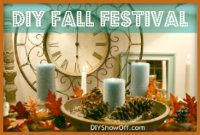 Southern Hospitality Fall Party