I recently decorated a baby nursery for precious baby Jack who is due to arrive on December the 11th.  The family is Alabama fans, so I wanted to include a little houndstooth and a few elephants.  I decided to create a gallery wall with these ideas in mind.
I had pinned a tutorial about how to make vintage signs from diddle dumpling.  I must say that it was very helpful, but I did change a couple of things.
I started with 2 scrap pieces of wood.  They are actually pieces of fencing.  I braced them together with 2 smaller scraps of wood and screws.
Later, I got paranoid that it would not hold, so I added hot glue and a thing I found at the hardware store in with the nails called a "wood fastener."  It should be pretty secure now!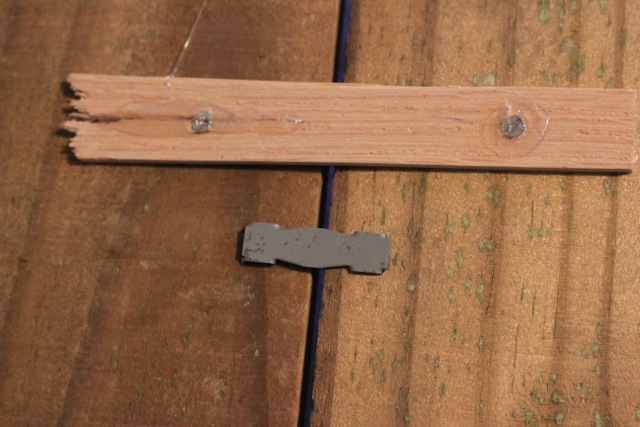 Next, I painted the boards with a cheap acrylic paint in cream.  I never let my brush get very much paint on it and just kept brushing.
This is where my tutorial is a little different.
I went to Picmonkey to create the lettering.  I am going to spell out step by step how I did this. It really is super easy – I hope I do not make it confusing!
1. Go to Picmonkey.
2. Click on "Create a Collage."
3. Save the blank collage.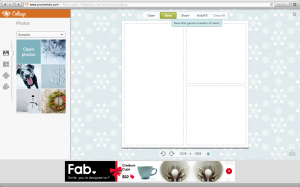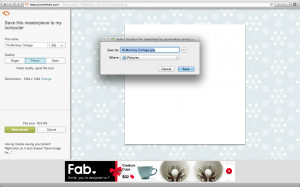 4. Go back to the home page of Picmonkey and select "Edit a Photo."
5. Retrieve the blank copy of the collage.  It will be called "PicMonkey.collage.jpeg"
6. Go to the side of the screen and click on the "P."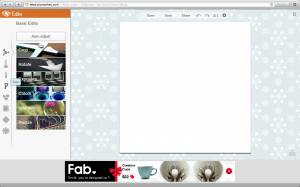 7.  Choose your font.  I used Chelsea Market.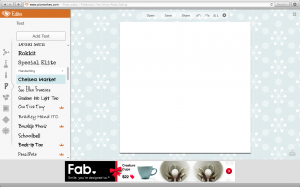 8.  Type your text.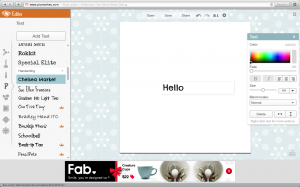 9. Then, click the horizontal arrow button in the "Text" box.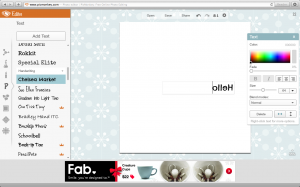 This is what will allow you to create a mirror image, which is necessary for making this sign!
Print your image as large as you want your sign.  This might require you only printing a few letters at a time.
Turn the word face down on your painted board. Lightly paint over the back of the paper with water.  Do not get it so soaked that the paper tears, but get it wet enough that you can begin to see through it.  Rub the letters with the back of a Sharpie or some other rounded plastic object.
When you lift the paper, the image will appear on the board!  You can leave it alone at that point or paint over it.  I did give mine another coat of paint.  Then, I lightly sanded the whole thing.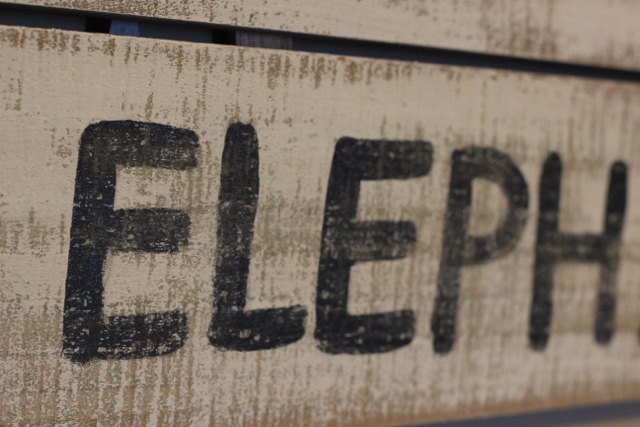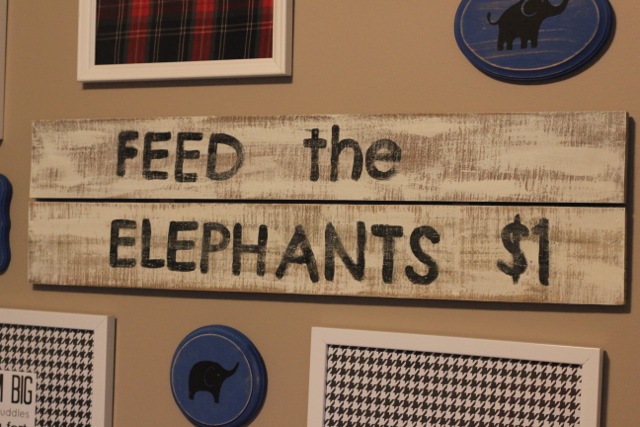 I completed the gallery wall with a hodge podge of art.
All of the frames are thrift store finds.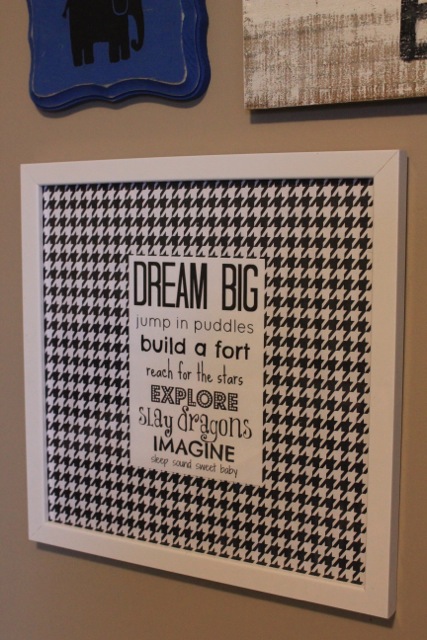 I framed some of the left over fabric from the bumper pad.
I could not resist this quote. . . Jack's older brother, Reed is 12!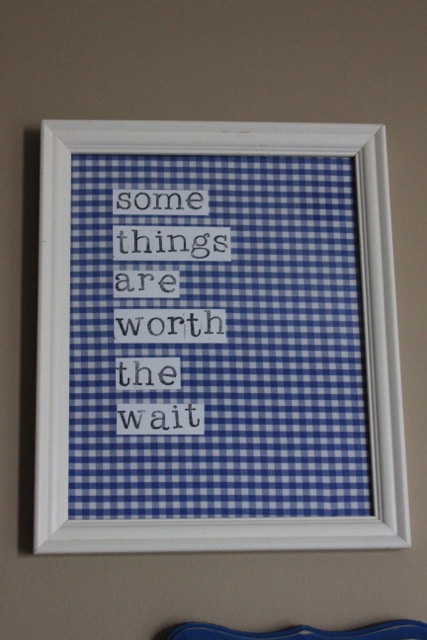 I painted up several $1 wooden plaques from the craft store.  I sanded them and added elephants cut from the Cameo.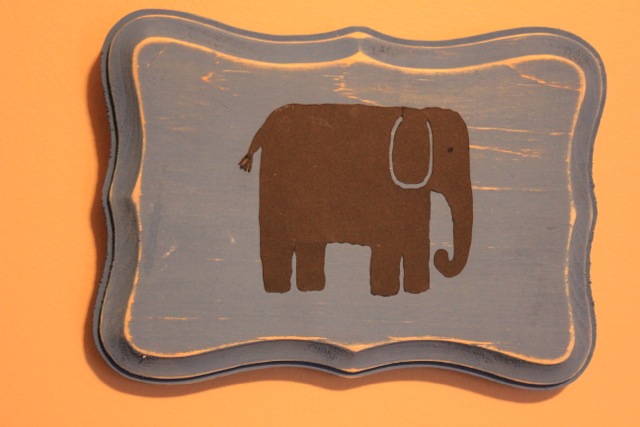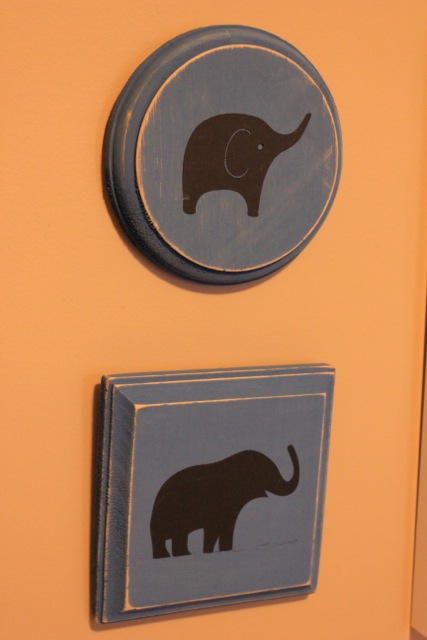 This big elephant is also a Cameo cut out.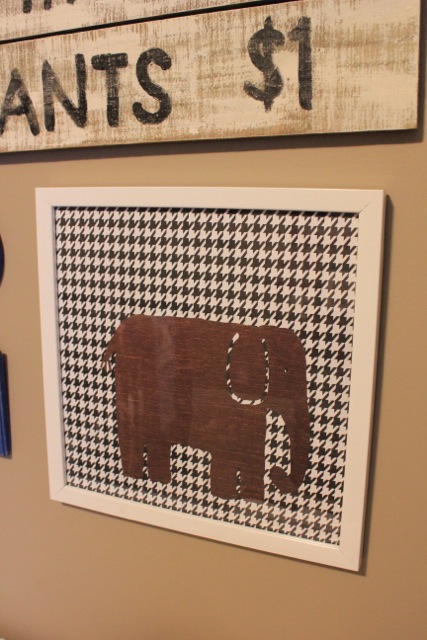 For less than $30, this wall is full of fun art!
Life to the full,
Melissa
Sunday
Monday
Tuesday
Wednesday
Thursday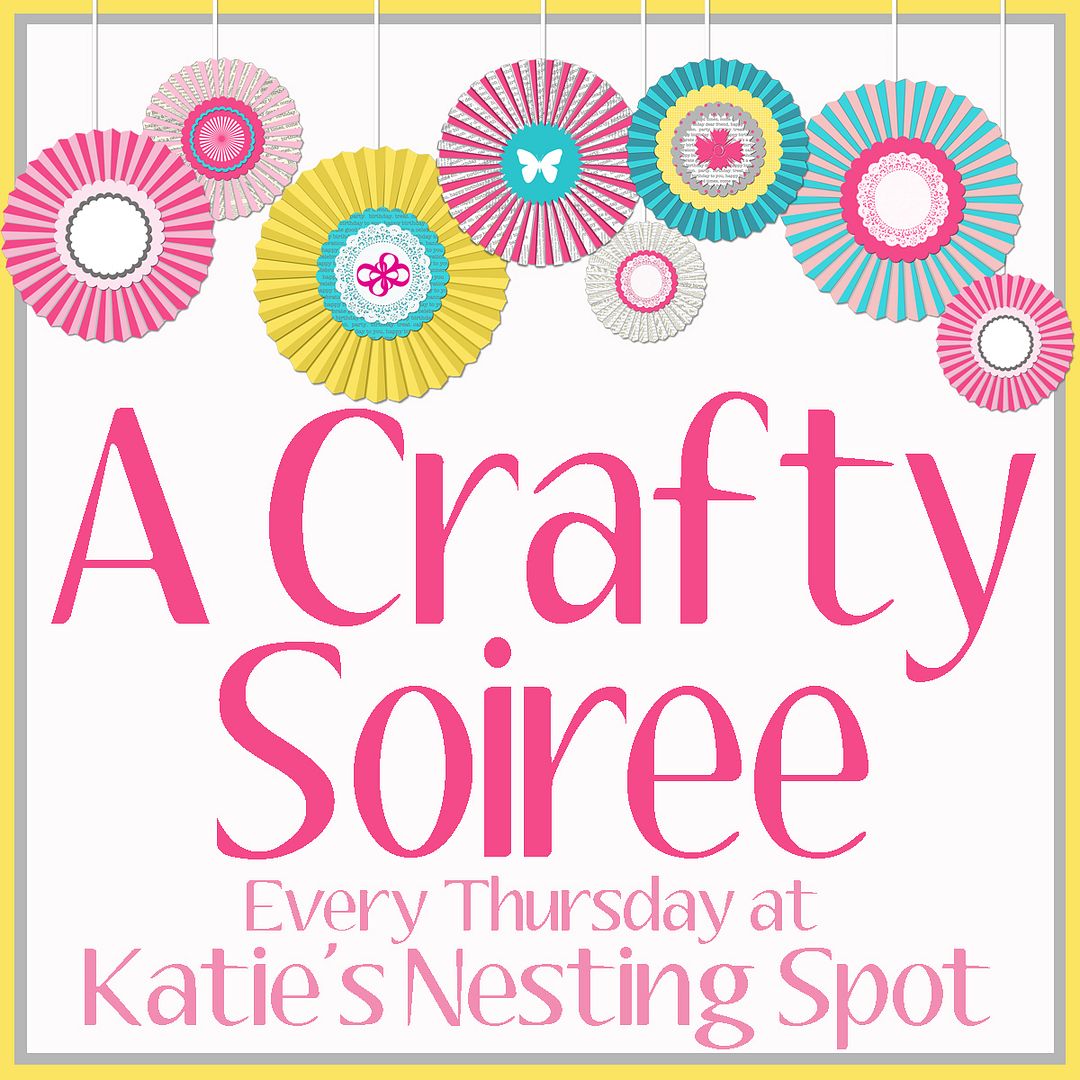 Friday
Saturday