Have you seen these plate walls all over blog world?
They are so beautiful.
I had resisted the urge to do anything about having my own plate wall,
until. . .
I saw this one over at Eclectically Vintage.
Kelly was the inspiration for my own silver platter wall.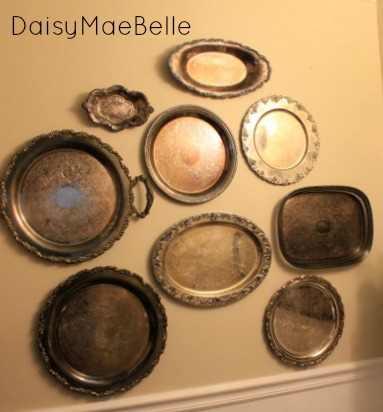 I LOVE the look of all of the collected plates.
But, I do not have a plate collection (yet)
I do have an abundance of silver platters.
(One of the joys of getting married in the 90's.)
Silver platters were very popular gifts.
They are so practical!?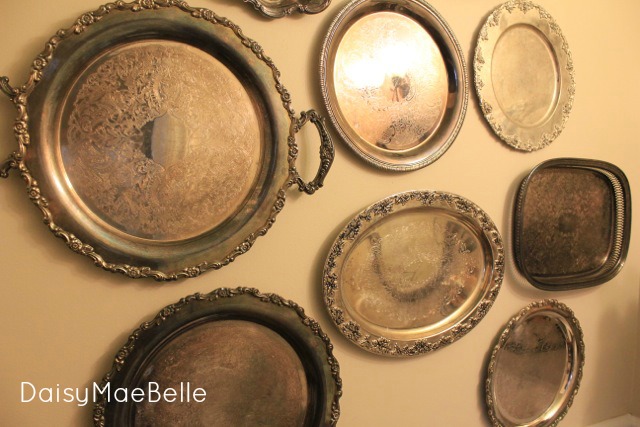 I identified the collection to be hung, but where to hang it?
I no longer loved my mirror collection in my downstairs bathroom.
The bathroom is located in the hall between my kitchen and dining room.
Silver platters should work there, right?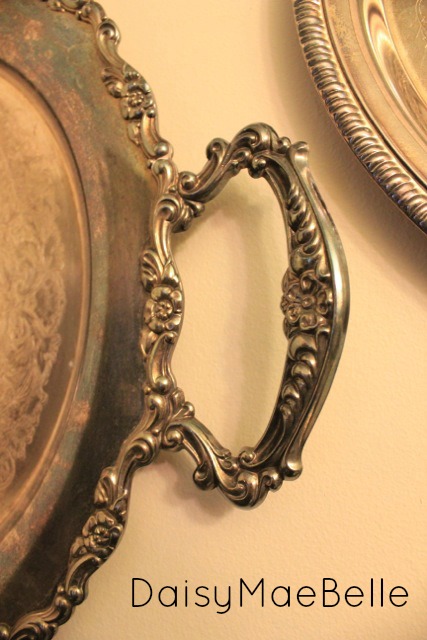 Well, if I was going to take down all of the mirrors,
I would need to patch all of the holes.
If I was going to patch all of the holes,
I might as well paint.
I was kind of tired of the colors in there anyway.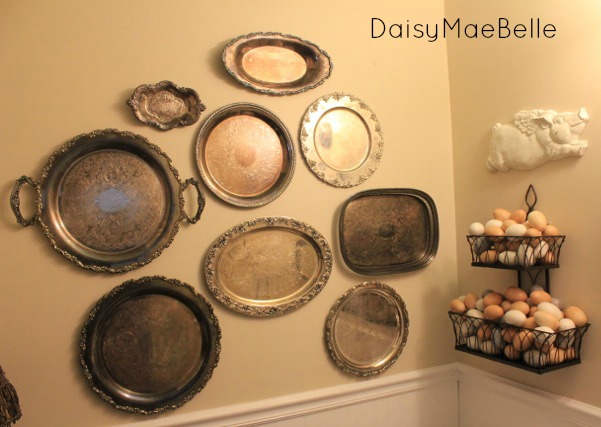 I went to my garage and found an extra gallon of my dining room paint.
Perfect.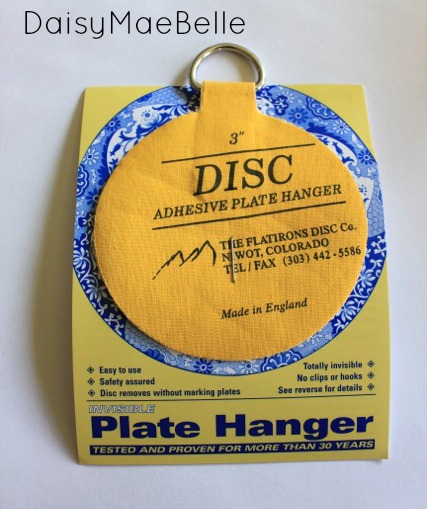 Now for the how-to part.
I used these great adhesive plate hangers.
Here is where you should learn from me unless you also want to be awakened to silver platters hitting your tile floor at 6:00 a.m.
(Actually, only 2 fell, but what a commotion!)
Clean the back of your platter WELL.
Scrub.
Do not leave any residue.
Put several drops of water on the adhesive part of the disc.
Rub the water around to activate the adhesive.
Let this sit for about 5 minutes to become tacky before you adhere it to the platter.
Place the disc in the center toward the very top of the platter.
Set a heavy pan or other object on the disc.
This will keep it from buckling and not adhering over the entire surface.
(If you don't get good adhesion, you will experience a great, loud commotion.)
Let this dry for about 8 hours.
Now you are ready to arrange and hang them!
I left room for a few more platters, just in case. . .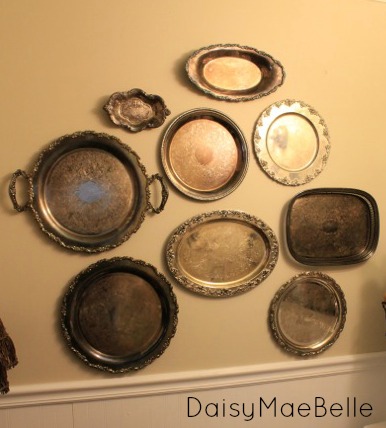 My impromptu bathroom makeover is almost complete.
I will share the projects and thrift store finds this week and give the full reveal.
Now, if I could just figure out what to do with all of those crystal bowls?!
Life to the full,
Melissa
Sunday
Monday
Tuesday
Wednesday
Thursday
Friday
Saturday