I'm not up with the times culturally speaking.
Like the other night, while we were watching the Olympics (which is the first network TV  I've watched in a LONG time) a commercial came on for a show called The Voice.
Seems that all of the people who host The Voice are at the top of the fame ladder…
…and I didn't recognize any of them except for Usher…
…and that's only because he sang part of a song with Justin Bieber…and my 9 year old went through a time where she loved his songs…and we listened to that very song over and over and over.
So yesterday morning, I decided I was going to change all of that.
I was going to catch up…be able to talk about the latest movies…recognize famous people…know what the latest TV shows are.
I was all prepared to fold some laundry and watch some morning talk shows…
…until I figured out that I didn't know how to turn our TV on.
Because we don't have one remote; we have 3.  And you have to make sure that the TV is on and the box is on and each remote controls a different part.
And on my way to call my husband to get him to explain it to me…I got distracted with making a new Spring arrangement.
And tweaking my latest gallery wall.
So I might not be able to chat about the movie stars of the world…but here are
10 Tips for Creating a Gallery Wall:
1. Stick to a basic color scheme.
2. Mix art with photographs.
3. Group smaller "like" things close together to make them "read" as one piece.
4. Throw in some unframed "object" art.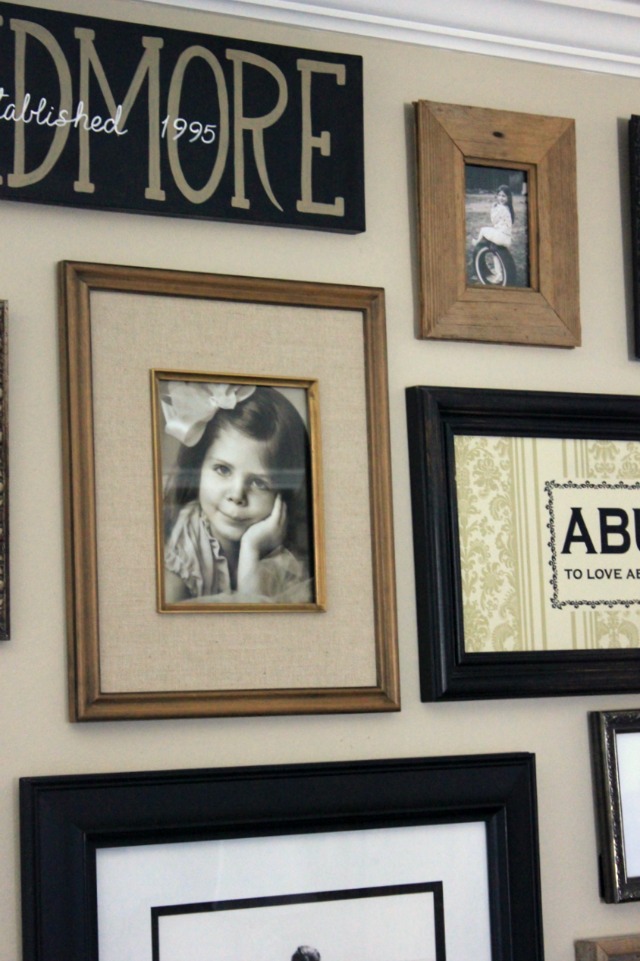 5. Add mats to some pictures to make them appear larger.
6. Don't use the same frame over and over. Mix them up.
7. Space all of your pictures about the same distance apart from one another.
8. Don't make yourself crazy with the perfect spacing.  It's ok to make a couple of holes in the wall before you get it right. 🙂
9. Start with your larger objects in the center and work to the edges with the smaller pieces.
10. Use different sized pictures.
And here is an extra tip:
Hang things that you LOVE to look at!
As for the cultural relevance…I've now been taught how to turn this TV on…so it's just a matter of time before I'll be in the know!
Life to the full!
Melissa