Do projects sometimes take longer than what you thought they would?  Something you thought would be finished in a couple of weeks ends up taking months?!
That is the case with Daisy's room makeover.
We started on her room this summer. . .
And, just finished it a couple of days ago.
Yes, that is almost 8 months.
I am happy to report that the room is precious and she loves it.
Here is the BIG REVEAL!
Daisy turned 13 this summer and I knew that she had outgrown her "little girl" room.  It was totally cute and pink.
As we started to brainstorm what she might want her next room to look like, her words were: vintage, modern, cute, Anthropologie. . .
We went with the theme, "Vintagey Cute."  Only a blogger would understand this phrase!
When we started this makeover, the deal was that we would do this on a strict budget.  Plenty of thrift store, yard sale and DIY.
I am happy to report that we were successful.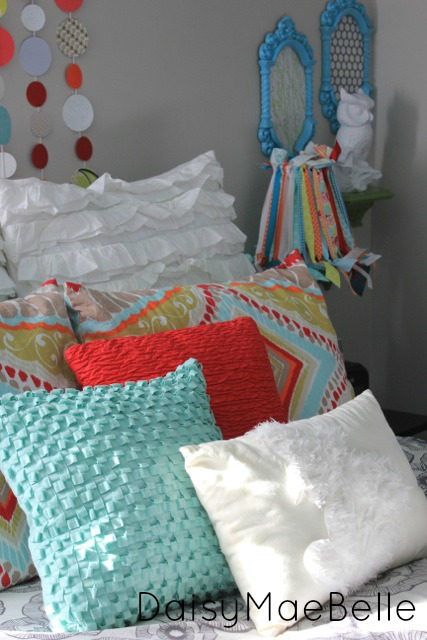 The inspiration for the colors were these great shams that we picked up at Goodwill.  They were brand new!
We added the red, turquoise and white pillows.
The duvet cover was a PBTeen clearance item.  I forget how much we paid, but it was in the neighborhood of $35.  You can find some fantastic deals in their clearance section.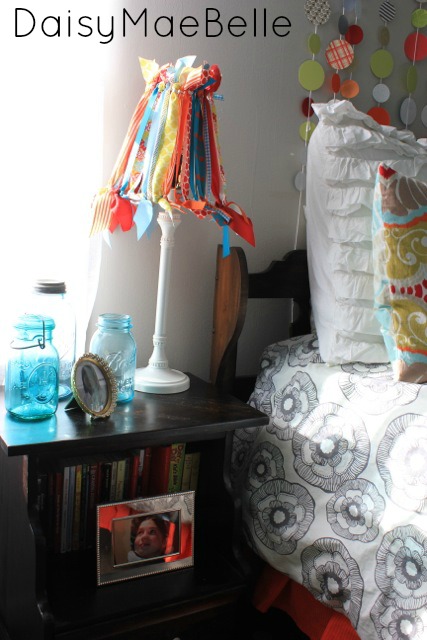 The lampshade was a DIY project.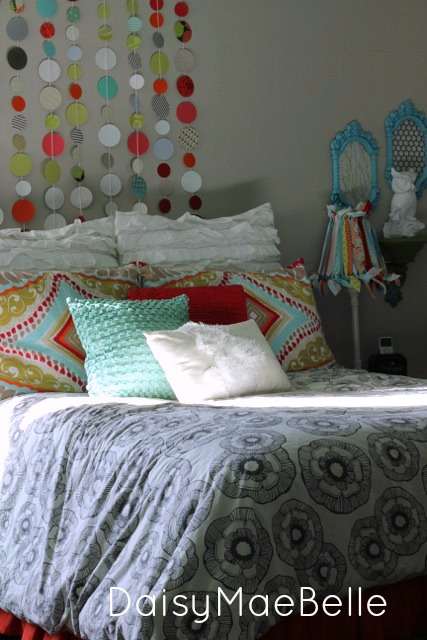 Her bedroom furniture actually belonged to my parents.  They bought it the week they got married, and have now been married for over 50 years.  I am pretty sure that they are antiques?!
The problem is, the headboard is pretty low.  We made this circle wall art to fill the space.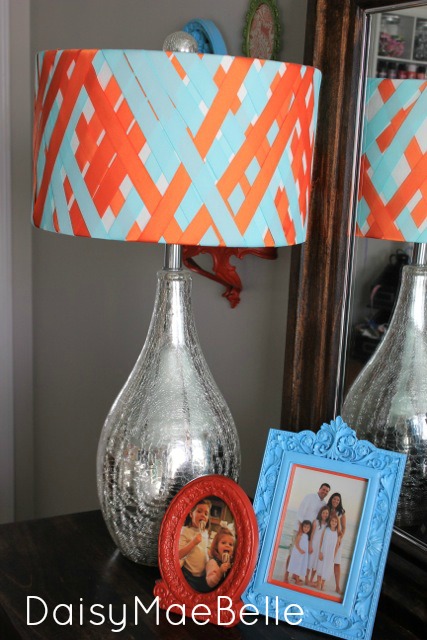 Another DIY lampshade project.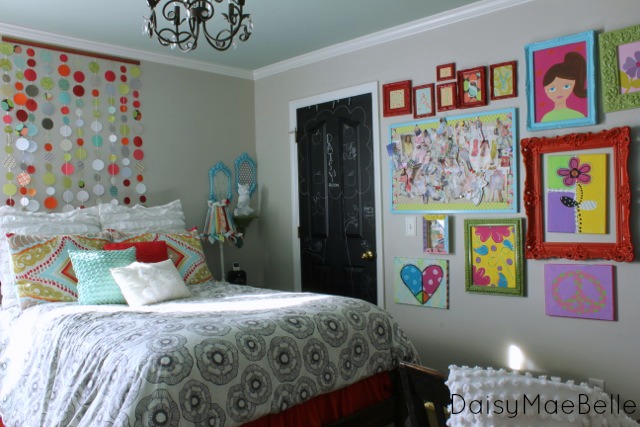 The closet got a coat of chalkboard paint.
The gallery wall is a collection of thrifted frames that we spray painted.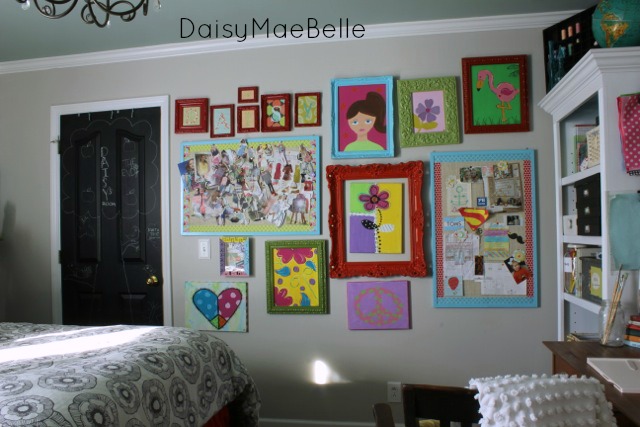 We added her name to the mix.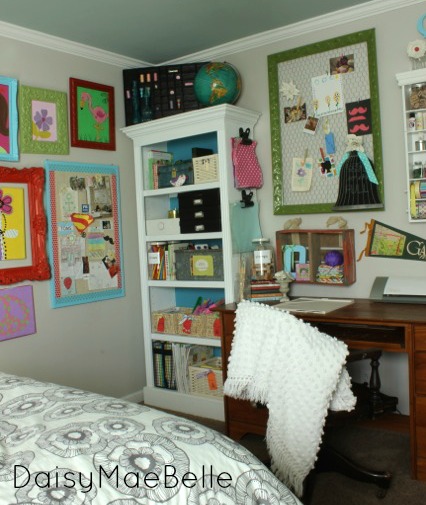 A crafting area was HIGH on her wish list for her room.
She is loving this space!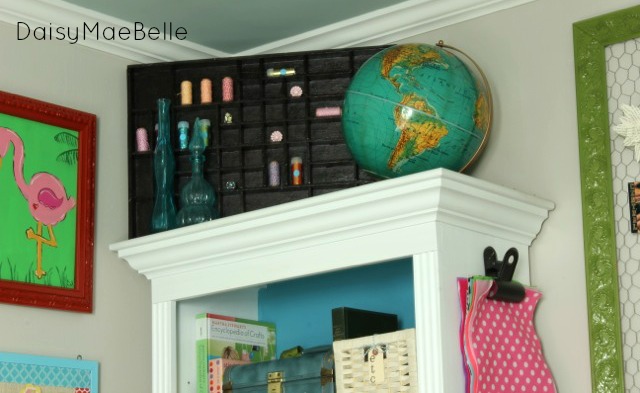 The globe was a lucky find in her grandmother's attic.
The printers box was a Goodwill find.
The giant frame is filled with chicken wire so she can clip her inspiration there.
We also just added the old crate for a shelf.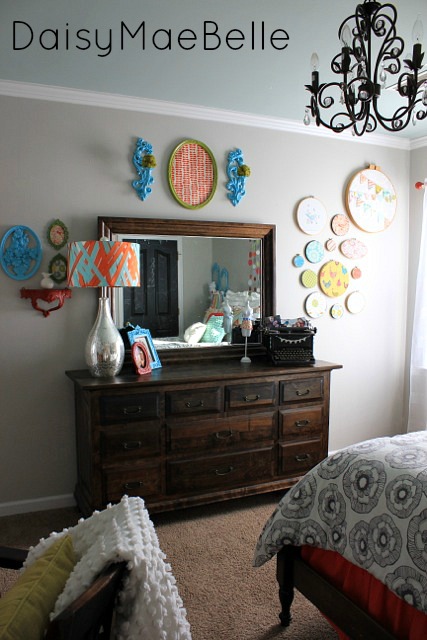 We spray painted and spray painted and spray painted.
It is amazing what a little spray paint will do for worn out thrift store frames, sconces and shelves.
If you want to see more projects that we made for her room, you can type "Daisy's Room" in the search bar.  There were just a ridiculous number of them to link them all!
So, there you have it.
Daisy's completely made over room!
Remember I told you that Daisy was going to be entering a video contest at PBTeen?  She finished her video and posted it last night.  We would LOVE for you to pop over and vote for her.  You do not have to register to vote.  The video is less than 2 minutes.
When you go to this page, click "View All Entries" and her video is called "Daisy's Room."
Life to the full!
Melissa
Sunday
Monday
Tuesday
Wednesday
Thursday
Friday
Saturday