The amazing yard sale purchase yesterday has caused a great picture rearrange in my house!  If you did not see my amazing find, you can look at my "Yard Sale Find of the Century" post.
Here is my picture arrangement over the couch BEFORE: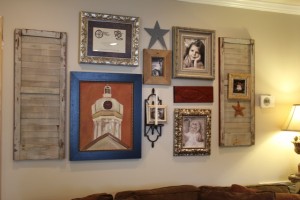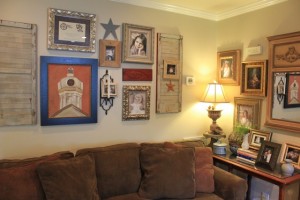 And here is what I have come up with for the AFTER: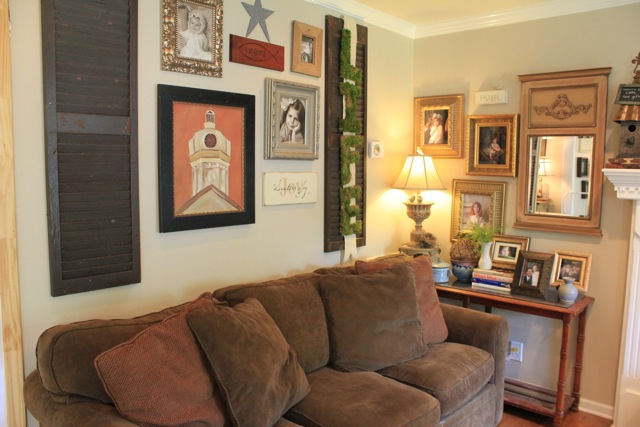 I tried to keep it a little more simple.  I tend to hang a LOT on the walls!  I wanted to keep my new "life" letters in the family room.  You can go here to see how I made that.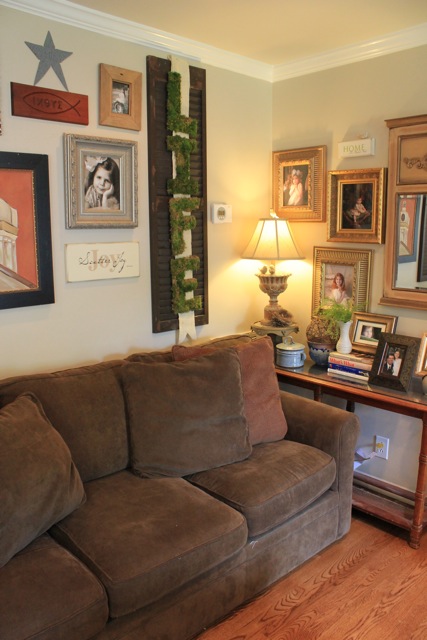 Seeing these pictures makes me want to complete some of my projects that I have been planning on doing!  Lighter pillows for the couch, painting the side table a lighter color, finding a rug for the floors, and finish painting the trim!
I had a couple of VERY exciting things happen today!  I was one of 32 projects featured on Tatertots and Jello – one of my favorite blogs that I have been looking at almost daily for a couple of years.  She was one of my inspiration blogs!  Also, my burlap carrots were featured on another great blog – A Girl and Her Glue Gun!  And, should be featured later today on Someday Crafts!  I wanted to grab a button from their blogs, but I cannot figure out how to!  Still so much to learn. . . and my brother-in-law is not in town to give me a lesson on how to "grab the button!"  Maybe I can find someone else to show me?