I am so ready for fall!
It was 92 degrees here today with terrible humidity.
It is supposed to rain most of the weekend.
Should make things even steamier?!
I have been a busy bee here at my house today getting ready for fall.
I brought all of the boxes full of fall decorations in from the garage.
If I thought my house was cluttered before. . .
At least this clutter has purpose and will be short lived.
I can't say that about the rest of the house!
I hope to have all of the inside decorating done by this weekend.
I usually try to have at least one "fall gathering" each year (besides Thanksgiving, of course!)
I have had my husband's office staff before.
Last year, I had the elders of our church and their wives.
I am not sure who my folks will be this year.
Something will come to me.
It is a great motivator to clean the entire house.
I need motivation to clean.
I can decorate all day long, but the cleaning is not near as fun.
Luckily, Halloween is on its way, and I am into "natural" decorations – so the cobwebs will be perfect by then!
(The real spiders who built those webs might be a bit much?)
I started at the front of my house – right inside the front door.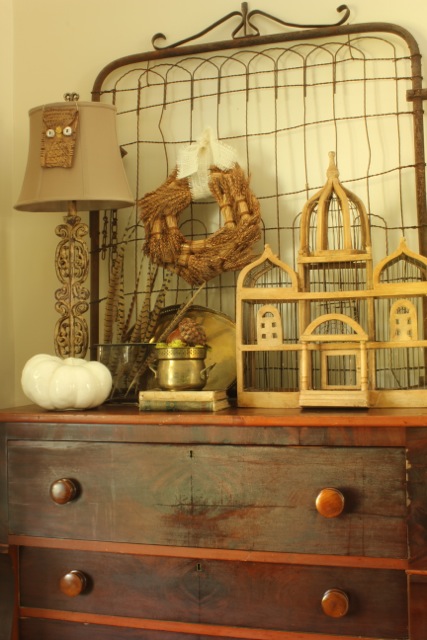 You can see what my foyer looked like before here.
Here is one picture so you can compare.
My photography seems to be improving!
Yippee!!!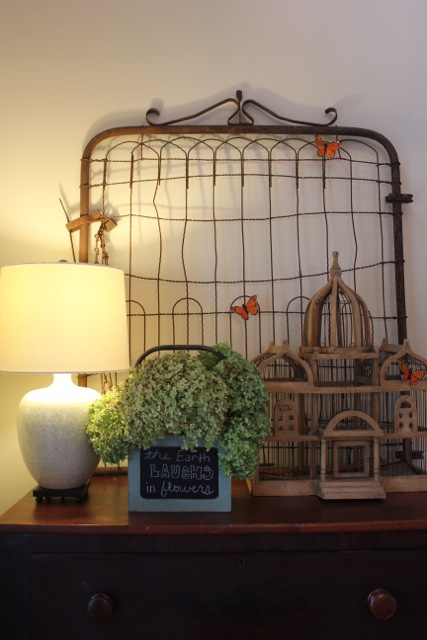 I wanted to keep everything "earthy."
I traded the lamp for one I had in the kitchen.
My Lila Mae made the precious owl in art class last year.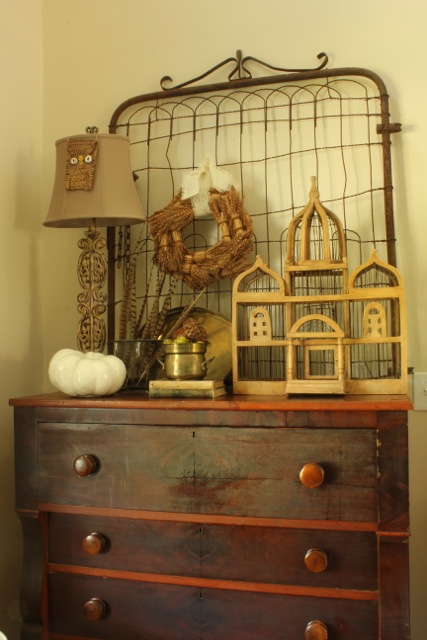 The owl is about the only DIY here.
Sometimes I DIY and sometimes I just buy – thrifty, of course!
This is the perfect season to display some of my new brass finds.
The container was $1 at Goodwill and the tray was $4.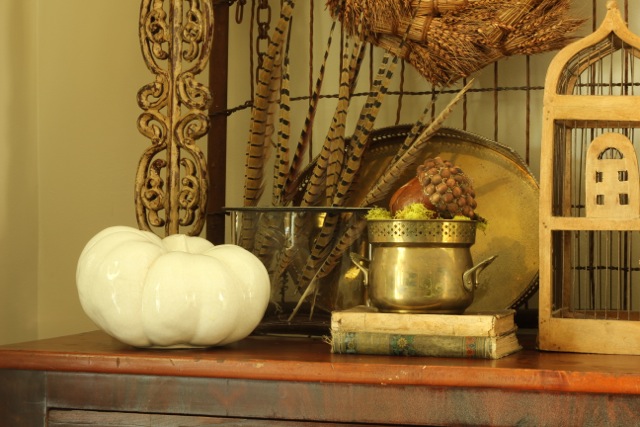 I have had the feathers for years.
The wreath was a great find on clearance for $13.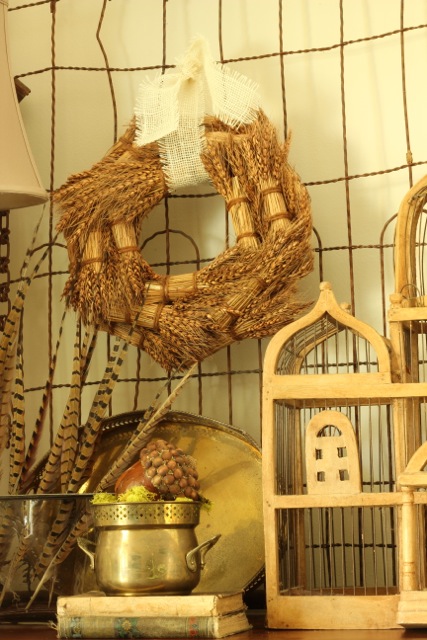 I bought several pretty acorns last year, and I decided to prop one on top of this container with a bit of moss.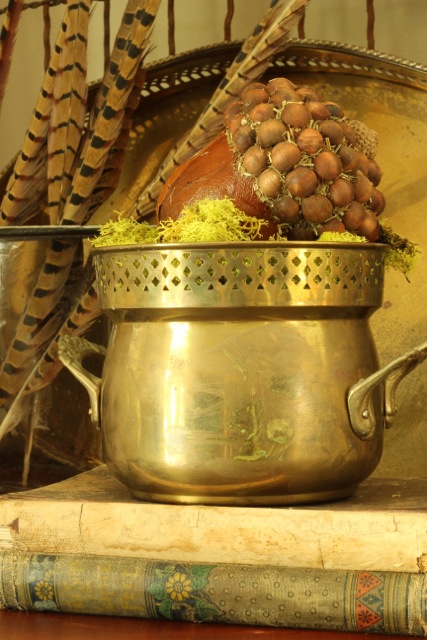 This perfect crackle finish pumpkin was a $1 yard sale find!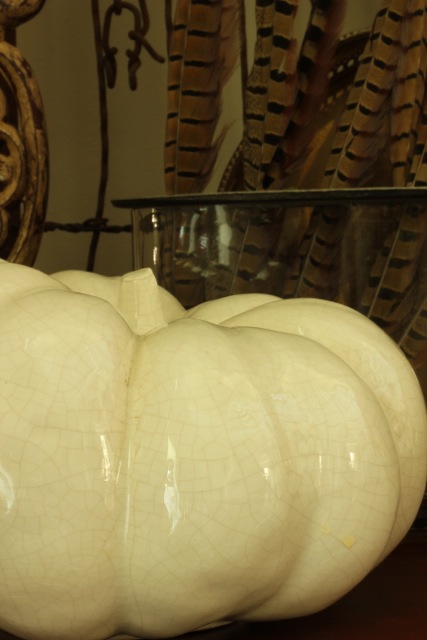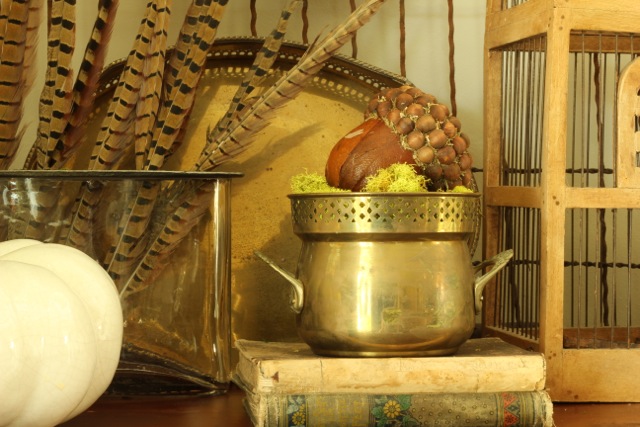 Notice that there are mostly close-ups.
That is because the rest of this area is knee-deep in boxes and decorating paraphernalia.
Maybe if everyone starts decorating for the fall, the fall will go ahead and get here!
I would like your opinion on something. . .
Should I paint this piece of furniture?
Or, should I keep it as-is?
I can't decide?
Life to the full,
Melissa
Here are the places that I party!
Sunday
Monday
Tuesday
Wednesday
Thursday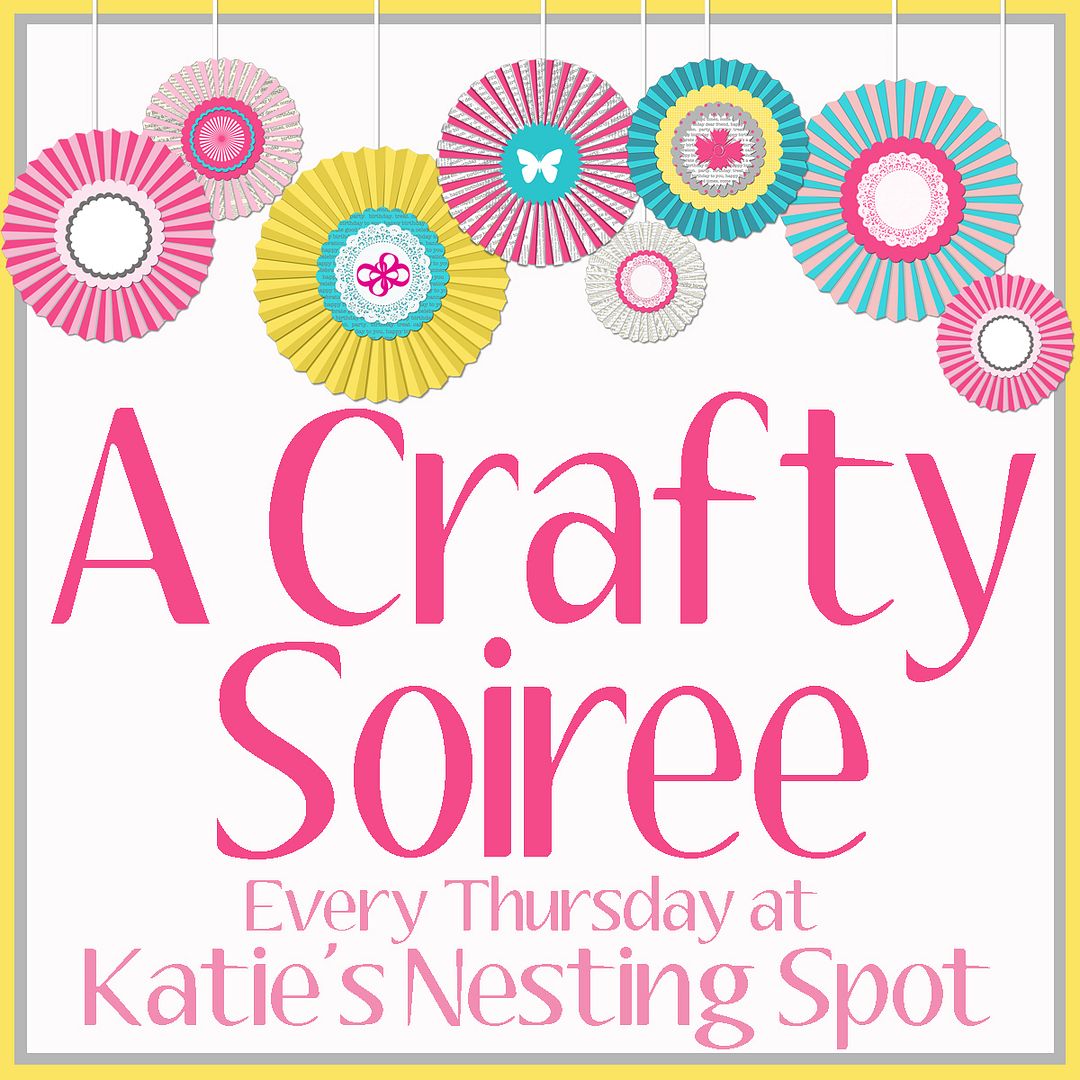 Friday
Saturday