The fall decorating continues. . .
in between volleyball games (the season is almost over!),
getting ready for a slumber party Friday night (Anna Belle turned 11 on Tuesday!),
delivering the dog to the vet (she is well overdue on her shots and a good bath!)
and life in general.
So, here is a tabletop in my kitchen.
"Natural and Thrifty" continues to be the theme.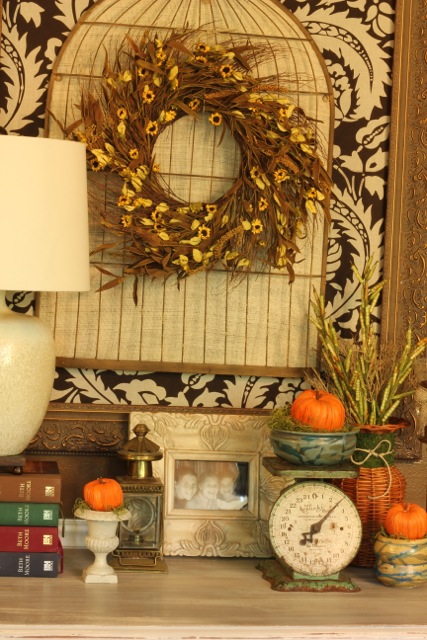 I like Walmart as much as the next girl.
They are usually pretty cheap.
You can get everything that you need in one place.
They have good quality products.
I never think to myself, "I would love to get a great, new, fabulous ribbon that I have never seen anywhere else before.  A ribbon that would have endless decorating possibilities.  I should head on over to Walmart to find what I am looking for."
So, you can imagine my surprise when I was rushing down on of the aisles, and I saw this!
Proflora Moss Ribbon
Yes, moss in ribbon form!
(I forgot to take a picture, and it is entirely too late for me to break out the camera!)
You will just have to see this amazing stuff in action.
Notice it wrapped around the $1 wicker vase.
Do you realize the possibilities that this amazing ribbon holds?!
I bought 2 rolls.
My wheels are spinning with how I plan to use it for the holidays.
Be sure that you will see this stuff in action all over my house for the holidays!
Way to go Walmart!
If anyone can think of anything amazing to do with this ribbon, please share!
Back to the table.
I love the warmth that pottery provides.
And, the kitchen scale is one of my greatest yard sale finds yet!
You can read more about it here.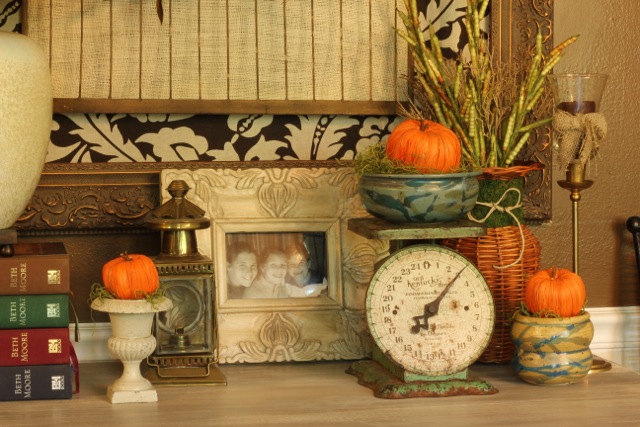 Of course the brass theme continues.
The candlestick was $1.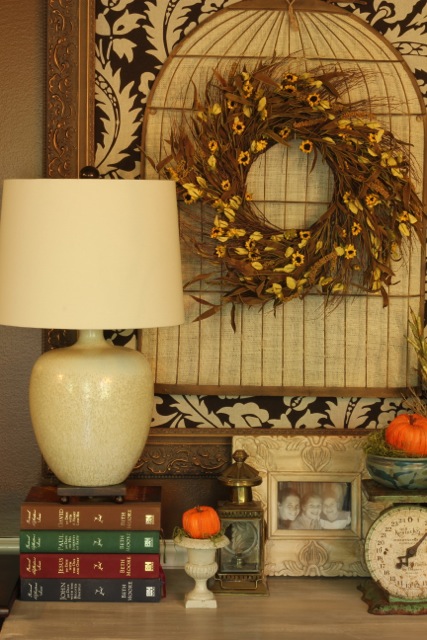 I love to stack a lamp of some books.
It makes the lamp have a much better "presence" on the table.
Some girls love shoes, some love purses; I am a lamp girl.
The lantern was less than $1.
I have had the wreath for several years, and I still love it!
You can see how this area was decorated before this fall transformation here.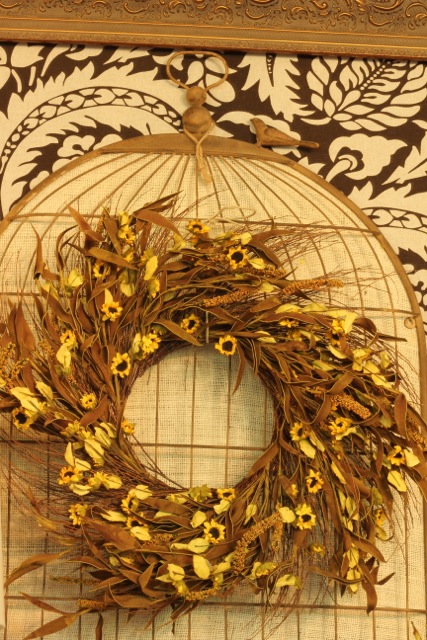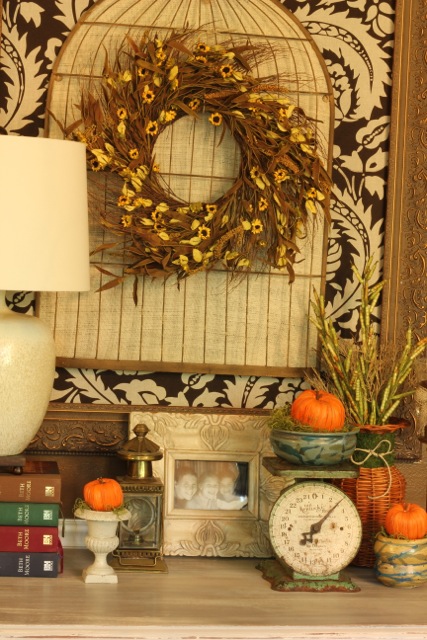 I have no plans this weekend other than to keep up with my girls.
Slumber party Friday night.
Volleyball tournament that begins at 9:30 on Saturday morning.
One soccer game at 11:45.
The next soccer game at 1:00.
Back out to the volleyball tournament.
Potluck meal after church on Sunday.
Come home and get some sleep after that!
Blessing upon blessing.
Life is good!
Maybe I will sneak in a little decorating here and there?
Life to the full,
Melissa
Here are the places that I party!
Sunday
Monday
Tuesday
Wednesday
Thursday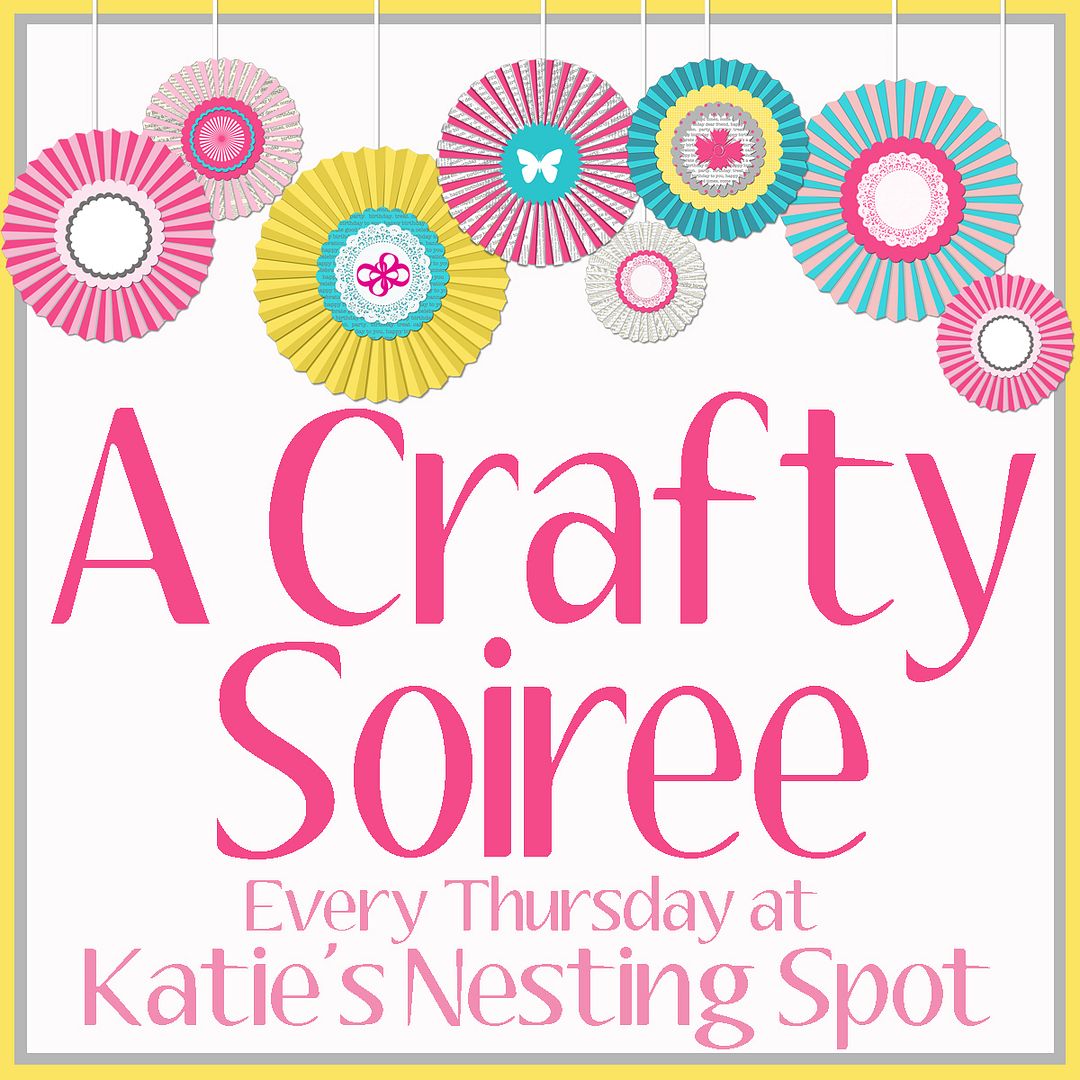 Friday
Saturday