I love "trash to treasure" projects!  There is great satisfaction in taking something that seems hopeless and turning it into something that is pleasing.  That is the story of this little paper mache bunny and basket.  Both thrift store finds.  They were $.35 each!  So, even if I could not uncover the potential in them, not much would be lost!
My foyer needed a touch of Easter.  I just had a closet removed to open up the space and new floors put in.  I am loving that I can have a piece of furniture and a lamp in the foyer now.  It is much more welcoming than a closet!  Not to mention I already have a closet in the foyer.  Two closets in one small foyer seemed a little much to me.
Now, on to the transformation. . .
Two coats of chocolate brown acrylic paint and one dot of yellow for the eye and the bunny was complete.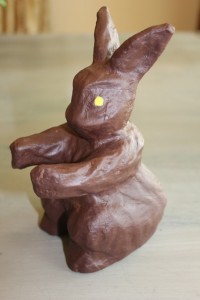 Yet, it seemed like the bunny should be holding something.  A carrot would make sense.  Not to mention, I love carrots!    Not so much to eat, but more for decorating purposes!)  Now to my stash to see what I would have to make a carrot out of?  I am always on the look out for 100% wool sweaters in pretty colors.  I love to make felt out of them.  The process is too easy. . . wash in washing machine on hot and dry on high.  Sometimes it takes two rounds in the washer and dryer and, ta-da. . . you have felt!  I found a beautiful shade of orange and lime green in my sweater box.  Perfect makings for a carrot.
I cut out this shape.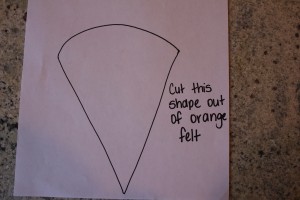 I sewed the sides together (leaving the top open.)  Then, I turned it right side out.  (For my hot-glue friends, you do not have to sew this.  You could just overlap the sides and hot glue them together.  I just prefer a sewing machine for some things!)
Next, I cut a rectangle out of the lime green wool.  I fringed the top and rolled it into a circle with the fringe on top.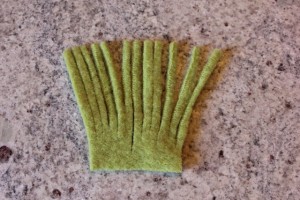 Fill with a little stuffing before you add the fringe to the top.   Hot glue the fringe into place.  Perfect for the little bunny's paws!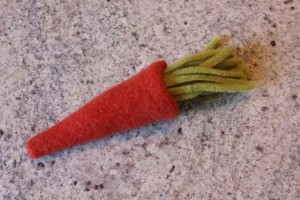 The basket seemed a little yellow, so I brushed on a VERY light coat of white paint.  It toned it down nicely.
Next, I added lime green Spanish moss, a bright bow and eggs.  (The eggs were also a thrift store find.)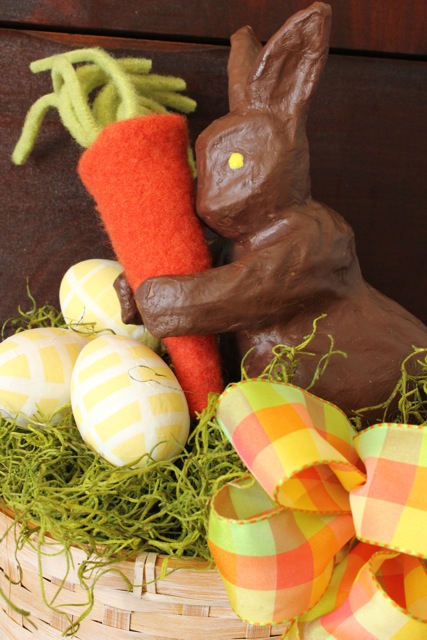 Perfect for hanging on the knob of my dresser in my foyer!