I have been loving the Easter crafting, but now it is time to move on to other projects.
I recently purchased what might be my yard sale find of the century. You can read about that here.
That purchase has caused a major rearrange of pictures in my house. And, now a slew of other projects. . . My thoughts being, well, I can't take a picture of that yet because I have not painted that table. . . I can't take a picture of that yet because I have been meaning to make cuter clothespins for the memo board. . . and the list goes on. This is why I am so glad to have this blog. Now, the projects that would have just sat unfinished WILL get finished!
So, today I will show you one piece of the puzzle for my kitchen (not sure exactly where this is going yet)
And, I will show you how to make these precious burlap flowers. . .
My sweet husband bought me a a great birdcage memo board for our anniversary a couple of years ago.  I have always just used plain clothespins to attach pictures to it, but I have always thought it would be cute to jazz them up a bit.
This is a tutorial on how to make the burlap flowers.  I happened to attach mine to clothespins, but you could use them as magnets, on wreaths, on gift packages. . . the list goes on!  Let your imagination go!
I love the look of burlap!  The great texture and the earthy feel.  I have also found that I love the look of painted burlap.  Then, the color selection is limitless!
Step 1:  Draw 3 sizes of flowers.  I used my clothespin as my guide for how big I wanted them to be.  Nothing fancy, just a simple kindergarten flower!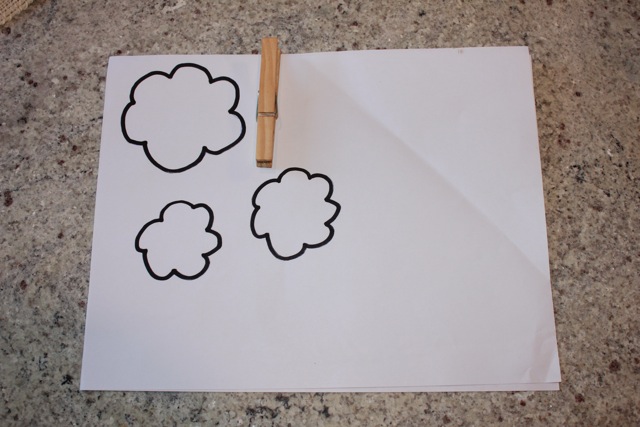 Step 2:  Cut out the pattern, pin onto the burlap (I am using cream burlap), and cut out.  For each flower, cut out 2 of the large, 2 of the medium and 1 of the small.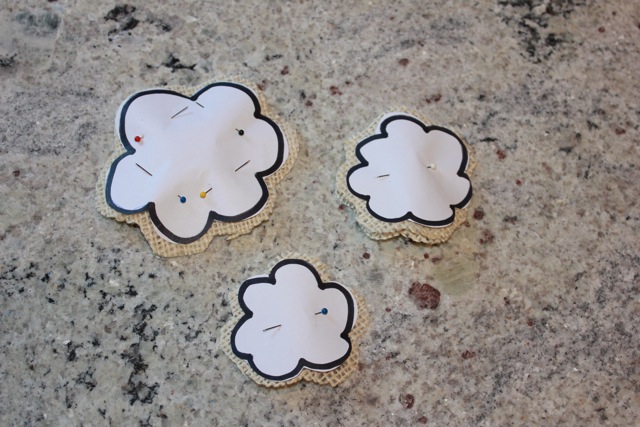 Step 3: Sew the 2 large ones together, leaving an opening for the filling.  (I almost forgot to leave an opening every time!  The sewing is so quick!)  Do the same for the 2 medium flowers – sew together and leave an opening.  The sewing does not have to be perfect, and the flowers do not have to line up perfectly.  I think it adds to their charm 🙂  If you are more of a gluer than a sewer, I am sure that you could replace a good fabric glue for all of the sewing!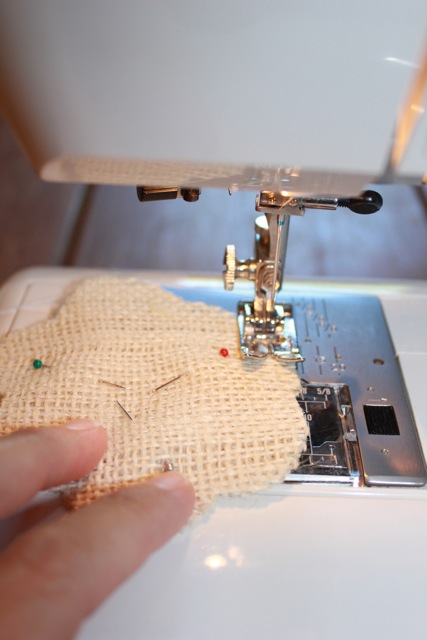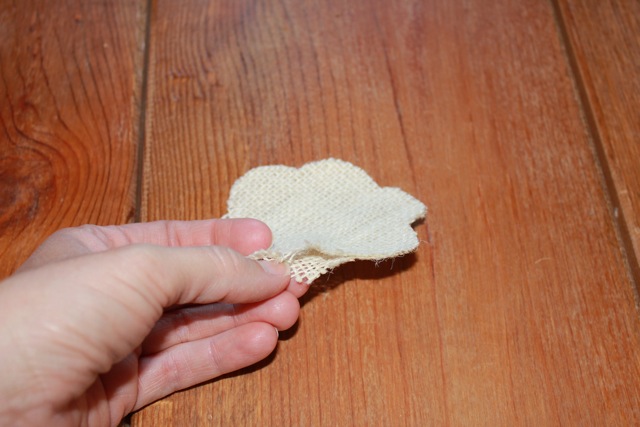 Step 4:  Fill with stuffing and finish sewing together.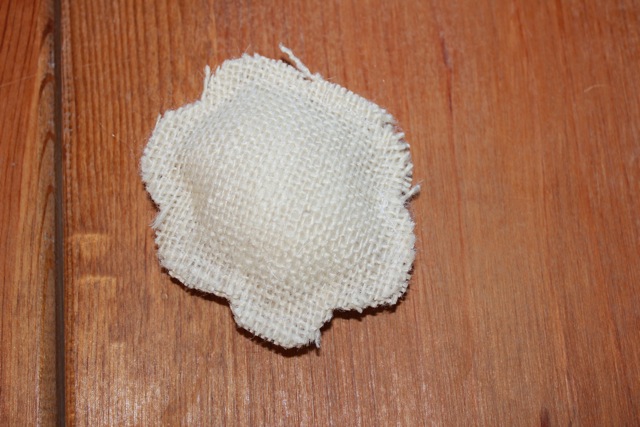 So, you will end up with this. . . 2 large flowers and 2 medium flowers that are sewn and stuffed and 1 small flower.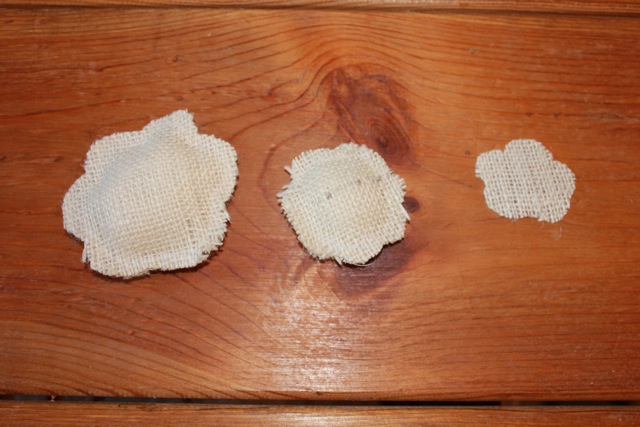 Step 5:  Paint the flowers any color that you want!   I painted each flower a different color. I like to keep things neutral at my house, so I chose shades of cream and blue.   But, if you are a hot pink and purple type, then that would be great too!  I just used an acrylic paint.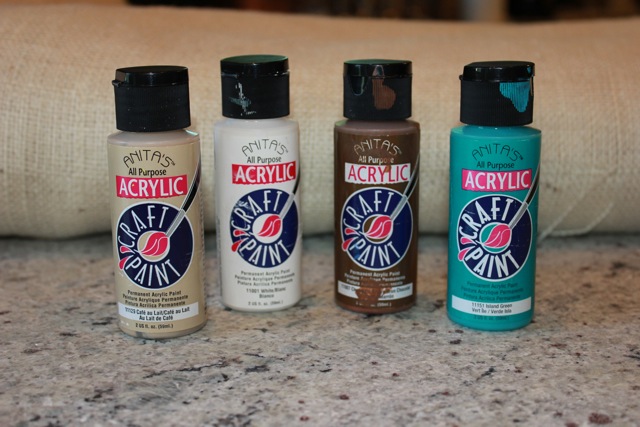 I did not have the color blue that I wanted, so I just mixed some turquoise and white to get the color I had in mind.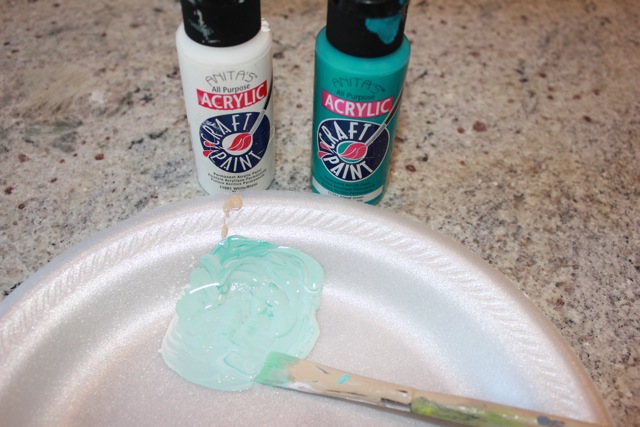 Step 6:  I stacked the flowers up in stacks of 3; largest to smallest.  Then, I sewed them all together with a button.  Once again, my gluing friends could just use hot glue.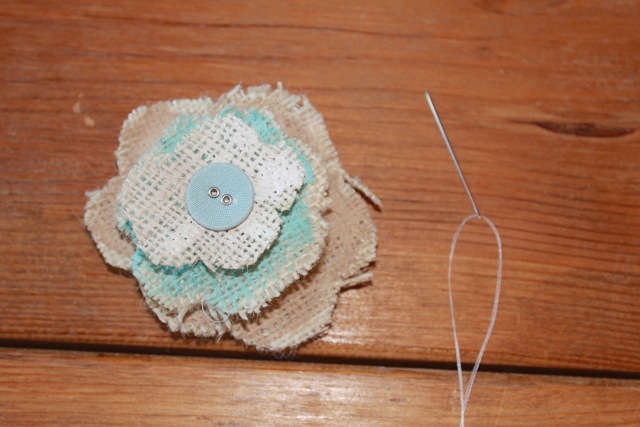 Step 7:  I added a leaf using felt.  I usually make my own felt.  Super easy. . . buy a 100% wool sweater at a thrift store in a great color.  Wash on hot in the washing machine and dry on high in the dryer – You have now made felt 🙂 I found one of my favorite lime green wools, traced out the leaf pattern, and cut it out.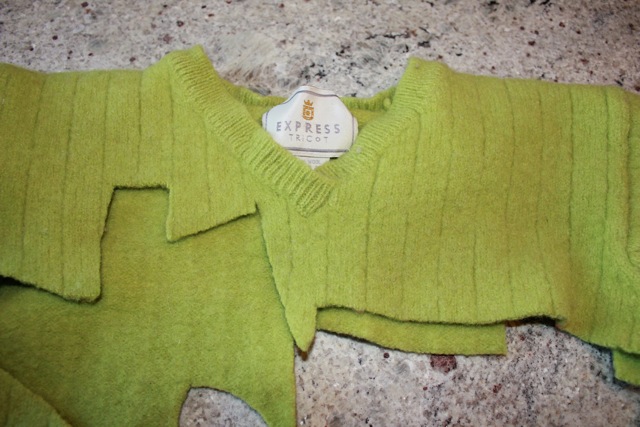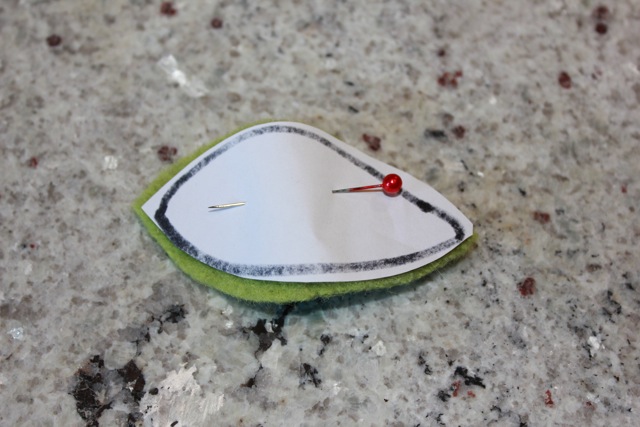 Step 8:  Hot glue the leaf onto the back of the flower.
Step 9:  Hot glue the clothespin onto the leaf and flower.  (This is where you could also use a magnet or a pin. . .)
And now you have a precious burlap flower to use how ever you want!
Here are my burlap flower clothespins in action.  Holding some of my favorite family pictures!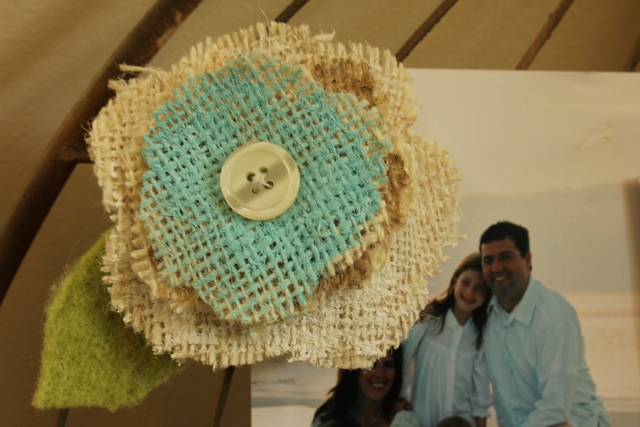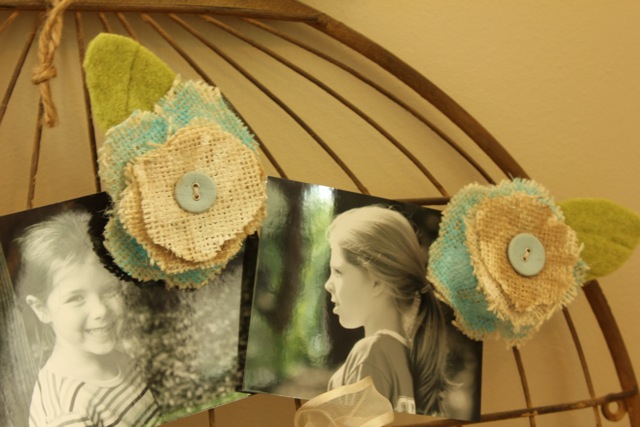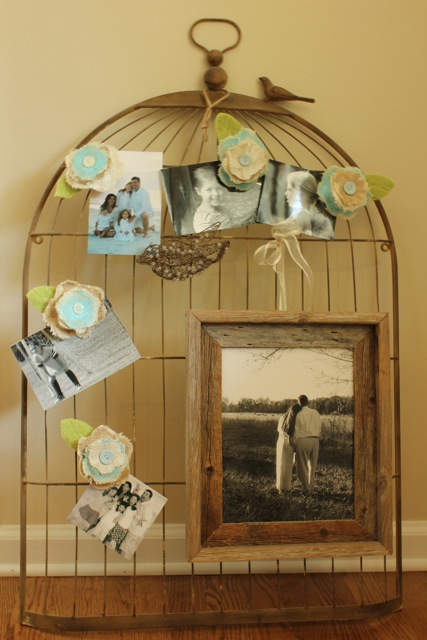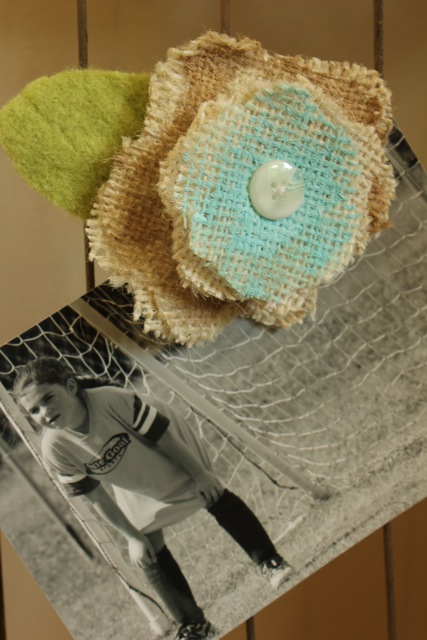 Now, I just have to figure out exactly where this is going to go?!
I hope to finish painting a table for the kitchen today.  We will see how that goes?
Happy flower making!