My husband travels on occasion which takes me to the Nashville airport.  I have noticed a store on the way called Southern Thrift.  It was always either too early or too late to stop by.  Finally, his pick up time was perfect.  Saturday morning at 10:00.  That put our entire family driving by the store at 10:30 a.m.  Prime shopping hours!
I convinced everyone that we should stop and check it out.  Some of their things were a bit pricey, but I did manage to find a few treasures (as did most everyone else in my family!)
Here is one of the finished products from that stop.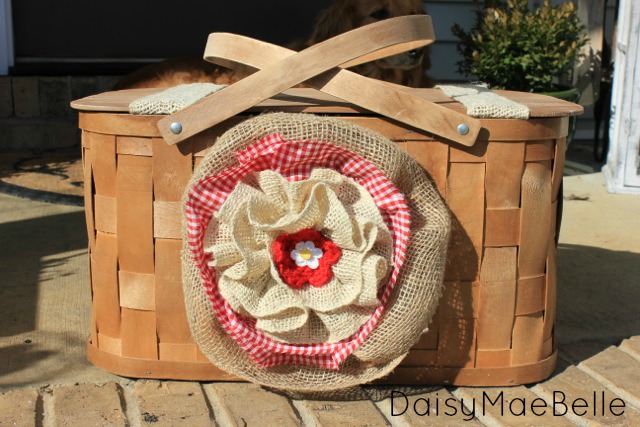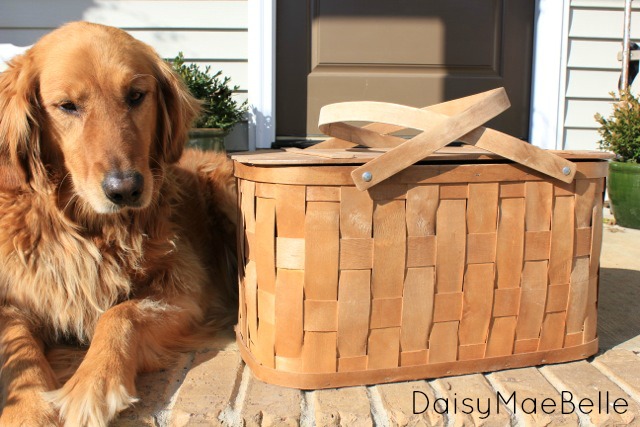 Zuzu has decided that she loves the camera.  This is the before picture of the picnic basket.  Pretty cute, but it could use some "cute" factor.  The picnic basket, not the dog.  The dog is pretty cute!  Although, maybe she could use a burlap flower on her collar?!
I decided that a giant burlap flower would be the perfect touch.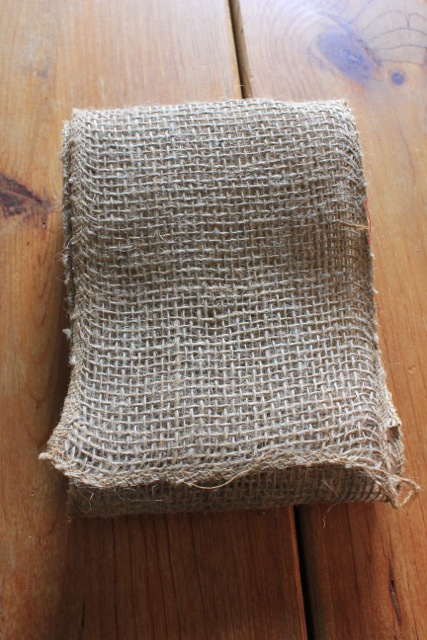 I started with 1 yard of wide burlap ribbon (from Hobby Lobby.)
Using a long running stitch, I stitched along one side of the ribbon.
I gathered that up and wrapped it into a circle.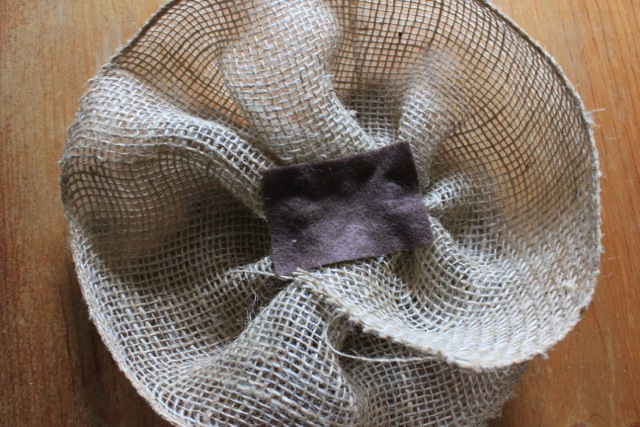 I hot glued it onto a square of felt.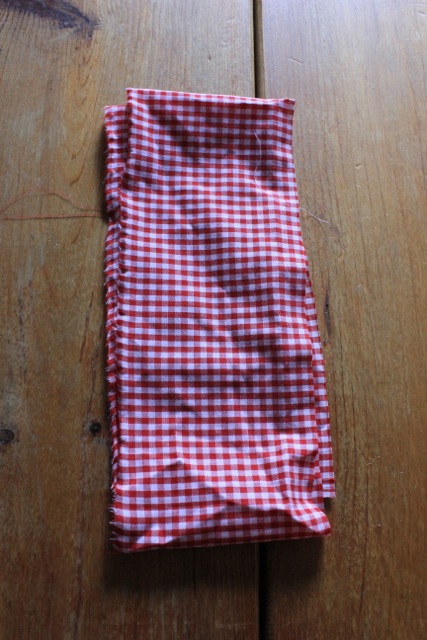 The next layer was a piece of red and white gingham that was about 3 inches wide and the length of the bolt of fabric.  I cut the fabric so that each end had the selvage edge.  I did the same thing – ran a running stitch and gathered it up.  (I did not mind that the fabric was wrinkly.  It all looked good when it was gathered up!)
The next layer was 2 yards of 1 inch burlap ribbon (a Pick Your Plum find.)  Same thing – ran a long running stitch and gathered it up.
I hot glued all of the layers together.
The last thing I added was a crochet flower.  You can buy these at the craft store.  I happened to make mine.  The best tutorial ever is over at Little Birdie Secrets.
The final touch was a tiny flower button.
I hot glued the entire flower to the front of the basket.
Here is the final product.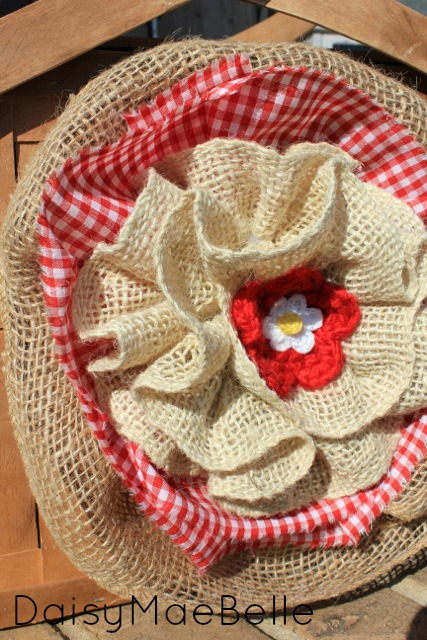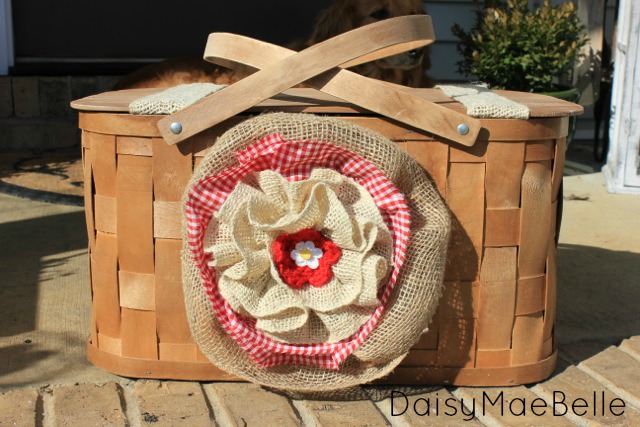 I can see the quilt spread under the tree on the lightly rolling hill with the field of wildflowers in the distance!  The basket is full of chicken salad, strawberries, fresh squeezed lemonade with homemade chocolate chip cookies for dessert.  Me and my sweet husband are watching our children play and enjoying an afternoon of family. . .
(I just might have to keep it for myself now!)
It will be for sale on my Facebook page tomorrow or I will have it at Simply Southern next week!
Life to the full,
Melissa
Sunday
Monday
Tuesday
Wednesday
Thursday
Friday
Saturday