I just got a new front door and am wanting something to decorate for Easter.  (The door still needs paint, a new door knob and a new doorbell. . . some of my many projects!)  I have seen a couple of bunny wreath ideas floating around on Pinterest.  Here is my take of the concept. . .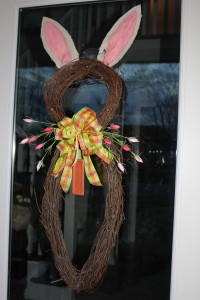 First, I bought 2 wreaths (actually, I had already bought the oval wreath for another project that I never got around to!)  All I needed was the round wreath.  I just took the oval wreath with me to the store and found a round wreath that looked like the right size.  Next, I made the bunny ears.  I cut off the ends of wire coat hangers and shaped them like ears.  I cut out 4 pieces of cream burlap that were about 1/4 inch larger than the forms.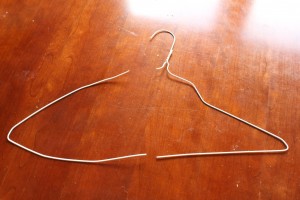 I hot glued the burlap together around the edges and let that dry. Then, I inserted the wire forms.  I painted the inside of the ears pink.  I wired the ears onto the round wreath and then wired the 2 wreaths together using a medium gauge floral wire.  I added a bow, some silk flowers and a metal carrot (from Hobby Lobby last year. . . got to love the clearance!)
And here is our Easter bunny!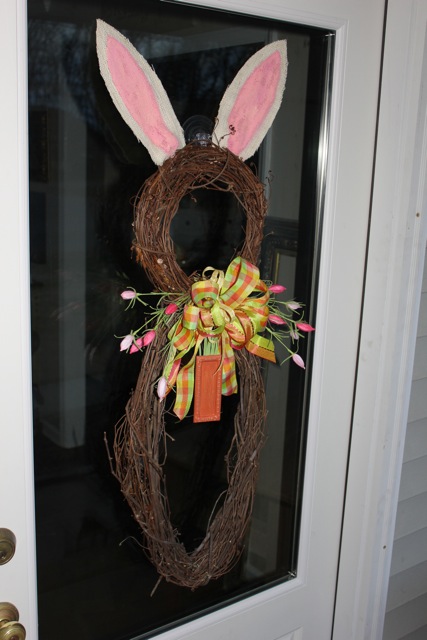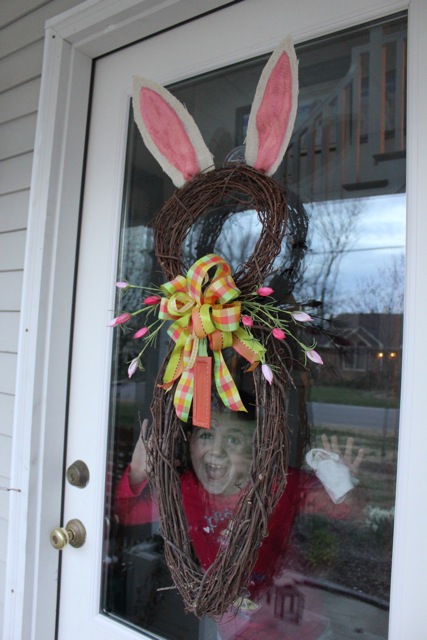 And one of my own little bunnies who could not resist sneaking into the picture!  Happy Easter decorating!