Yay! Today we are having another Hospitality Filled Home Tour! Today is all about Fall Centerpieces!
Make sure you visit all of my friends at the end of this post!
I've been thinking about my grandmother (my Muz) all day.
You see, I'm using one of her prized possessions as a part of my fall centerpiece on the dining table.
It belonged to her parents. It was given to them on their 50th wedding anniversary.
It's now one of my prized possessions.
So as I arranged the magnolia leaves and added the tiny gourds and stacked the plates up in a pleasing arrangement…
…my thoughts drifted to my Muz.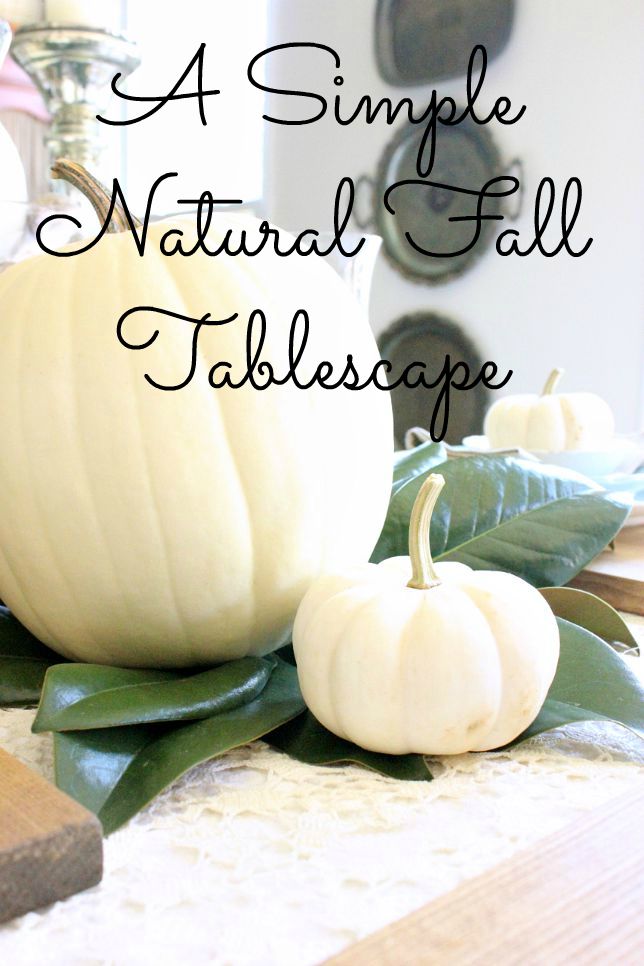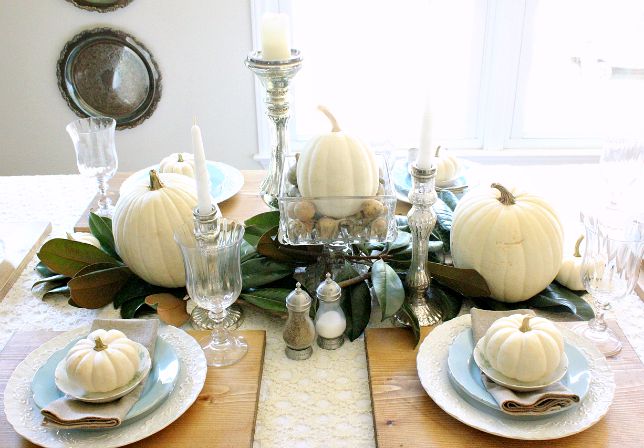 She grew up in the early 1900's in rural Mississippi.  She had no electricity or indoor plumbing. But she could tell stories that would make you want to move there anyway.
Stories of her dad and brothers working hard on the farm all week and the entire house anticipating Friday night when they would go to a neighbors barn and have dances. Her dad and uncles were all fiddle players. She would often tell me of the summer that she danced through 2 pairs of shoes.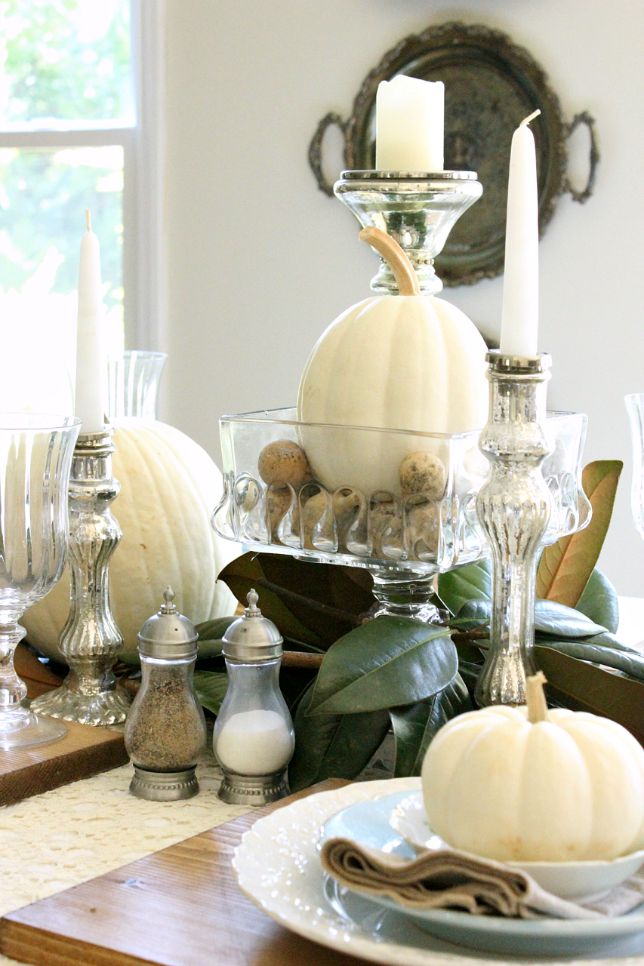 She would tell of times that she would swim in their fishing hole. She said that she wasn't afraid of the snakes swimming along side her because she had been told that snakes couldn't bite in the water. She would then laugh as she told that story and try to remember who had told her such nonsense and wonder why in the world she had believed them. But she couldn't remember of a time that anyone got bit.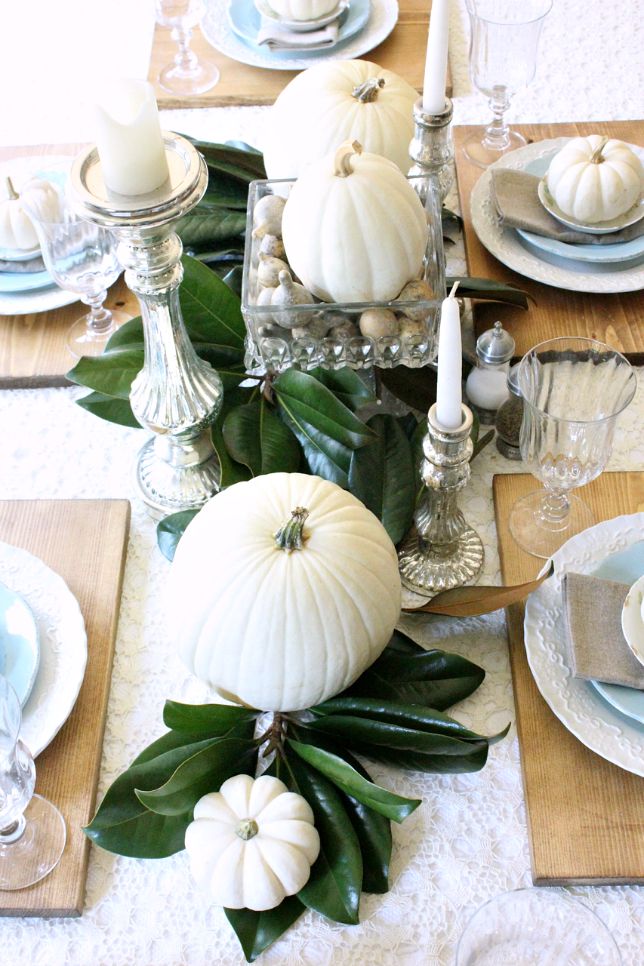 The thing that I am most impressed at as I think back to my Muz are the family dinners she would host.
(My grandaddy died when I was 4, so I have very few memories of him.)
She was known for her fried chicken and her cakes. She could cook up anything at all, but these were her specialties in my mind.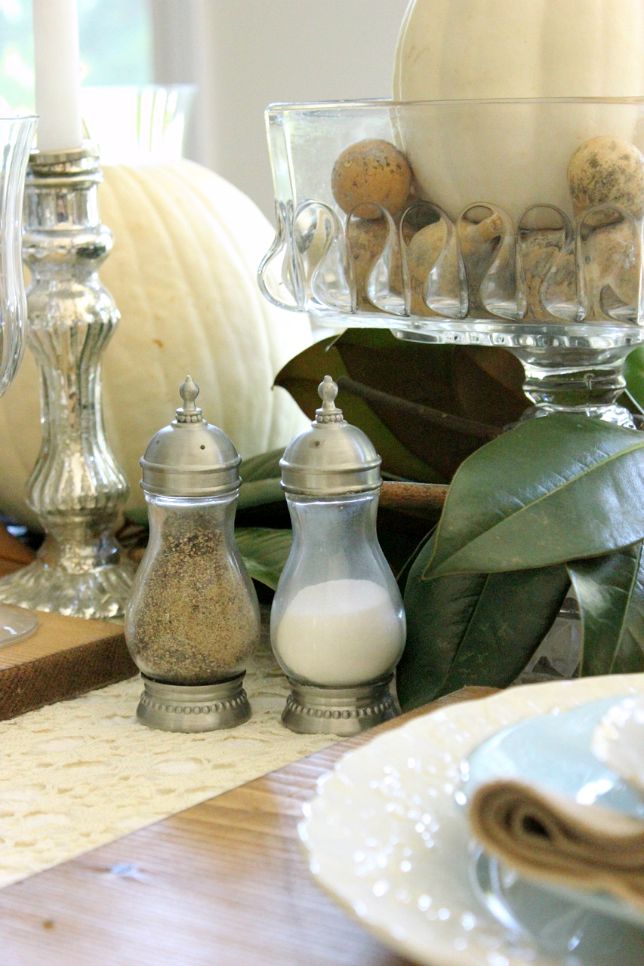 But what impresses me is the fact that she would turn out these amazing family meals for 8 and 10 people in a kitchen that measured 9 x 12. This was her eat in kitchen. Yes, there was a table in there. It had to be pushed up against the wall and you could only actually use 2 of the chairs.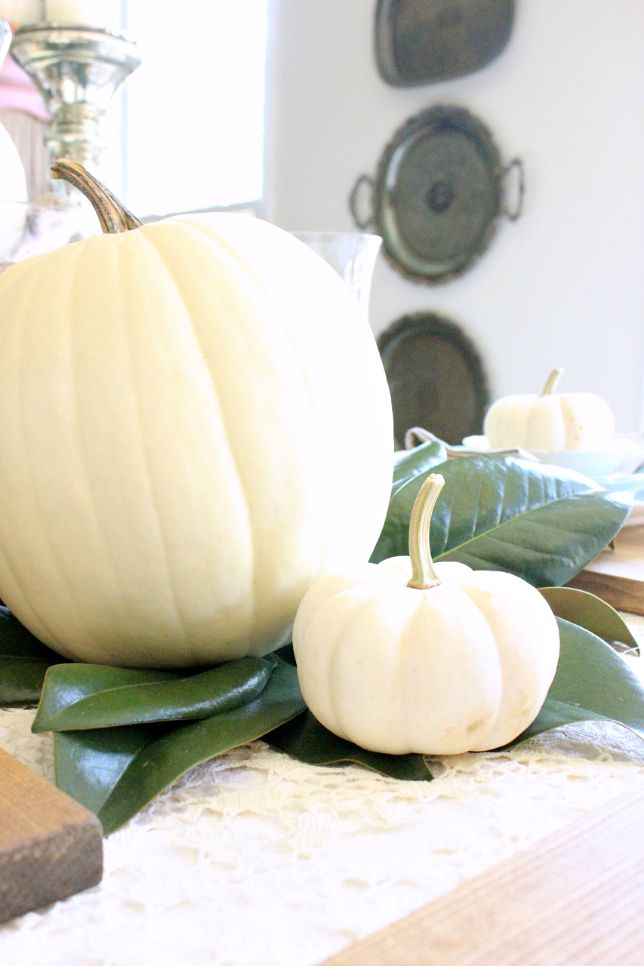 And the dessert spread was my favorite. She would have a couple of cakes and another sweet of some sort that you could just eat with your fingers. And these were served off of her washing machine…which was also in her kitchen. She would simply throw a tablecloth over the top and it made the perfect serving table!
She did have a separate formal living and dining room. These rooms were saved for special occasions. And family dinners were those occasions. And this very dish often sat on the middle of her dining table.
She never would have dreamed of complaining about her 1200 square foot home. She thought she had it made…running water, electricity, indoor plumbing, air conditioning and a washing machine! She was living large!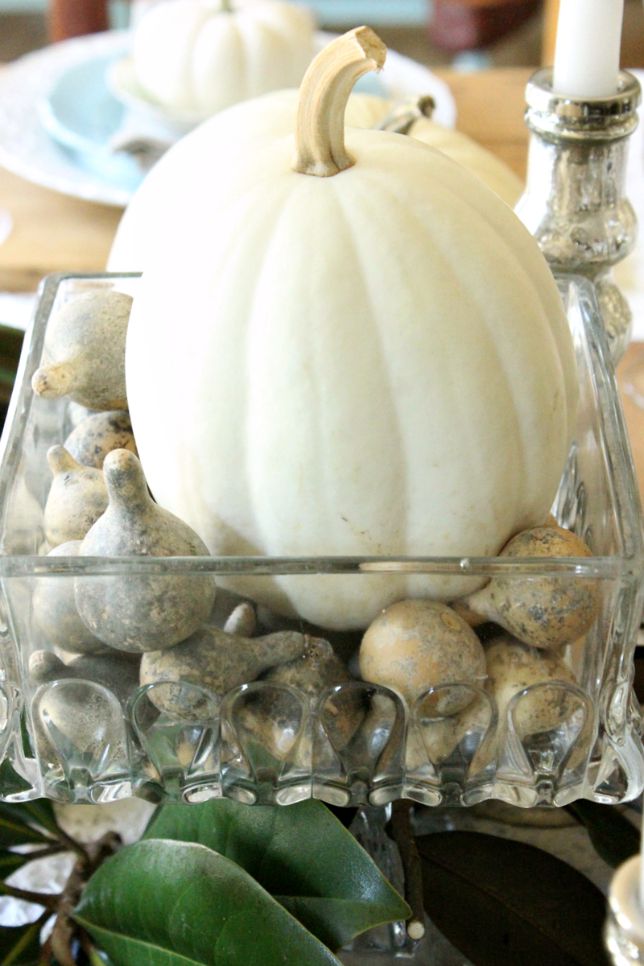 And never once did she say that she didn't have room. We just piled in those tiny rooms and ate fried chicken and coconut cake and made memories…memories that I will treasure forever.
I want to be more like my Muz.
Here are the others that are sharing today…go and be inspired!
Daisy Mae Belle (that's me!)
And don't forget to share your fall centerpieces on Instagram with #HospitalityFilledHomes!
Life to the full!
Melissa