I have a tendency to rearrange furniture.
My family has a tendency to not like furniture rearranged.
I have figured out that I can keep everyone happy if I leave the furniture alone and just rearrange all of the "accessories."
But, after we took down the Christmas decorations, I decided that the bookcases needed to be moved.
They were ok in the dining room, but they would be over-the-top spectacular in the family room.
I got am early start one morning before anyone was up.
As my family began waking up and coming down the stairs, they quickly recognized what was happening.
Mom was moving furniture.
My youngest began to protest and almost cried.
(She did cry when we got a new front door.  "I like the old one," she protested.  This is a girl who does not like change!  This is a trait that will make her hubby a very happy man one day!)
One by one, every last member of my family protested the move of the bookcases.
"Trust me!  This is going to look so much better," was my anthem of the morning.
And, after the big traumatic move, they one by one said, "You were right, that does look better!"
Here are the bookcases in their new home.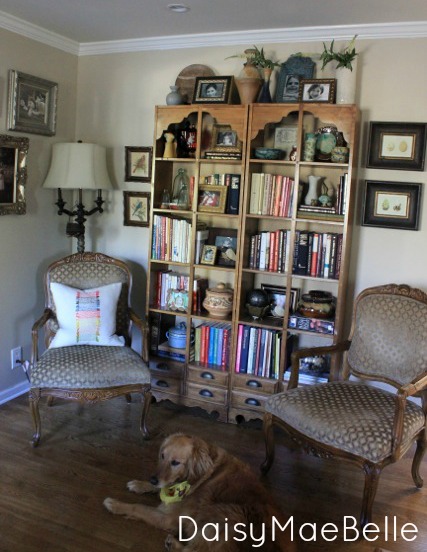 Along with my lazy dog that would not move for the pictures.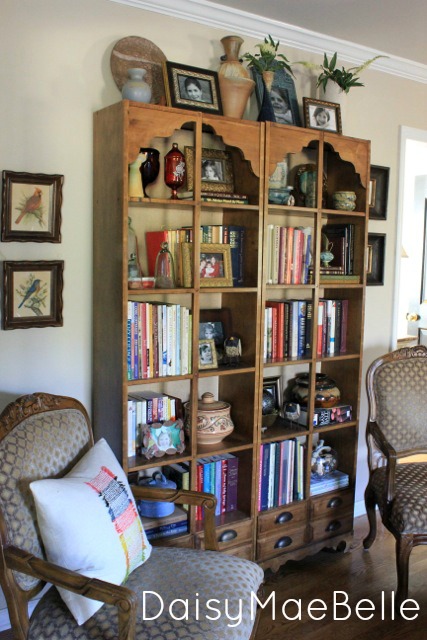 I eventually see these chairs painted and recovered.
A bench between the chairs.
A rug to anchor the area.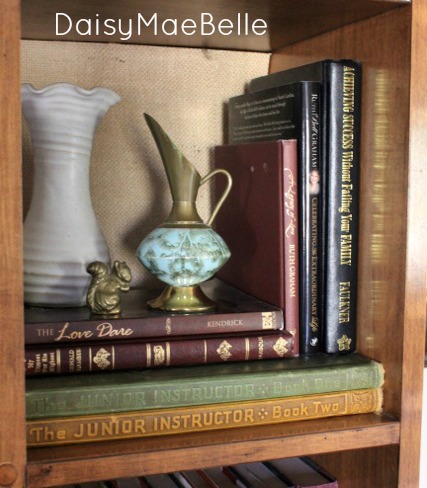 I have a lot of books and "things" that needed to find a home in these bookcases.
I arranged all of the books first, turning some on their sides to leave little display nooks.
I kept most of the books on the lower shelves to that we could reach them easier.
We actually read these books.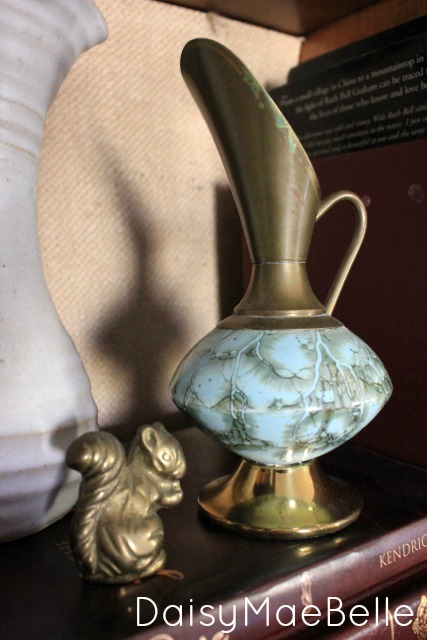 My brass Goodwill squirrel along with a yard sale treasure that my grandmother (Lillian Daisy) bought about 40 years ago.
I guess "yard sale-ing" is an inherited trait?!
A crystal bowl that was a wedding gift houses special shells from our beach trips.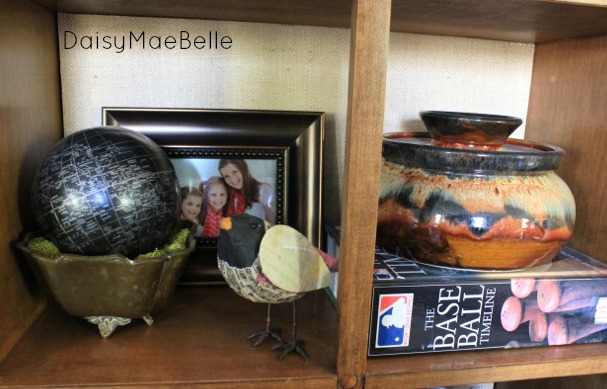 Some sections have fewer books, and more "things."
The top of the bookcases houses some of my pottery collection.
I thing collections are prettier when they are grouped.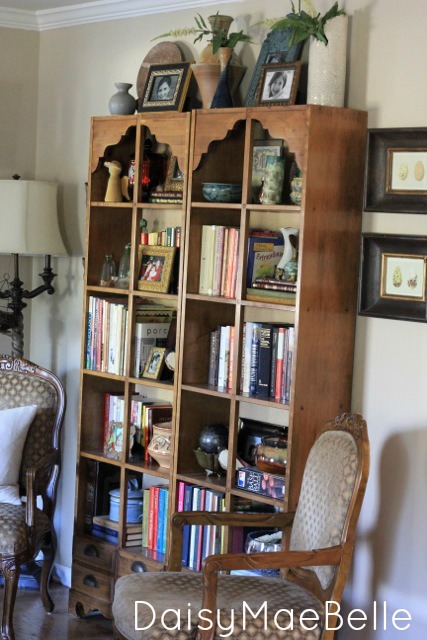 There you have my newly rearranged bookcases.
My family can be at peace.
I will not attempt to rearrange any more furniture for a while.
(Or at least until I get my next whim?!)
Life to the full,
Melissa