The cooler weather is not cooperating here in Murfreesboro, TN.
We cooled off for just a bit, but now we are warming right back up!
Oh well, I am still going to buy my pumpkins tomorrow and get my front porch ready for the fall.
I just love this time of year.
We live fairly close to a high school, so we could hear the football game being played on Friday night.
We also hear the band practicing most afternoons. (Luckily, they are a very good band!)
Such great fall sounds.
With a slumber party here at our house on Friday night, I did not get to make it to any yard sales this weekend.
I did, however, make it to a thrift store last week.
(When do I not make it to a thrift store in a week?!)
(I think I am going to have to add the employees to my Christmas card list because I know them so well!)
Anyway, I walked away with a treasure!
This beautiful Ethan Allen chair for $7!
At first, I thought I was going to paint it.
But, once I got it home and put it in my dining room, I really liked the color.
It matches my bookcases in there.
It was almost impossible for me to get good pictures due to the fact that it is now sitting in my bay window.
My camera skills have improved, but I still haven't figured out how to take a picture in front of a window.
Here she is with the sun just rising!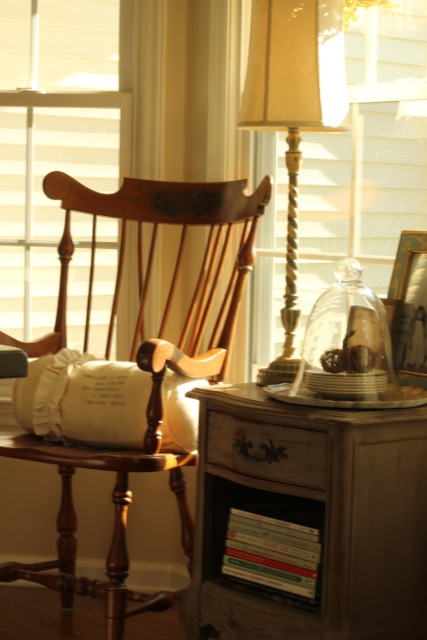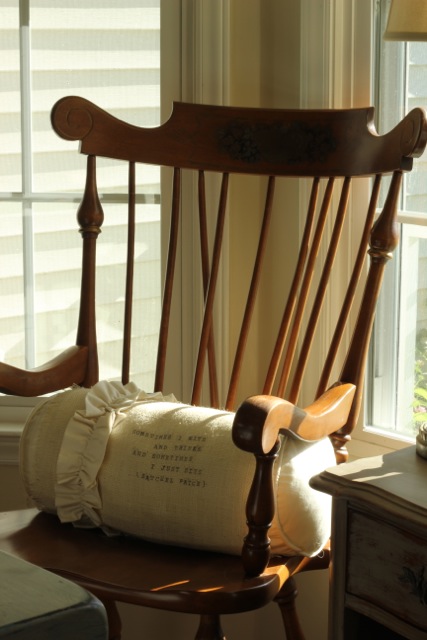 I love the painted detail on the back.
I couldn't help but to add a fall touch to this side table.
The dining table, hutch and buffet are all fully decorated for the fall.
So, I just added a tiny touch to this bay.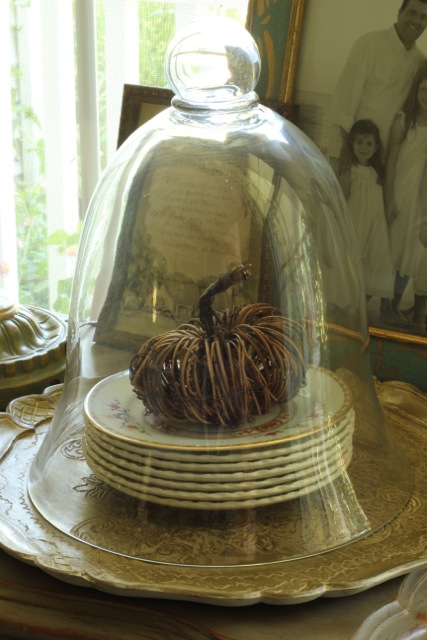 I picked up the tray for $1 at Goodwill.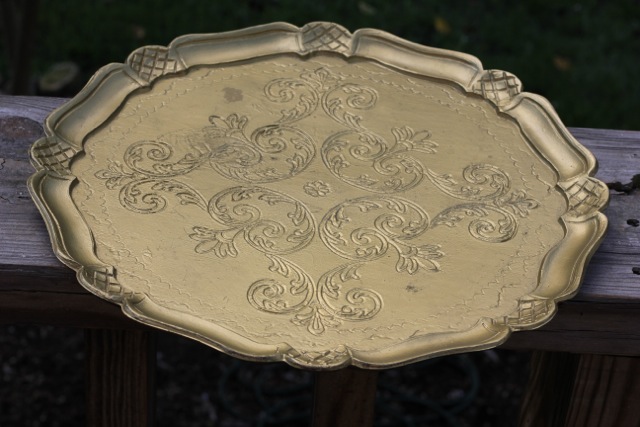 It was a little too shiny.
A light coat of Annie Sloan Old White and dark wax really aged it nicely.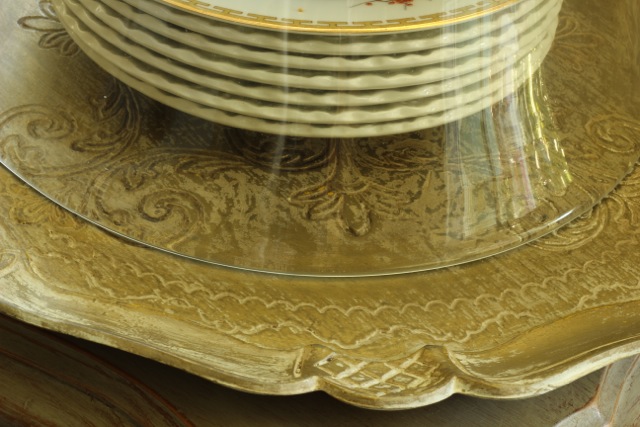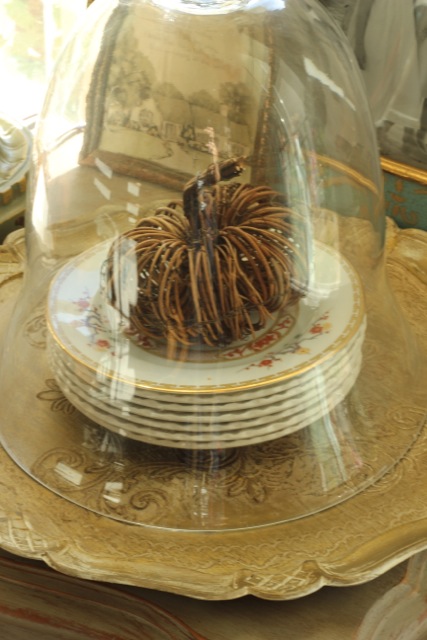 You can see my family there at the beach.
That picture was taken about 3 years ago.
We leave for our annual trip in 10 days!
We can't wait!
By the way, this is a random question. . .
We woke up Saturday morning to the most intense skunk smell you have ever encountered.
We feel pretty sure that the skunk spayed under our deck, seeing as our house still smells like skunk while I am writing this Sunday night.
Thankfully, my golden retriever avoided the spray.
(She had just had her annual bath at her vet visit that very day!)
You cannot even stand to be on our back deck yet.
Does anyone know how to get rid of skunk stink?
Surely someone has an answer?!
I would be forever indebted to you if you could share!
Life to the full,
Melissa
Here are the places that I party!
Sunday
Monday
Tuesday
Wednesday
Thursday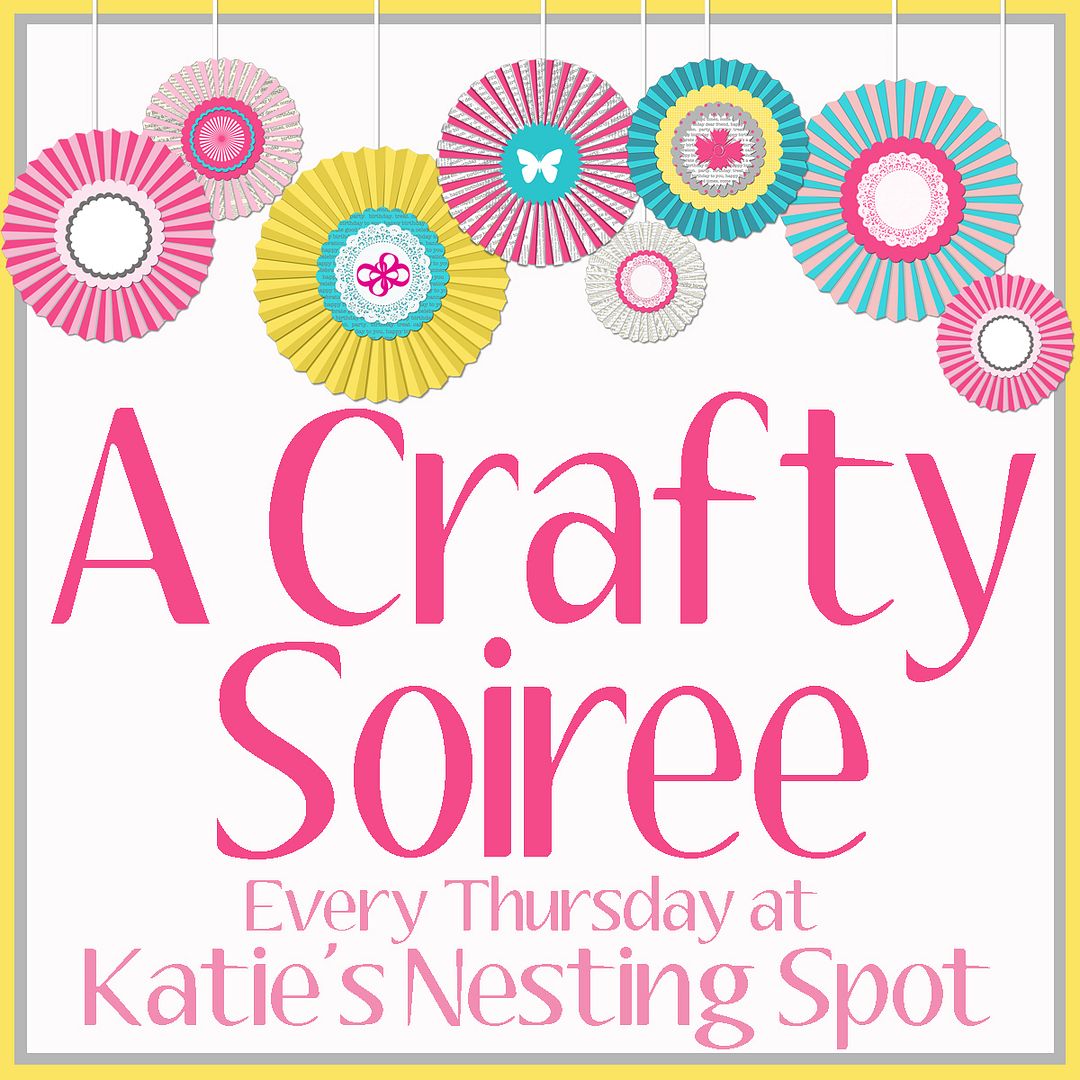 Friday
Saturday